Frequent and blustery outbreaks of rain will continue on from this weekend into next week, according to Met Éireann.
It is expected that Hurricane Martin will impact Ireland's weather over the weekend.
It is forecast to transition to a large and powerful post-tropical cyclone over the north Atlantic later today, the National Hurricane Center (NHC) said in its latest advisory.
The system is located about 1,050km southeast of Cape Race, Newfoundland, packing maximum sustained winds of 140km/h, the NHC said.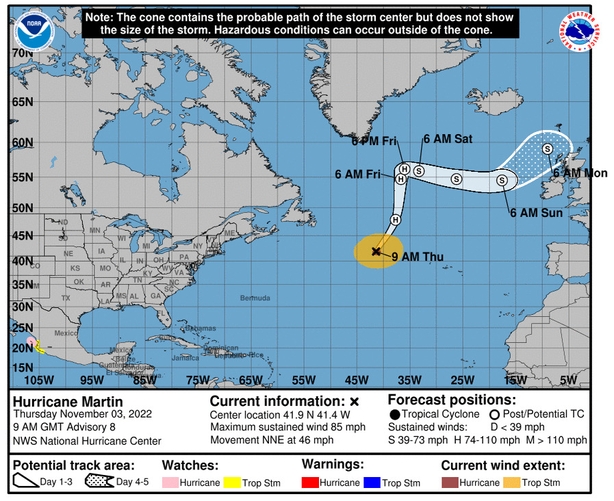 Met Éireann's Gerry Murphy said that the storm is set to still by quite intense Friday, bringing rain during the night and into Saturday morning.
"Current indicators are that it might give us a blustery or windy conditions, but that it won't maintain its strength," Mr Murphy said.
He added that these mild yet wet and blustery conditions will continue into next week.
Friday will start dry with bright spells, along with some isolated showers, which will be mainly confined to Ulster.
Later in the evening, more persistent outbreaks of rain will begin pushing in to Munster. During the evening and night, heavy outbreaks of rain will extend eastwards across the country, possibly turning thundery in places.
Saturday will have a dull and damp start, with outbreaks of rain gradually clearing eastwards through the morning and afternoon. Sunny spells will then follow, with some scattered showers, mainly affecting Atlantic coastal counties
Sunday will see a mix of sunny spells and showers, again mainly affecting the western half of the country.
Low pressure is expected to continue dominating Ireland's weather through the working week, bringing blustery winds, along with frequent outbreaks of rain or showers.