MLAs at Stormont have failed to elect a new Speaker during a recalled session of the Assembly this afternoon.
It means they have been unable to move ahead and fill positions on the Executive, including those of First and Deputy First Ministers.
The deadline to appoint one after May's assembly election will expire at midnight.
Northern Secretary Chris Heaton-Harris is then expected to call a fresh Assembly election, with 15 December considered the likely polling date.
During a two-hour debate at Stormont, the DUP was castigated for refusing to re-enter powersharing.
It has said it will not facilitate new political institutions until its concerns over the Northern Ireland Protocol have been addressed.
Sinn Féin's leader in Northern Ireland Michelle O'Neill said joint authority should be introduced if power sharing could not be restored.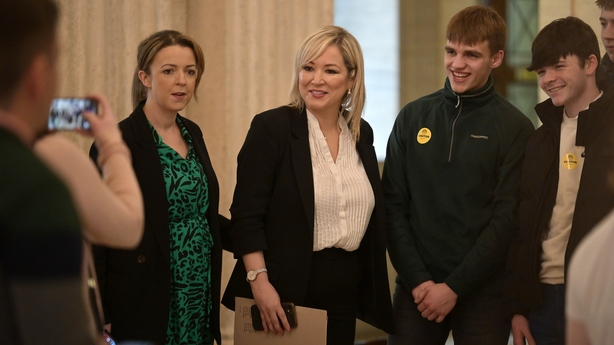 "Jeffrey Donaldson and the DUP are in a perpetual stand-off with the public, the majority of whom they do not speak for, or indeed represent," she said.
"He stood for election yet failed to show up. This is his mess, and a failure of leadership by him and his party."
Ulster Unionist leader Doug Beattie said he feared the institutions might never return.
"There we're lots of angry voices in the chamber but they're not as angry as the voices who are out there suffering in a cost-of-living crisis, who want the economy sorted out and who want their jobs protected."
Alliance leader Naomi Long said the Northern Secretary should pass legislation to suspend Stormont, cut MLAs pay and provide Northern Ireland with a budget, while the EU and UK negotiated changes to the protocol.
"I am ashamed to be part of this circus again today. We know elections in Northern Ireland do not solve problems, they deepen the crisis," she said.
The SDLP's Matthew O'Toole said today's Assembly proceedings felt "like a wake for power-sharing".
His party did not want an election because he felt it would "stretch the elastic of public trust" in the institutions.
"What they want, what they need is political institutions working for them. They don't need boycott and abstentionism that we saw today from the DUP," Mr O'Toole said.
He said the absence of an assembly would not influence the outcome of the protocol negotiations, but it would make life more difficult for hard pressed families.
'Still time' to avoid election - Taoiseach
We need your consent to load this rte-player contentWe use rte-player to manage extra content that can set cookies on your device and collect data about your activity. Please review their details and accept them to load the content.Manage Preferences
Meanwhile, Taoiseach Micheál Martin said that there is "still time" to avoid fresh Stormont elections in Northern Ireland.
Speaking in Trim Co Meath today, Micheál Martin appealed to the DUP to make a last-minute return to Stormont.
He said he believes people in Northern Ireland are losing patience with abstentionism and the lack of action of the cost-of-living crisis.
Mr Martin said Ireland's role in the governing of Northern Ireland, which would be a consultative role on non-devolved matters, becomes bigger in the event of no Stormont breakthrough by tomorrow.
Earlier today, Tánaiste Leo Varadkar said that a Northern Ireland election would likely deliver the same results as last time.
Mr Varadkar said it was "very much regrettable" that Northern Ireland was in this situation, adding that his message to all parties, particularly the DUP, is to "honour their mandate".
"I would like to hear the voice of the DUP in a Northern Ireland government, but that's not possible at the moment, and that goes for the other parties as well," he said.
Meanwhile, Sinn Féin leader Mary Lou McDonald has restated that her party is ready to form a government in Northern Ireland.
Ms McDonald said "common sense" and "goodwill" are needed.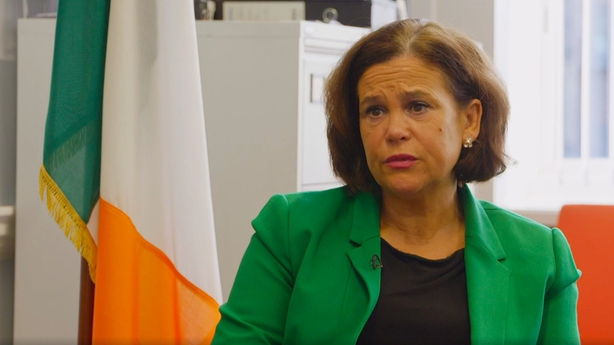 Speaking in what she described as "the eleventh hour," Ms McDonald said she still hopes that Stormont can get back up and running.
She told RTÉ's Drivetime programme that: "Even now, and I understand that we're talking at the eleventh hour, our preference is still strongly for the institutions of government to be back up and running.
"We've been in limbo and stalemate now for months, at a time when people in the North just like everywhere else on the island are in the grips of a really awful cost-of-living crisis.
Ms McDonald described said the next 24 hours will tell a lot.
"It's been disgraceful, frankly, that we haven't had a functioning government, so it looks like and we will know now in the next 24 hours as to whether or not we are heading into an election."
She also insisted that the Northern Ireland Protocol is a "necessary protection for the all Ireland economy and the Good Friday Agreement".
Call for reform
Labour leader Ivana Bacik called for reforms to prevent parties in Northern Ireland from blocking attempts to form a new executive.
Speaking in the Dáil, Ms Bacik said that current structures do not take account of the rise of support for parties that do not designate as either unionist or nationalist.
"It appears to us it's deeply damaging to efforts to normalise politics in the North when either of the two largest parties can veto power-sharing," she said.
During Leaders' Questions, the Tánaiste told Ms Bacik that while she had raised "reasonable questions", her suggestion would involve changes to key provisions in the Good Friday Agreement.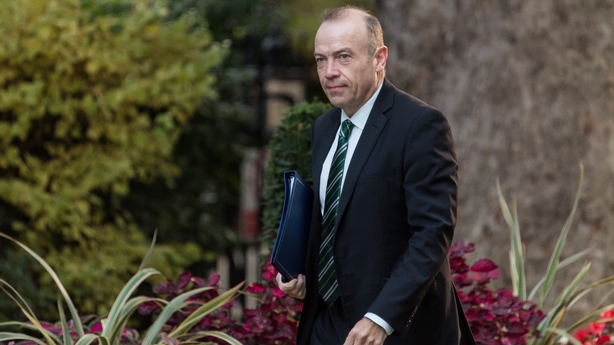 Mr Heaton-Harris held inconclusive talks with party leaders in Belfast last night.
"Since I have become Secretary of State, I have consistently been clear that if the Executive is not formed by 28 October, I will call an election," Mr Heaton-Harris said.
"Time is running out, and people in Northern Ireland deserve locally elected decision-makers and an executive who can respond to the issues facing people, families and communities across Northern Ireland during this challenging time."
The DUP's Emma Little-Pengelly has insisted the Northern Ireland Protocol is the barrier to reviving the Stormont Assembly.
"I think most people out there will wonder what an election will achieve. I think it is disappointing that the Secretary of State instead of working with his colleagues to try to deal with the protocol resolved, that's the barrier to getting the institutions restored, it's a barrier for good reason," she told BBC Radio Ulster this morning.
"We've been making the case to try and get the issues resolved for three years now, that hasn't been done. Instead of getting on and doing that the Secretary of State is pushing everyone into an election."
📞 Good conversation with @JamesCleverly. We agree that our teams will continue to engage on the Protocol on IE/NI.

The EU's commitment to finding joint solutions remains unwavering. It's the only way to ensure certainty and predictability in Northern Ireland.

We'll speak soon. pic.twitter.com/2T9ZpBJIBu

— Maroš Šefčovič🇪🇺 (@MarosSefcovic) October 27, 2022
The UK government has vowed to secure changes to the protocol, either by a negotiated compromise with the EU or through proposed domestic legislation - the Northern Ireland Protocol Bill - which would empower ministers to scrap the arrangements without the approval of Brussels.
New UK Prime Minister Rishi Sunak has said he would prefer "a negotiated outcome and hoped all parties would approach the current challenges with pragmatism and goodwill", his office said.
The first failed attempt to elect a new speaker came in May following the election.
The Assembly has been recalled on two further occasions since, most recently in August.
While Northern Ireland has no first or deputy first ministers, other ministers who served in the previous mandate have remained in post following May's election, albeit they have been significantly constrained in the decisions they can take.
If tomorrow's deadline passes without a full executive having been established, those remaining ministers will cease to hold office.
Mitchell urges 'practical solutions'
Former US Senator George Mitchell has said the political leaders in Northern Ireland, Ireland and the UK need to find "practical, workable solutions and answers" to the current impasse.
Mr Mitchell chaired the all-party peace talks that led to the Good Friday Agreement.
He told an Oireachtas committee nearly 25 years after the signing of the agreement that the people of Northern Ireland continue "to wrestle with their doubts, their differences, their disagreements".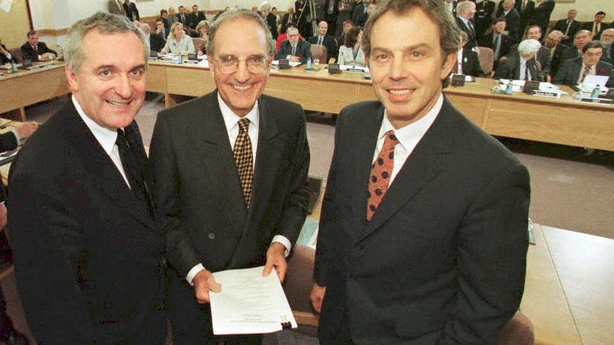 "That is not and should not be a surprise," he said.
"No society is free of differences and disagreements.
"But unlike in the times prior to the agreement, they are trying to resolve their differences, through democratic and peaceful means, not through violence.
"The solutions will not be perfection or permanent.
"So it is for the current leaders of Northern Ireland, Ireland and of the United Kingdom, to find practical, workable solutions and answers to the current problems to preserve the peace to further freedom and opportunity for their people."
Additional reporting: Tommy Meskill, AFP/PA, Sinéad Hussey