Up to 100 places at an army barracks in the east of the country could be made available quickly to provide shelter for people from Ukraine, while the land around at least four other barracks across the country could be used for modular housing, RTÉ News understands.
The possible use of the land around the other barracks is part of plans being examined by the Government.
This would not impinge on the working of these barracks the Office of Public Works (OPW) has been told.
Modular homes are prefabricated and involve building sections away from the construction site and then delivering them for assembly.
These homes are now being considered to help solve the shortage of houses for Ukrainians fleeing war.
The Government says it wants to build 700 of them across the country and the first ones had been expected this month.
Taoiseach Micheál Martin raised the possibility of using rapid-build or modular homes to address the housing crisis.
In the Dáil he said the Government are developing plans to get additional rapid-builds "over and above the 700 identified, in respect of the Ukrainian situation and that they would be used more broadly".
He added other countries are using rapid-build to help address homelessness.
"If we get the first projects off the ground, people will develop more confidence in this form of housing," he told Independent TD Peter Fitzpatrick.
Speaking on RTÉ's Prime Time last night, Minister for Integration Roderic O'Gorman said it could be early January before that happens.
Army barracks which could be used to accommodate Ukrainians include Mullingar, Clonmel, Cavan, Longford and Tralee.
It is possible that modular homes or prefabs could be placed on land around these barracks, and beds at Kilbride training camp in Wicklow might also be used.
Meanwhile, Friday is being earmarked for an incorporeal Cabinet meeting to consider new measures to deal with the influx of refugees.
Community fund proposal for areas with refugees
This evening, the Tánaiste has told party colleagues that this country will not turn any refugees away but accommodation and the accompanying supports will remain a real constraint.
Leo Varadkar said he wanted to see the establishment of a multi-million euro community fund for areas which have welcomed a lot of refugees.
This would be used to improve schools, public transport, community and sporting facilities.
The Tánasite said the movement of Ukrainian people fleeing war and seeking sanctuary here has never been experienced before.
He said Ireland has responded well and had welcomed 55,000 refugees.
Rapid build housing on suitable sites was needed, Mr Varadkar told the Fine Gael parliamentary party meeting in Leinster House.
The meeting heard that Ireland has to be on the right side of history when the Ukrainian refugee plight is studied in years to come.
Greater urgency needed - SF
Sinn Féin's housing spokesperson Eoin Ó Broin has said that greater urgency was needed in the Government's response to the refugee crisis.
Speaking on RTÉ's Drivetime, he said that the ideas proposed by the Irish Refugee Council some months ago were still relevant now.
He said that Ireland faced two crises in international protection which has been building over a number of years. He gave an example of 16,000 people in the system, 4,500 of which shouldn't be there as they have refugee status but are forced to use direct provision and emergency accommodation.
He said that there was no plan to help these people transition out of direct provision, which would also free up accommodation for others.
He said that he didn't doubt the scale of the challenge, but at the start of the war the Irish Refugee Council made decent policy proposals to Government and some were never taken up or taken up in a half-hearted way.
He also said there had been a lack of coordination in Government departments, and that the Department of Children is doing a lot of the hard work. He said that there was a feeling that those in health, education and housing are not putting their shoulders to the wheel and there is not enough forward planning.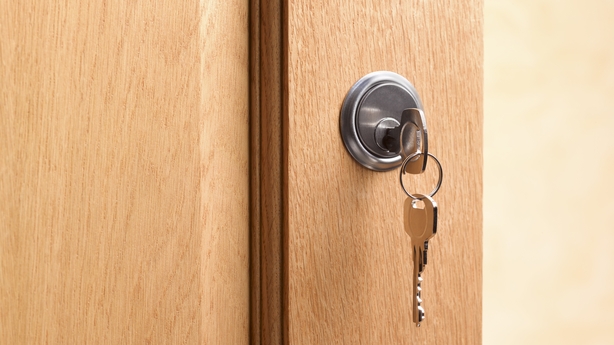 He said that if he was in power he would take up more proposals from the Irish Refugee Council, such as the proposal to use 60,000 vacant holiday homes and give the owners a modest payment for a 12-month licence agreement.
He suggested getting 5% or 10% of those to provide 3,000 to 6,000 homes for families.
On modular accommodation, he said that far greater urgency was needed to roll these out.
Meanwhile, Fianna Fáil Senator Lisa Chambers said on the same programme that the fact 43,000 Ukrainian refugees had been accommodated was a success story.
She added that housing refugees in army barracks was a good idea.
She said that she felt Sinn Féin's ideas were the ideas of others. She said that people had been asked to give up their holiday homes, and that the Government was considering doubling the payment to those involved in providing accommodation.
She said that she did not have a breakdown of numbers of those who gave holiday homes but it has been a small number, adding that Sinn Féin's suggestion that 6,000 holiday homes were possible was a stretch.
On modular and vacant homes, she said that work was under way and could not have been done any quicker.
Earlier, Independent TD for Kildare South and former member of the Defence Forces Cathal Berry said there are several issues around using modular homes in towns around the country, including a lack of consultation, poor site selection and a lack of a support package for education and medical care.
Speaking on RTÉ's Morning Ireland, he said these issues have to be addressed.
We need your consent to load this rte-player contentWe use rte-player to manage extra content that can set cookies on your device and collect data about your activity. Please review their details and accept them to load the content.Manage Preferences
---
Read more: Local objections to modular housing for Ukrainians
---
"People have no problem with the principle. It's the implementation where this is falling down," Mr Berry said.
He said that the Department of Integration was never established to deal with such a large humanitarian crisis, and they need support across country or across Government.
He said there are a lot of disused former military installations around the country that could be used as sites for modular homes as they are not really in use anymore, they are publicly owned, and they are already wired for electricity.
However, he said, there needs to be communication with the local population so that this can take place with their consent.
"This is a crisis, and this is exactly what Putin is hoping for. The streaming of refugees into Europe and the European Union. This isn't an unintended consequence. This is the primary objective of what Putin is trying to achieve," he said.
64 Ukrainian refugees stay overnight at airport facility
64 Ukrainian refugees spent the night at the temporary accommodation facility on the campus at Dublin airport last night.
Those seeking temporary protection were then transported to the Citywest transit hub in the morning.
This is the second night people were accommodated at the facility before being transported to Citywest, after 49 slept there on Monday night.
A spokesperson for the Department of Children, Equality, Disability, Integration and Youth has said that no Ukrainian refugee was refused State provided accommodation yesterday.
36 more newly arrived international protection applicants were told yesterday that there was no State provided accommodation available for them.
A spokesperson for the Department of Children, Equality, Disability, Integration and Youth said that where contact details were available, all of those left without accommodation overnight have been contacted and since offered accommodation.
The spokesperson said that it was expected that all newly arrived international protection applicants who presented today could be accommodated.
The 36 turned away yesterday brings to 114 the number or people seeking refuge in Ireland, either from Ukraine or other countries, left without accommodation for one or more nights since Friday.
The Department spokesperson said that a shortage of available accommodation persists, and concerns remain about the States capacity to accommodate new arrivals over the next number of days.
Meanwhile, over the weekend 78 people, 44 Ukrainians and 34 international protection applicants, were not offered any State provided accommodation.
The department has confirmed that beds are now available for all 78.
Yesterday Nick Henderson, CEO of the Irish Refugee Council, told RTÉ's Drivetime programme that he was aware of seven international protection applicants who had been refused accommodation over the last few days and who remained homeless yesterday evening, including a woman who was unwell.
Additional reporting Sandra Hurley, Laura Fletcher, David Murphy