An art project to commemorate the thousands of people who died from Covid-19 has opened in Dublin.
The 'Lost Lace' art installation is on display at the Iveagh Gardens and honours each individual life on the island lost during the pandemic.
A total of 10,000 individual white handkerchiefs have been fashioned into a simple white rose and are laid out around a fountain to form an intricate delicate pattern of traditional Irish lace.
The 'Lost lace' installation is a collaborative project between artist Miriam McConnon and the poet Jessica Traynor.
"The idea of using the handkerchief comes from the old 'clooties' which were hung on the holy wells in Ireland," Ms McConnon said.

"In Pagan times, it was believed that they would drive away illness. So, it's kind of a reference to Irish history as well."
Relatives of those who died during the pandemic were emotional as they viewed the installation, describing it as a "perfect tribute" to help them grieve.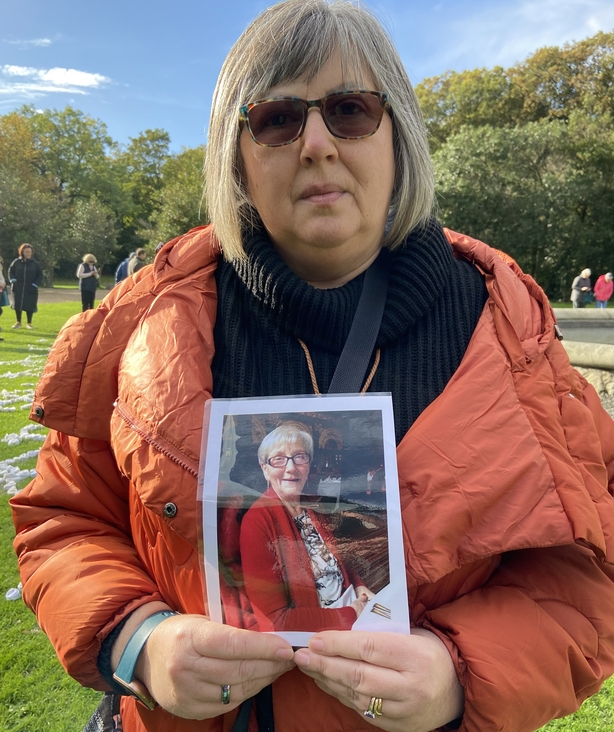 Brenda Burke from Co Antrim lost her 82-year-old mother Ruth to Covid at the beginning of the pandemic in 2020.
The family did not get a wake or a funeral and Ruth was buried in her hospital gown.
"It was a very powerful [tribute] because I can't ever forget and it just brings it back that mum was probably buried in a hospital gown and I don't like to think like that," said Ms Burke.
"You know when you see all the lace roses? They represent lives.
"They represent people, not numbers. People who had names, had faces, had family."
The public can also scan a QR code at the project to read four specially commissioned poems by Ms Traynor.
The poet focused on themes including the lost art of Irish lacemaking and wrote poems based on the words and messages submitted on the projects website by those who have lost friends and relatives to Covid-19 in Ireland.
The artists hope people will reflect on each individual life lost to the virus.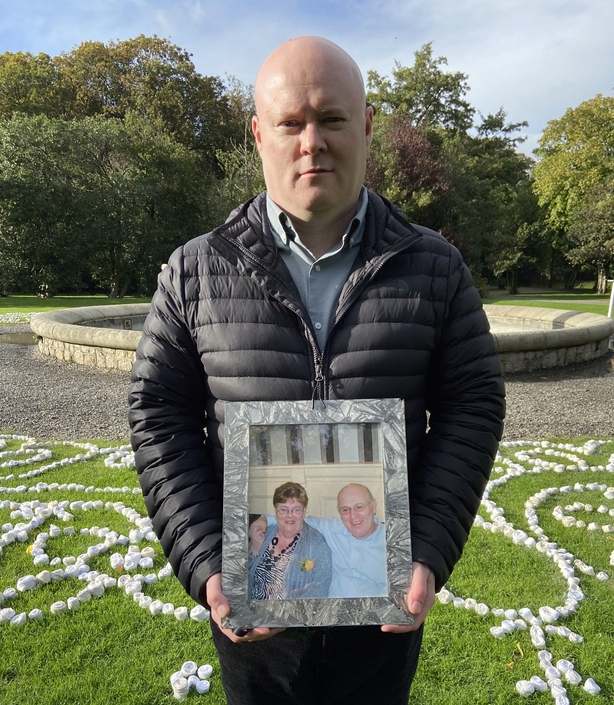 Kieran Ward from Co Tyrone was among those who attended the launch of the project. He lost both his parents within 12 days of each other to the virus.
"Whenever you see the scale of life lost, over 10,000 single roses across the island," he said.
"They are individual people and their families are grieving every day. So, it means a lot for us."
The 'Lost Lace' project was launched by Arts Minister Catherine Martin, who described it as a "wonderful tribute" to those who died.
"This process of collaboration – whether it is between people or communities - forms a very important bridge between members of the public and the artist. It is a process that is enriching for all involved," Minister Martin said.
The installation is on display for two weeks at the Iveagh gardens in Dublin.