Thousands of students on college campuses throughout the country have participated in a national walkout in protest at the cost-of-living and accommodation crises.
The Union of Students in Ireland said its action was to remind the Government and college authorities that students are not an endless money pit.
USI President Beth O'Reilly said: "The support for today's student walkout is indicative of the number of students that are experiencing accommodation and financial problems across Ireland.
"It used to be a case that every student knew someone that was struggling, but now nearly every student is struggling themselves.
"Students needed to take this action today."
Students left lecture theatres at 11:11am and gathered in college squares and other open spaces.
A huge crowd crammed into Trinity College's front square after walking out from their lecture theatres.
Students union president at the college Gabi Fullam told the crowd that the cost-of-living crisis was reaching into every crevice of their lives.
We need your consent to load this rte-player contentWe use rte-player to manage extra content that can set cookies on your device and collect data about your activity. Please review their details and accept them to load the content.Manage Preferences
"You know it, you live it," she told the crowd. "We are couch surfing. We have friends who are couch surfing."
She went on to say that it was students who owned the college, not tourists and not the Government.
"Education is a human right," she told those gathered. "And we deserve to be able to avail of it."
Professor Stephen Smith, who is senior tutor at the college, told the crowd that virtually every tutor in the college had phoned him to highlight the desperate situation that students were facing.
He said the situation was heartbreaking and added that students cannot learn if they are hungry.
Trinity first year Engineering students join today's national student walkout #studentwalkout pic.twitter.com/l2U86T9IxE

— emma o kelly (@emma_okelly) October 13, 2022
Tánaiste Leo Varadkar said the Government is examining if the €500 rent tax credit announced in the Budget can be extended to parents who pay rent on behalf of their children.
He told the Dáil that Finance Minister Paschal Donohoe is looking at the issue.
"I hope we can do that. Sometime these things are easier promised than done," Mr Varadkar said.
"But we hope we can do that and we should be in a position to confirm whether or not we can do that by next Tuesay when the Finance Bill comes to Cabinet."
As it currently stands, students who pay income tax will receive €500 credit, however that does not extend to students who do not earn enough to pay tax.
The Tánaiste was replying to Sinn Féin's spokesperson on Higher and Further Education, Rose Conway Walsh, who said students are "weary" and "at their wits end" due to what she called the Government's "abject failure" to stand-up for students and deliver the required accommodation.
She said the "entire calamity" being experienced by students dealing with the accommodation crisis was "entirely predictable".
Deputy Conway Walsh asserted that it was appropriate the students went on strike at 11 minutes past 11 this morning, given Fine Gael had been in office for 11 years and each year the problem got worse.
Rental pressure not balancing out - USI
The USI President said the €1,000 reduction in student contribution did not put more money back in students pockets, but is just taking less money from students.
They said people should not be patting themselves on the back for that.
Speaking on RTÉ's Morning Ireland, they said there had been hope that some of the rental market pressure would balance out in late October, but this is not proving to be the case.
There are still countless students who cannot source accommodation, who are making whole-day commutes to attend college and are living in hostels, they said, adding that a number of students have been forced to defer their courses because of financial pressures.
---
Read more:
'We pay so much and they have the audacity to say it's free?'
---
Today's protest was organised by the Union of Students in Ireland, which said that landlords are exploiting the student accommodation crisis by charging sky-high rents.
Pointing to an expected shortage of 20,000 student beds by 2024, the union has criticised the Government for not capping student rents and said Budget 2023 showed no commitment to solving the shortage.
The Budget provided for a €1,000 reduction in fees for most students, however the USI said PhD students are still fighting for a stipend that covers their costs of living.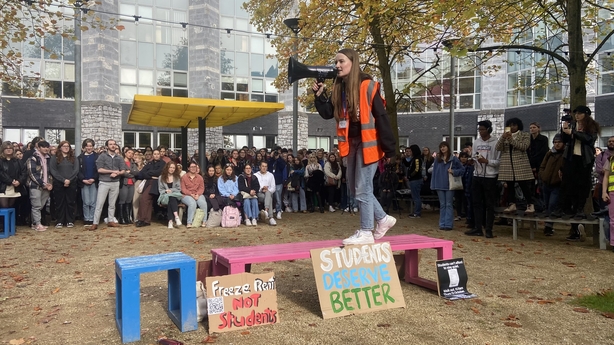 One student, Leanne, said that she was homeless during her first year in college.
"I was going between houses trying to find a place to sleep. And in the last three years I've been squatting. And if the Government finds out where I live, I'll be evicted. I'm not the only student like this, everyone is going through something similar.
"All we want is a living wage. We want a place to live, and we want our teaching assistants to be paid a living wage, and that's why I'm here today."
The USI has also criticised the overall underfunding of the sector by the Government, which it said is having a negative impact on both staff and students.
Students are calling for an immediate ban on evictions and the introduction of housing as a constitutional right.
They say students in digs tenancies and short-term tenants need to see the introduction of rental protections and minimum standards.
The USI is also calling for legislative changes to ensure the Residential Tenancies Board can intervene in disputes relating to security deposits.
It said students need an immediate cap on the price of renting, and it is calling for urgent Government intervention with public funds to subsidise the construction of affordable, purpose built student accommodation.
The union is also calling for the abolition of the Student Contribution Charge and wants the minimum wage to match the current living wage of €13.10 an hour.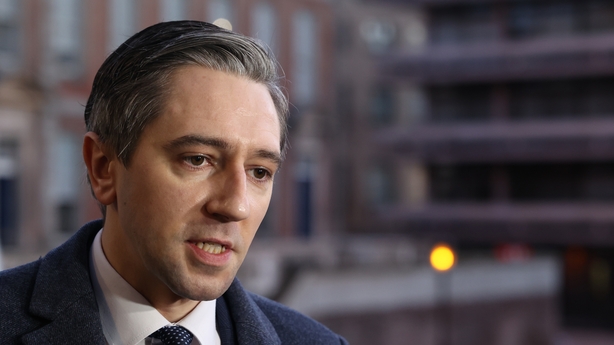 Students facing 'difficult time' - Harris
The Minister for Further and Higher Education has said he understands that students are going through a "really difficult time" due to cost-of-living pressures.
Simon Harris said Budget 2023 will provide "unprecedented" financial assistance for students.
He also said there needs to be a "fundamental shift" in the provision of student accommodation.
Mr Harris told reporters in Dublin that the issue of affordability and supply of housing needs to be addressed and he will be bringing proposals to Government in the coming weeks, aimed at "unlocking" planning permission for student accommodation.
He said that he would like to see public money used to build student accommodation, adding that the State has been "too reliant" on the private market to deliver student accommodation.
"We have many colleges that have public land banks, land they own, with planning permission, we need to make an intervention so that they can get building," he said.
Mr Harris told reporters that many institutions, particularly universities, feel that they have not been able to build, and he would like to see how Government can assist in progressing these projects.
He said that such a situation is not acceptable in the middle of a housing crisis.
The minister was speaking at the launch of a new implementation plan to address sexual violence and harassment in higher education institutions.
Additional reporting: Tommy Meskill, Sandra Hurley