Tánaiste Leo Varadkar has told a conference to discuss options for Irish unity that there was a responsibility to ensure that the dream of a new Ireland did not become someone else's nightmare.
He said there were "opposing dreams" on the island that could not be wished away.
"We need to acknowledge that cross community engagement in Northern Ireland and between the north and the south remains far short of where it needs to be if we want to build a new Ireland."
He said the objective should be to secure as large a majority as possible in any future poll.
"Fifty percent plus one may be enough on paper, but won't be a success in practice."
He said success would involve compromise and might involving retaining and building on Northern Ireland's devolved institutions and British-Irish relations.
"Some might see that as no change but the biggest change would be the most important one: the sovereign government would be the Irish one."
The Fine Gael leader, who has made clear he does not think the conditions are currently right for a border poll, said there was danger of placing too much focus on referenda, when the priority should be on trying to increase engagement and build trust.
"A shared, united and new Ireland is something that many Irish people have dreamt about for many years," he told the conference.
"It is a noble and legitimate aspiration, and one that I share.
"It is an idea that has come a long way in a very short time. When I was growing up in the 1980s, an event like this would have been criticised for being destructive and divisive, if it happened at all.
"Decades of violence sullied the dream of unification.
"In the 1990s, peace changed everything. Old hatreds were replaced by a new hope. We won the freedom to dream anew. We dared to ask what was the next stepping stone in our national story.
"But with that freedom comes a challenge, a responsibility on all of us to ensure that our dreams do not become someone else's nightmare. A challenge to avoid replicating the mistakes of the past. Imposing our will on the unwilling."
Mr Varadkar said a recurring theme in Irish history was the failure to find a "solution that works for all".
Sinn Féin leader Mary Lou McDonald told the conference said those who said it was not the time to start preparing for constitutional change had "long lost sight of the bigger picture".
Creating a new Ireland means building a "home" for everyone on the island, Ms McDonald added.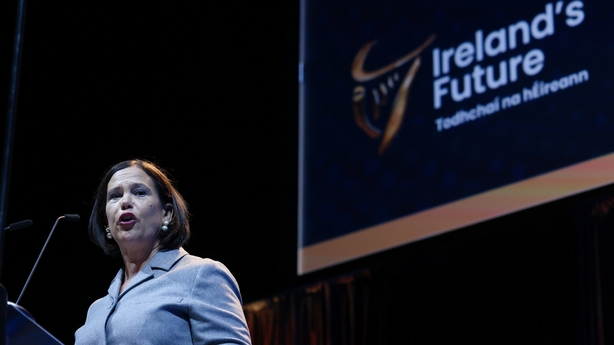 In her speech at the 3Arena, she called for an end to the "them and us" political discourse.
"Ireland's future will be determined by choices made today, by decisions of this generation," she said.
"So, the question before us is clear. Do we remain hemmed in by the narrow boundaries of the past, by a dogma that told our parents and grandparents 'this far and no further' or do we, together, choose ambition, courage, and the belief that we can build anew?
"I think we should choose courage; I think we should choose ambition; I think we should choose hope.
"Those who say 'yes, but not now' have long lost sight of the bigger picture."
Organisers for the conference said they had sold 5,000 tickets.
Leaders and senior figures from many of the main parties on the island attended, and a broad sweep of civic and cultural life were also represented.
Organisers said the aim was to promote discussion about Ireland's future, including the possibility and viability of a new constitutional arrangement.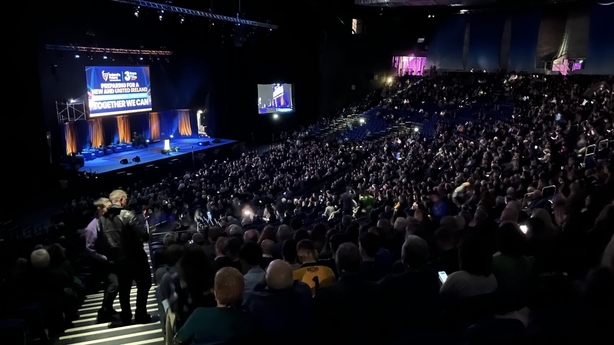 During a panel discussion, Fine Gael TD Neale Richmond said he did not believe his party had done enough to plan for unity.
He said for too long in Ireland the rallying call had been "Brits Out".
He said instead it should be "Brits In" and he wanted the 300,000 British passport holders in Northern Ireland to feel comfortable in any new constitutional arrangements.
Labour leader Ivana Bacik said the future was a united island rooted in the EU and that a huge amount of preparatory work remained to be done.
Fianna Fáil TD Jim Callaghan said no-one should be forced to be loyal to the State. That had to be earned and those ambivalent about unity would need strong guarantees.
He also confirmed he would like to be a future Fianna Fáil leader.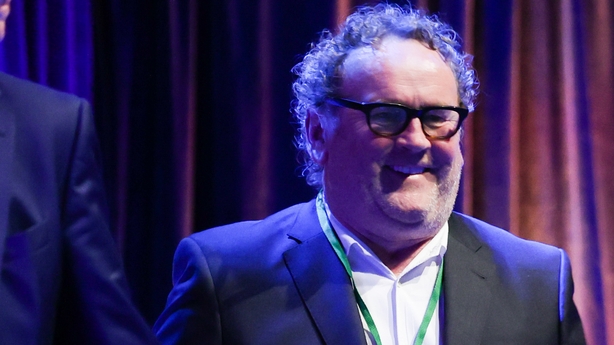 SDLP leader Colum Eastwood said unity was not an Orange and Green issue, it was new arrangements that would build a sustainable economy and health service on the island.
Sinn Féin's Declan Kearney said the Government should immediately move to a Citizens' Assembly on unity to formalise a conversation that was already happening.
Unionist politicians are not taking part. The Alliance Party, which now represents a significant section of the electorate in Northern Ireland, also declined an invitation.
It said it did not want to participate in a "rally" to endorse Irish unity.
Actors Colm Meaney and James Nesbitt also attended the conference.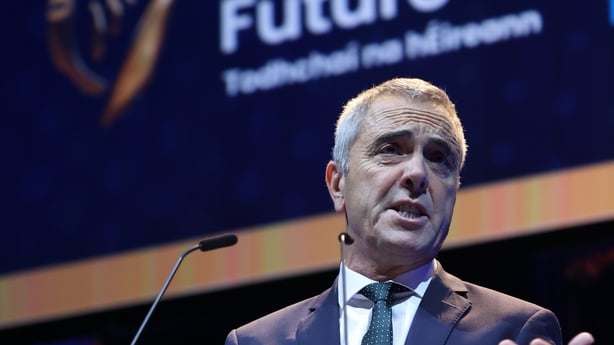 Recent census figures in Northern Ireland showed that 33.5% of people identify either solely or jointly with an Irish identity - up from 28% a decade ago.
The equivalent figure for a British identity was 42.8% - down from 48.4% in 2011.
Around one in five people regard themselves as Northern Irish only.
How they would vote in any border poll is considered vital to the outcome.
The decision on the timing of a border poll rests with the British Secretary of State for Northern Ireland.
They are obliged to call one when the indications are that a majority would support leaving the union.
But neither the Good Friday Agreement nor its enacting legislation sets out the conditions that must be met before the poll would be run.
Additional reporting PA