The Director General of the Environmental Protection Agency (EPA) has told the Citizens' Assembly on Biodiversity Loss that there is a large gap between climate action planning and intentions and the implementation of actions to deliver on those plans.
Laura Burke highlighted that Ireland failed to meet its 2020 EU emissions target of a 20% reduction in greenhouse gas emissions, that the 2019 Climate Action Plan finished with many delayed actions, and many of the initial 2021 Climate Action Plan actions have been delayed.
She also said that there are delays and shortfalls in reporting and organising national bodies.
In addition, Ms Brurke said that the current sectoral climate budgets will not deliver and that they do not add up to the 51% reduction in greenhouse gas emissions promised by 2030.
She was speaking at the assembly which is meeting at the Grand Hotel in Malahide, Dublin.
The assembly, which is being chaired by Dr Aoibhinn Ní Shúilleabháin, is made up of 99 randomly selected Irish citizens who participate in the assembly's six-month programme of work.
This is the first citizens' assembly anywhere in the world focusing specifically on biodiversity loss, so its deliberations are likely to be noted and watched carefully by environmental groups and related NGOs elsewhere.
According to EPA data, Ireland's greenhouse gas emissions went up by 4.7% last year at a time when they were targeted to fall by 4.8% per year.
The country's emissions are now higher than they were in 2019 before the Covid-19 pandemic began.
Ms Burke said that if all the plans and actions outlined in the Climate Action Plan including commitments were delivered, then Ireland's greenhouse gas emissions would fall by 28% by 2030. These commitments include having up to one million electric vehicles on Irish roads by 2030.
However, she said that this was nowhere near the 51% reduction now legally required.
Currently the trends are going in the wrong direction and the plans are not enough, she said.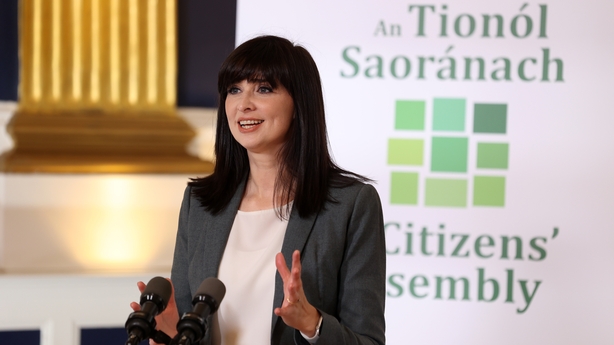 Climate Change is recognised at the defining challenge for this century according to the EPA Director General and evidence shows that Ireland's climate is changing.
She referenced increases in temperature, changes in precipitation patterns, ongoing sea level rise, and changes in the character of weather extremes.
Ms Burke also spoke about biodiversity and climate co-benefits whereby improvements in biodiversity protection also helps to tackle climate change, giving the example of the restoration of wetlands.
Peatland restoration, she said, was a win-win because there are many unique species on peatlands that can be protected while peatlands are also a highly effective way to store carbon.
Liam Lysaght from the National Biodiversity Data Centre told about how the breeding population of Gery Wagtail birds has declined by more than 46% in ten years.
The breeding population of Stock Doves also fell by 38.6% over a ten-year period.
There are over 3,000 species on the conservation red list in Ireland which includes plants, fish, and insects.
According to Mr Lysaght, it shows that between a quarter and a third of the species examined so far are threatened with extinction. Included in that are one in three of the 99 bee species in Ireland.
In addition, the list suggest that a third of Ireland's amphibia, reptiles and freshwater fish are also threatened with extinction.
A list of birds of conservation concern from Birdwatch Ireland names 54 regularly occurring birds that are threatened including quail, grey partridge, swift, corncrake, barn owl, golden eagle, kestrel and many more.
The citizens were also given examples of other species at risk of being lost to Ireland including the European Eel, Freshwater Pearl Mussel, the Great Yellow Bumblebee, the Atlantic Salmon, the Curlew and the Twite - which is a type of finch bird.
The National Biodiversity Data Centre also has details of some species whose population and ranges are actually expanding rather than contracting in Ireland, often as a result of climate change, or as an invasive species.
These include the Great Spotted Woodpecker, the Emperor Dragonfly, the Greater White-toothed Shrew, the Comma Butterfly, and the Blackcap - which is a bird.
Mr Lysaght also highlighted how changes in habitats as a result of man-made developments have caused some species to have to change their behaviours and ranges, and adapt to new environments. Often this causes them to come into conflict with people. For this he sited the example of the Herring Gull which was widespread around the Irish coast but whose population has now declined by 90% in 30 years.
Earlier, the assembly heard first from public philosopher Roman Krznaric who highlighted how the decisions we make as a society now will have an impact for many generations to come.
Mr Krznaric said that this is the age of "the tyranny of the now" dominated by choices about the present rather than thinking about the future, and as a result society dumps major problems such as climate change, biodiversity, and issues around the impact of technology onto future generations to sort out.
He said the big question for humanity is "are we being good ancestors?" because tens of billions of people will be born in the future and they will wonder about what type of world we have left them.
Policymakers need to think on the scale of years, decades and centuries when making decisions, he said.
All of the assembly meetings and presentations will be available online at www.citizensassembly.ie