Hundreds of workers employed in the community and voluntary sector in counties Cork, Kerry, Galway, Mayo and Donegal will take part in three days of strikes from today, in pursuit of better pay, terms and conditions.
The workers are members of the INMO, SIPTU and Fórsa.
The action is being taken jointly by the unions, as part of the Congress of Trade Unions' Valuing Care, Valuing Community campaign.
The focus of today's strikes will be on Co Cork.
Pickets will be placed on St Joseph's Foundation in Charleville, as well as on the Irish Wheelchair Association and EmployAbility in Cork city.
Tomorrow's strikes will be at the offices of Ability West in Tuam and Galway city, at Western Care in Belmullet, Ballina and Castlebar in Co Mayo, and at a number of community employment schemes in Co Donegal.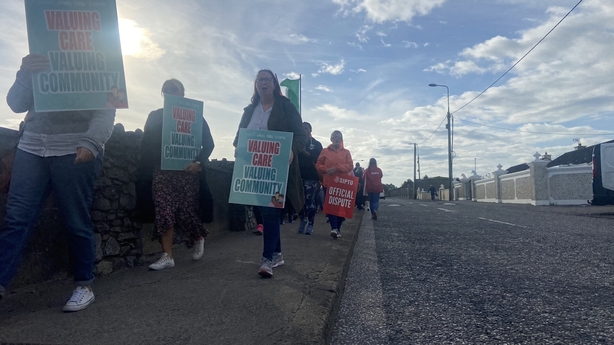 The striking workers there will also hold a protest march and rally from noon tomorrow in Letterkenny.
The march will leave from outside the SIPTU office on Port Road, Gortlee, and will conclude with a rally outside the Intreo Centre on High Road in Letterkenny.
On Friday, pickets will be placed at Enable Ireland centres at Curaheen in Cork and in Tralee, Co Kerry.
The unions involved say health and social care workers in all grades employed in agencies funded by the Health Service Executive are being paid significantly less than equivalent workers employed directly by the HSE and other State bodies.
The so-called 'Section 39' organisations are contracted to provide services on behalf of the HSE for a funding grant in accordance with Section 39 of the 2004 Health Act.
The Department of Health says because such organisations are privately owned, setting pay rates for their staff is not a matter for the Government.
Minister for Transport Eamon Ryan acknowledged the "great", "important" and "critical work" that voluntary and community workers perform, noting that they are continuing to ensure the continuation of essential services, even during an industrial action which is underway.
There are real issues at play, but "the Government is not the direct employer," he said.
Mr Ryan was responding to Solidarity-PBP TD Mick Barry, who called on the Government to use the Budget to guarantee improved pay for Section 39 workers.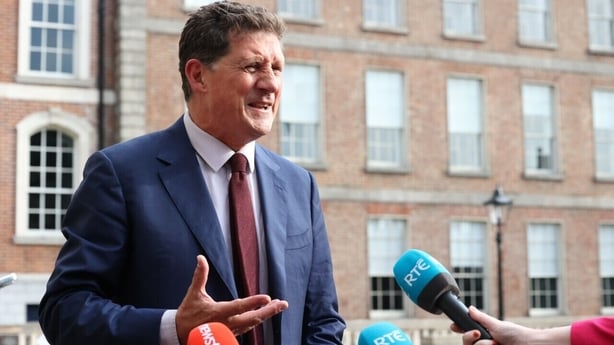 However, SIPTU has accused the Government of adopting a 'pass the parcel' approach, with no department willing to address the concerns of community workers.
"We have written to the Taoiseach requesting a meeting on this issue," said SIPTU Public Administration and Community Organiser Adrian Kane.
"His office then referred us on to the Tánaiste, who in turn referred us to other ministers. All have failed to accept that it is the Government which has ultimate responsibility for pay rates in these organisations, because it funds them."
Research published last year by Fórsa trade union indicated high turnover rates among staff in the community and voluntary sectors, up to 33% annually the union claims.
Fórsa National Secretary Ashley Connolly said: "Government is failing to grasp the link between its chronic underfunding of the services we're talking about and the failure to meet the HSE's recruitment targets in, for example, disability services. This has led to service delivery issues and growing waiting lists."
INMO Assistant Director of Industrial Relations Colm Porter added: "The high level of staff turnover drives up HR and related recruitment costs."