Aer Lingus has said the 'vast majority' of customers impacted by Saturday's IT system outage have now been re-accommodated with new flights.
For those customers who opted for a refund, the airline said these are being processed as "efficiently as possible" by its customer care team.
In a statement, Aer Lingus once again apologised for the weekend disruption and said that its schedule has operated as normal today.
Extra flights have been scheduled to Lanzarote and Bourgas in Bulgaria, both operating today, and to Izmir in Turkey which is scheduled to operate tomorrow.
"We appreciate that as a result of the system outage on Saturday, some customers' baggage has been delayed," Aer Lingus said in a statement.
"Our team on the ground is working to return bags to customers and we hope to have these issues resolved in the coming days," the airline said.
Aer Lingus said it had increased the number of contact centre agents to deal with customers but that due to the level of disruption, call wait times may vary.
Investigations are ongoing into the exact cause of the IT outage which the airline said resulted from a break in connectivity in services from a UK network provider.
It led to the cancellation of 64 flights on Saturday disrupting the travel plans of thousands of passengers.
Many of those impacted have complained about Aer Lingus customer service and communications.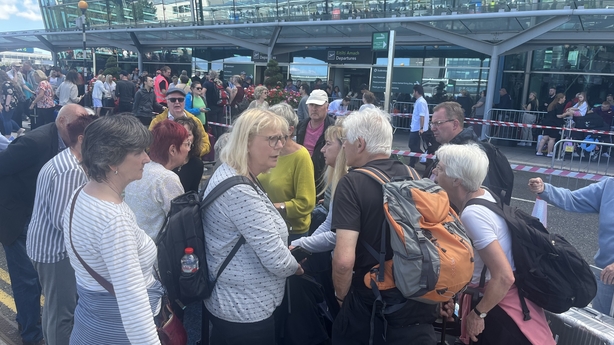 ---
Read more: 'It's a disaster' - Aer Lingus customers try to rebook following mass cancellations
---
Hotel accommodation has been offered to Aer Lingus customers at most airports. It also said that customers who secured their own accommodation will be reimbursed accordingly.
Aer Lingus Chief Corporate Affairs Officer Donal Moriarty yesterday said the airline had never experienced an IT problem like the one experienced over the weekend, describing it as a "unique" experience, but he said there were other corporations also affected by the outage.
Mr Moriarty said that the airline was "not happy" about the systems failure and had taken steps to ensure it will not happen again, but said he could not guarantee that the incident would not be repeated.
Additional reporting Helen Donohue