Gardaí have reported a 30% increase in accommodation fraud in 2022 compared to pre-pandemic levels and warned students to be wary of rental scams on the return to college.
The rise in fraud, by almost a third, compares February to July 2022 to the same period in 2019.
This year saw €291,452 stolen in housing cons, up from almost €250,000 three years ago.
Further figures from the gardaí show €1,300 is the median amount stolen and that around half of the fraud incidents occur in Dublin.
The return to college months of August to October show a spike in accommodation fraud and this year there was a 50% increase in those under 25 falling victim to this type of theft.
Detective Superintendent Michael Cryan of the Gardaí National Economic Crime Bureau said: "You should only use recognised letting agencies or deal with people who are bona fide and trusted.
"Websites can be cloned, check the URL to ensure it's a real website and take note of the privacy and refund policy sections.
"Be very wary of social media advertisements or where a person letting the location will only communicate via messenger or WhatsApp.
"Watch out for unsolicited contacts or where the contact appears to be based in other jurisdictions and especially if there is a sense of urgency like 'a one-time offer'."
Gardaí recommend using a credit card or other trusted money transfer service for payments and to be wary of sending money to a "random" PayPal address, wiring money via Western Union, iTunes gift cards or cryptocurrency.
Other red flags include the landlord being unable to show the property in person or when payment is demanded immediately before signing the lease.
Gardaí also advised on insisting on a receipt, ensuring keys to the property work and having the correct contact details for the landlord or letting agent.
Scams a 'massive issue'
The Vice President for Campaigns at the Union of Students in Ireland said rental scams are "proving a massive issue".
Ross Boyd said: "With students finding it such a hard way to get accommodation, we see this a lot.
"With the demand for accommodation and the lack of supply, it's been meaning that students are having to take sort of more risks in terms of getting accommodation."
Mr Boyd said students are "vulnerable to scams" because of the pressure to find a place to stay.
He said the 30% increase in incidents of accommodation fraud is "reflective of the student accommodation crisis and one of the symptoms of it."
The Irish Council for International Students said it has seen an increase in rental scams among people studying in Ireland from other countries.
ICOS Executive Director Laura Harmon said: "International students are being affected by scamming and by fraud when they're looking for accommodation to rent in Ireland. "
She said the issue "can be particularly impactful on students that come here whose language is not English."
Third level students are planning a series of walkouts from lectures in October in protest at the lack of accommodation available for new and returning students.
Union of Students in Ireland President Beth O'Reilly said the protests are intended to show that students "aren't taking this sitting down".
Speaking on RTÉ's Morning Ireland, they said that the situation regarding student accommodation has been a long-running issue, but said that it is "exponentially worse" since the pandemic.
Meanwhile, Minister for Higher and Further Education Simon Harris has promoted the rent-a-room tax relief as a way of freeing up rooms to ease the shortage of housing for students.
Minister for Further and Higher Education Simon Harris has said the model for building student accommodation needs to change, but that the 'rent-a-room/digs option can be the immediate release valve' for students. pic.twitter.com/7MAbuTbnbk

— RTÉ News (@rtenews) August 31, 2022
Mr Harris said: "Many colleges reserve a significant amount of student accommodation in on-campus facilities for first year students.
"There is also two significant student accommodation developments due to open shortly - Trinity and UCC - which will probably in terms of the timing of it opening, benefit first year students as well."
However, when asked if those places will be enough, Mr Harris said that the model for building student accommodation needs to be changed.
"We need to change the model when it comes to building student accommodation. I have got agreement now to pursue a new policy, but the immediate release valve is, I do think, the rental room scheme," he added.
Pressure on overall housing stock
The Irish Universities Association has raised concerns for the welfare of students starting third level amid the accommodation shortage.
Also speaking on Morning Ireland, Director General Jim Miley said "there is a real challenge this year".
"We have had an increasing challenge with student accommodation over recent years but this year additional numbers coming into the system and of course the Ukraine refugee situation, has put further pressure on the overall housing stock."
Mr Miley said that a small portion of the student accommodation is provided by the universities "but that is very much the minority piece".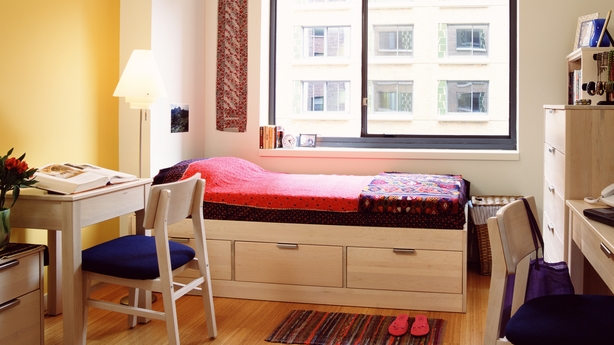 He said that universities are "doing everything they can to maximise that and that includes holding back some accommodation for first year students who are getting their results three weeks later than usual this year, and therefore won't get their college offers until next week".
Mr Miley said that in the longer term more bed spaces need to be built for students but construction costs will make this very difficult.
"Our universities have over 3,000 bed spaces that they could build. They have the land, they have the loan finance in place and they have the planning permission.
"But were they to build at the current cost levels, they would have to charge exorbitant rents to students, just on a cost return basis. It might be as much as up to €14,000 or €15,000 per room and they are not prepared to do that."
However, Mr Miley said that the Cabinet Sub-Committee on Housing "has agreed in principle to provide a subvention to universities to defray some of that cost of building student accommodation in order ultimately for it to be rented out at affordable rates to students".
Mr Miley said they are "hopeful" that the Government will make progress on that in the coming weeks, however it will take a number of years before that student accommodation will become available.
On reducing the €3,000 student contribution fee, Mr Miley said that "a reduction on student fees is a political decision and we will leave that to Government but the minister has told us that a €1,000 reduction in student fees will reduce the income of universities and colleges by about €85 million net, so if that happens, that needs to be replaced by the Government, otherwise they are adding to the funding deficit that is already significant in higher education".
Mr Miley also called for a substantial package to improve the supports and services for students and to address the student staff ratios that "the Government have accepted is way out of line with our competitors".