The death of Michael Collins in 1922 deprived Ireland of one its greatest hopes of reconciliation, according to Taoiseach Micheál Martin.
The Taoiseach was addressing a crowd of thousands who gathered at Béal na Bláth in Co Cork to commemorate the centenary of the death of Michael Collins in an ambush.
The event is commemorated on the nearest Sunday every year, but this year, the ceremony will mark a historic first. The first Fianna Fáil leader to ever address the event, Mr Martin said that Michael Collins "deserves to be remembered as one of the greatest Irishmen to have ever lived".
Mr Martin was joined by Tánaiste and Fine Gael leader Leo Varadkar, making it the first time the leaders of Fianna Fáil and Fine Gael - the parties associated with the opposing sides in the Civil War - addressed the event in Béal na Bláth.
We need your consent to load this rte-player contentWe use rte-player to manage extra content that can set cookies on your device and collect data about your activity. Please review their details and accept them to load the content.Manage Preferences
"In his short 31 years Michael Collins made a deep, lasting and positive impact on our country," Mr Martin told the crowd.
"It is perhaps the greatest tragedy of Collins' death that it deprived us of our best hope for reconciliation," said Mr Martin.
"He was a dynamic leader who could both inspire people and, in the middle of a bloody conflict, build a new administration from nothing. He is a key reason why we have been able to build a country which, while it still faces major challenges, has been transformed for the better," added Mr Martin.
Taoiseach Micheál Martin says perhaps the greatest tragedy of Michael Collins' death is "that it deprived us of our best hope for reconciliation." pic.twitter.com/pVcC09iyAF

— RTÉ News (@rtenews) August 21, 2022
In his speech, Mr Varadkar said that the ambush site is a "painful site of memory for so many connected with Michael Collins".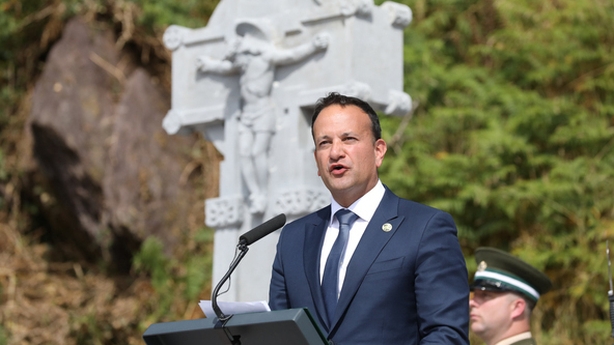 "It is a place of death, forever associated with a senseless killing in an unnecessary war in which brother turned on brother.
"On the centenary of his death, we pay tribute on behalf of a grateful nation and join together in this place to say, 'Thank you'. Michael Collins' life was Ireland and his legacy is Ireland too," Mr Varadkar said.
Tánaiste Leo Varadkar has described Michael Collins as "the great prophet of freedom". He says the commemoration at Beál na Bláth is an opportunity to reflect on what Ireland has achieved, where we have fallen short, and "renew our determination to do better." pic.twitter.com/9cRORJnyla

— RTÉ News (@rtenews) August 21, 2022
Collins' great grand-niece Eleanor Moore also addressed the crowd, where she said the weekend has been "amazing for the family" and warmly thanked everyone for attending.
Afterwards, wreaths were laid at the Béal na Bláth monument to Michael Collins, 'The Last Post' was played, followed by the National Anthem. The national flag was also raised over the site.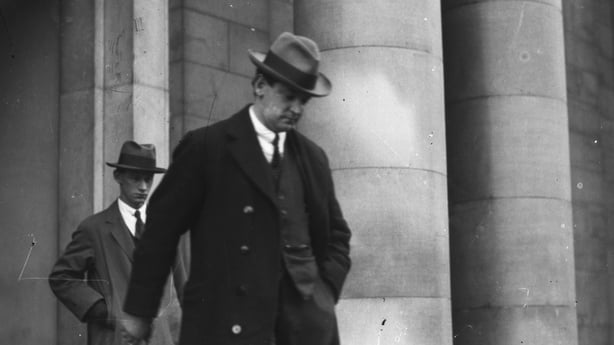 The Béal na Bláth monument area has been extensively remodelled and improved. The road has been narrowed, and a new, more imposing and more fitting platform built to frame the memorial cross.
A new stone marker has been erected, to show the spot where Michael Collins is said to have died.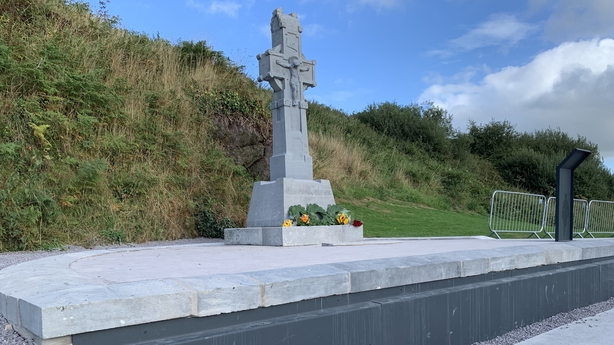 The location of the memorial cross has often been mistaken for that exact spot, and the new marker stone is hoped to clear up that confusion.
The ceremony commemorates events of 100 years ago on Monday, 22 August, when the Civil War was almost two months old.
The anti-Treaty IRA had been comprehensively defeated in its attempts to hold cities and towns against the pro-Treaty National Army. First, Dublin had fallen, then the cities and towns of Munster were captured.
The IRA Chief of Staff Liam Lynch, ordered a return to the guerilla war tactics of the War of Independence, with a heavy emphasis on ambushes of Free State troops and convoys.
Michael Collins, Commander-in-Chief of the National Army, was on a tour of inspection of West Cork on 22 August.
---
Read more: 'It would be a great pity if Collins were killed'
---
He travelled with a small convoy, an armoured truck, an armoured car, an open touring car and a motorcycle, with around 20 men in all.
On his journey into west Cork that morning, he was spotted going through Béal na Bláth by an IRA scout, and an ambush was planned.
Michael Collins' convoy then made the fatal mistake of travelling back by the same road that evening, and ran straight into an ambush at Béal na Bláth.
---
In pictures: Centenary of Michael Collins' death
---
The IRA unit mounting the ambush had actually began evacuating the position, after it was decided the convoy would not after all be coming back that way.
Only a few men were left in the ambush position when the convoy appeared.
In an intense exchange of gunfire, Michael Collins was shot through the head and died almost instantly.