The GAA has said a Government call for sporting organisations to make temporary accommodation available for people seeking refuge in Ireland comes at a "difficult time" for the association.
With club championships being played at all levels, it says it is unlikely that the majority of GAA facilities could become available for accommodation use until after the winter.
Speaking on RTÉ's Morning Ireland, GAA Community and Health Manager Colin Regan said: "Unfortunately, the latest call coincides with the commencement of the club championship season, which places extensive demand on all GAA facilities at both club and county level.
"It means that the likelihood of any suitable accommodation becoming available in this very period is extremely limited.
"While a senior team may be knocked out of the championship, as we know, clubs will be catering for a whole swathe of underage and a myriad of adult teams right until the end of the club championship season, which will run in some counties for some clubs right up to the end of the year."
Mr Regan added the call comes at "a difficult time for the association".
This happens as the Government is pushing plans for the potential use of sports halls, arenas and locations around the country to accommodate people seeking refuge in Ireland.
The Department of Justice today said that 43,972 Ukrainian refugees have arrived in Ireland as of yesterday, 4 August.
A total of 698 Ukrainian refugees arrived in the country in the last week.
Minister for Children, Equality, Disability, Integration and Youth Roderic O'Gorman said the move was in response to a "pinch point" in accommodation provision, with the return of students to college accommodation, which was used by Ukrainian displaced persons during the summer.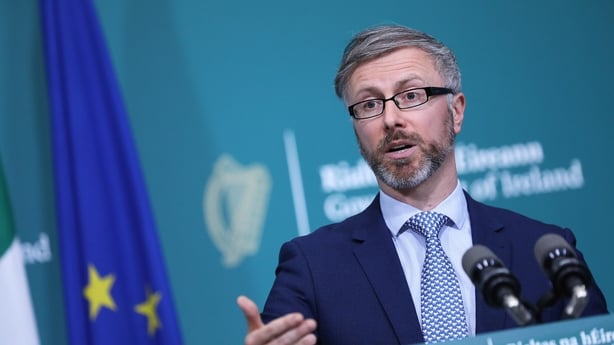 Mr O'Gorman confirmed that the Government has contacted sporting bodies - including the GAA, IRFU and FAI - about the use of sports halls and facilities to accommodate displaced Ukrainians.
"Recognising that pinch point that we had flagged, we had experienced in August, with the return of students and the fact that we would have to move Ukrainian displaced persons out of student accommodation we have been engaging with the sporting bodies in terms of potential use of sporting locations," Mr O'Gorman said.
The FAI said in a statement that it remains engaged in regular dialogue with the Government and "all relevant agencies in how best we can assist in this difficult time".
The IRFU confirmed it is in "ongoing communication" with the Government and following a conversation with Government officials in July, the IRFU and FAI, through Aviva Stadium Limited, facilitated the hosting of Ukrainian refugees.
It added that in response to a request by Government in April, the IRFU asked clubs across the country to consider if they had suitable facilities for accommodation.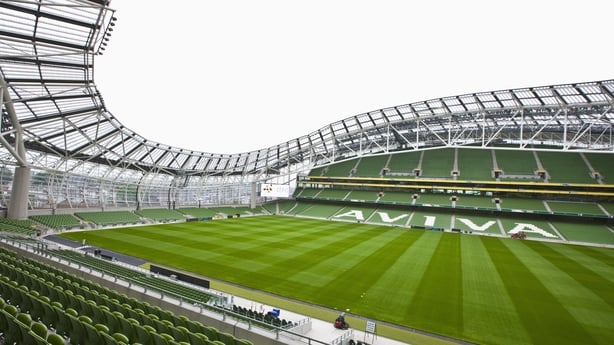 Similarly, following a call by the Government to make temporary accommodation available in April, the GAA said it had "a small number of GAA units engaged with their local authorities to make available suitable premises for such purposes".
"We have been in regular contact with Government this week on that matter. In fact, they first reached out to us in April. Following that call a number of our units around the country would have made what was assessed to be suitable accommodation available for Ukrainian refugees arriving in the country," Mr Regan said.
The move by the Government to call on sporting organisations to make temporary accommodation available comes as it is looking for expressions of interest from accommodation providers interested in running full board accommodation for people seeking international protection in Ireland.
The Expressions of Interest (EOI) was advertised last Sunday week and the deadline for submissions is Monday, 8 August.
Full board accommodation, Minister O'Gorman said, amounts to a bed, three meals per day and laundry services on an emergency basis for a 26-week period.
The accommodation is sought in hotels, hostels and arenas in urban areas or with access to transport and must be immediately available to accommodate 40 to 50 people.
The EOI is focused on providing accommodation for asylum seekers. Other tenders are under way to provide accommodation for people fleeing Ukraine.
Minister O'Gorman said the call for the temporary accommodation relates directly to international protection seekers and reflects a growing demand for accommodation for people seeking refuge in Ireland, which has jumped from 7,000 to 47,000 in one year.
"My department is dealing with a very significantly increased number of people this year," Mr O'Gorman said.
"This time last year, we were providing accommodation for 7,000 international protection seekers. Now between Ukrainians and international protection seekers, we are accommodating just short of 47,000. Obviously, that has put pressure on the existing accommodation, which is why we are making this call for short term accommodation for the next six months.
"This particular call is looking for accommodation for asylum seekers we have other calls out looking for accommodation for Ukrainian displaced persons, as well but this particular one is focused on the needs of those seeking international protection.
Mr O'Gorman added that his department has dealt with the "twin surges" of the needs of Ukrainian displaced persons arriving in Ireland, and the significant increase in the number of international protection applicants.
"I think that we have done a good job in terms of providing shelter and security to Ukrainian displaced persons and international protection seekers," he said.
"I have always indicated that this summer was going to be difficult in terms of the provision of accommodation. We have up to this point been able to provide accommodation for everybody and this call is to ensure that we can continue to meet our international obligations and provide accommodation for those seeking international protection.
"We are also looking for larger accommodation in terms of replicating the situation we have in Citywest - we have our welcome centre there that has been very successful. We have indicated that we want to secure a second welcome centre and work is ongoing to secure a suitable facility," he added.
Irish Refugee Council CEO Nick Henderson said seeking expressions of interest to provide short term accommodation could prove costly to the State.
"It's not that unusual. The State has used emergency accommodation like this for several years now - as far back as 2018 when hotels began to be used on an ad-hoc basis," Mr Henderson said.
"We would have concerns about the type of accommodation this tends to bring up. It tends to be hotels where people shouldn't be staying for longer than is necessary.
"We know from the homeless experience that long term stays in hotels is problematic - they can be in quite isolated, areas without community supports."
Mr Henderson added that this shows that the State "is in a corner and it needs to identify accommodation quickly".
He said: "It shows a need for a more long-term approach to accommodation looking in to the rest of the year and in to 2023, rather than relying on this cycle of need and then a call or a search for accommodation that brings in hotels or B&Bs, which can be detrimental to the person's experience and also expensive to the state."
The Department for Children, Equality, Disability, Integration and Youth confirmed that "benchmark" rates for bed and board accommodation could amount to €135 being paid for each single adult on a full-board basis in a Dublin hotel.
Top-up payments of €25 would be paid for each additional spouse or child. However, final prices would depend on what emerges in the expressions of interest and reduced rates would be paid for accommodation in rural areas or in bed and breakfasts or guest houses.
"We are looking primarily for expressions of interest at this stage. As part of the expression of interest, those making the expression have to indicate their indicated cost per person per night factoring in meals, accommodation and ancillary services," Minister O'Gorman said.
"There will be a range and costs do vary in terms of where accommodation is located in different parts of the country."
Additional reporting: Joan O'Sullivan