Gardaí are carrying out a special operation on rail services throughout the country today to tackle anti-social behaviour.
Operation Twin Track which is taking place on the DART, Luas, and eight inter-city rail routes throughout the country began at 3pm this afternoon and continues until 11pm this evening.
It is the second time a one-day garda operation on public transport has been carried out this summer, with a similar one taking place on the June Bank Holiday weekend.
The operators of the Luas welcomed the initiative, saying it deters people from carrying out anti-social behaviour on public transport and shines a light on the issue.
Dervla Brophy, Director of Communications with Transdev Ireland, said young children were the main cause of problems on its services during the summer period.
"One of the biggest issues that we are facing at the moment, because it's the summertime, is actually young kids on the Luas, primarily between the ages of about 9 and 12.
"I suppose it's the summertime, so they're in very good form, but I don't think they're aware that the high jinks and the good mood they're in at times does actually impact on other customers," she said.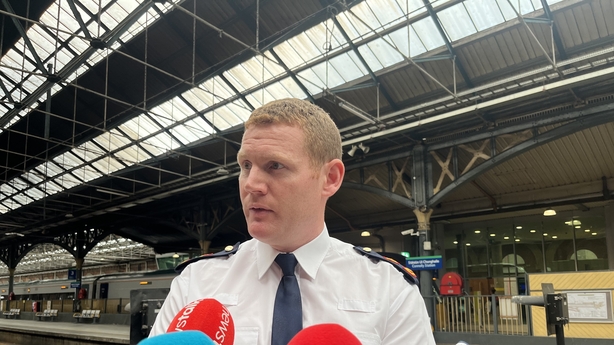 Irish Rail says that in the past 12 months they have seen a 20% reduction in serious anti-social behaviour on its network due to increased security and co-operation with gardaí.
Barry Kenny, Corporate Communications Manager with Iarnród Éireann, said he hopes operations like these will further drive down the number of incidents.
Asked if single days of intensive policing is enough to tackle anti-social behaviour in its services, Mr Kenny said garda presence on the rail network has increased to its highest level ever.
"Outside of these very high profile days we have more patrols on board than ever before. We have gardaí, for instance where we have very busy beach days, working with our teams on the platforms, on the trains, right across areas where we have seen incidents before.
"So we've more on board patrols on an ongoing basis with the gardaí but these initiatives are hugely important, particularly on the Friday of a Bank Holiday weekend," he said.
Gardaí says the annoyance of other passengers on public transport is one of their primary focuses.
Superintendent Barry Doyle, Garda National Community Engagement Bureau, also said a garda presence on public transport was not restricted to these single-day campaigns.
"Today is a really targeted approach but throughout the year we would encourage our members to board trains and trams on a regular basis as part of their duty where possible. We react where necessary, we investigate and where necessary we prosecute an offence."
Supt Doyle said if anyone feels unsafe on public transport they should not hesitate to call 999 and report the incident.