An 11-year-old girl who met the Taoiseach this morning has called for urgent action in relation to the provision of services for children with disabilities.
Cara Darmody held a meeting for over an hour with Micheál Martin where she spoke of the challenges her family have faced.
Her younger brothers Neil and John are autistic.
Neil has received some services, while John has not, and the family can see significant differences between the two boys already.
Cara called on the Taoiseach to treat the situation as though "the house is on fire".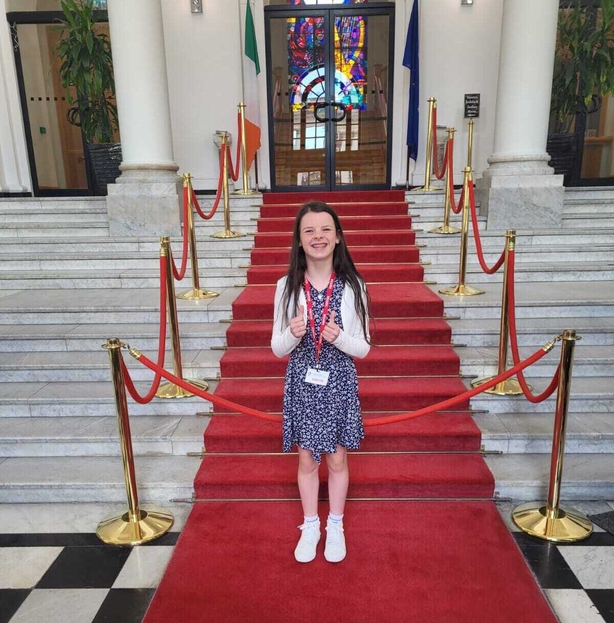 She recently sat the Junior Certificate Maths exam, in order to raise awareness of the situation faced by families all over Ireland.
Her father Mark Darmody said that the waiting time for families to access an Assessment of Need (AON) is taking years.
However, the struggle only continues once an AON is conducted, as access to the required services is also taking years, he said.
He felt that some progress was achieved during today's meeting with Mr Martin, adding that the amount of time given to the family by the Taoiseach was far greater than they had expected.
However, Mr Darmody warned that "talk is cheap" and that they would continue their campaign until significant improvements are delivered for families all over Ireland.
Meanwhile, in a tweet Mr Martin said that it was a "great privilege to meet Cara Darmody with her parents today".
The Taoiseach thanked the schoolgirl for her "powerful and passionate advocacy on behalf of her two younger brothers, and for children with autism and special needs".
Great privilege to meet Cara Darmody with her parents today.

Thanked Cara for her powerful and passionate advocacy on behalf of her two younger brothers, and for children with autism and special needs. pic.twitter.com/8UsqCidy9S

— Micheál Martin (@MichealMartinTD) July 28, 2022