The Minister for the Environment has said EPA data showing an increase in greenhouse gas emissions presents "a real challenge."
Provisional figures published by the Environmental Protection Agency show that Ireland's greenhouse gas emissions increased by almost 5% last year.
Eamon Ryan said by not making as much progress in reducing emissions last year, "we will have to do more in the coming years."
He said the main reason the figures went up is because Moneypoint Power Station in Co Clare, was "running at full pelt" and because the herd size and fertilser use both increased.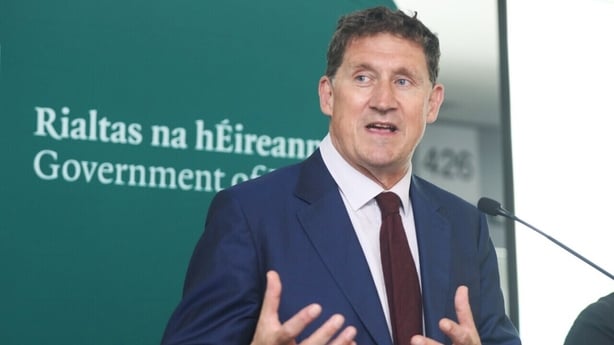 Minister Ryan said the fact that householder related emissions went down by almost 5%, "showed we can do it."
Asked if the findings will require deeper emission cuts, as recommended by the EPA, he said "yes, we're going to have to go faster, yes, we're going have to do more."
However, as the negotiations continue on finalising sectoral targets for reducing emissions, Mr Ryan said "we've agreed the ranges and we won't go outside any of those ranges."
He added: "No sector is left out, but no sector is going to get all the blame either. You know, it's not going to work if we're pointing the finger. We all collectively have to play our part."
Minister Ryan said he hopes the work on agreeing the targets will be concluded "in the coming days."
The EPA figures show a 4.7% rise in emissions compared to 2020, when Covid-19 restrictions resulted in "a significant lowering" of the levels.
It means emissions are 1.1% above the 2019 pre-pandemic rates.
The country's greenhouse gas emissions reduced by just over 3.5% in 2020, amid a fall in transport and energy emissions, as people travelled less and worked from home more.
The EPA said the increase last year was driven largely by a significant rise in emissions from the energy industries sector due to "a tripling of coal and oil use in electricity generation".
The level of gases emitted in the sector jumped by 17.6% in 2021.
The report said the consumption of peat continued to decline, down by 67% in 2021, with its use within the power generation sector at an all-time low.
Natural gas use reduced by 8.9%, as some plants were offline for a time, while electricity generated from renewable sources fell from 42% in 2020 to 35% last year, due to low rainfall and less wind.
In the transport sector, emissions rose by 6.1% as Covid restrictions were lifted, but the level was still 10.5% down on 2019.
The EPA also noted that at the end of 2021, there were just under 47,000 battery electric and plug-in hybrid electric vehicles on the road in Ireland.
Agriculture recorded a 3% increase, the second year in a row that emissions rose in the sector.
It was mostly due to a 5.8% rise in fertiliser usage and a 2.8% increase in the number of dairy cows, which accounted for the eleventh consecutive yearly rise in the herd.
The EPA said agricultural emissions did not reduce during Covid-19 restrictions and are now 15% higher than the 1990 level.
Minister for Agriculture Charlie McConalogue said that while today's EPA report shows that cow numbers have increased, emissions from agriculture are similar to 2018.
The minister told RTÉ's Six One news that he is "confident" that the sector will play a key role in addressing emissions but he did not commit to reaching a 30% target by 2030 as outlined in the Climate Action Plan.
"One third of the increase in today's report is due to a record amount of liming of our soils," Mr McConalogue said.
"That is something that increases our inventory in the short-term, it's something that improves soil nutrient management in the long-term and it can bring about improvements in the time ahead.
"What we're looking at going forward is a stable herd. We're also looking very closely at what farm families can do in terms of bio-methane production and solar energy.
"Also, there is real potential to grow forestry in the years ahead."
Some decreases in emissions were recorded in the EPA report.
Greenhouse gas emissions in the residential sector reduced by 4.9% in 2021.
The EPA said the drop was driven by a combination of less time in the home, a milder winter and increased fuel prices.
Residential emissions in 2020 had risen as a result of increased working from home.
However, residential emissions are still 2.8% above pre-pandemic 2019 levels.
EPA Director General Laura Burke, said that "a return to coal use in electricity generation, together with continued growth in emissions from the agriculture sector and a partial rebound in transport emissions following the easing of Covid restrictions, have combined to deliver an increase on pre-pandemic levels of emissions."
She said: "The data shows the scale of change needed within and across all sectors of Ireland's economy to make sustained progress in reversing this trend and to meet our EU commitments and national greenhouse gas emission reduction targets."
---
Read more Climate Change stories
---
Speaking on RTÉ's Morning Ireland she said that a small increase in the use of coal has a "very big impact" on greenhouse gas emissions.
"When you look over time electricity generation, in many ways, has been the golden child because emissions decreased 10% between 1990 up to today, with an increase in demand of 150% of electricity. So what you had was a decrease in emissions with an increase in demand.
"But this year, we saw a significant change and the use of coal being a big issue here, because a small increase in coal has a very, very big impact on greenhouse gas emissions."
Ms Burke also said there is a "glimmer of hope" regarding electric vehicles, with the number of such vehicles on Irish roads ahead of the schedule set out in the Climate Action Plan.
Agriculture largest contributor to emissions
Agriculture was the largest contributor to the overall emissions at 37.5% of the total.
Transport and energy industries were the second and third largest at 17.7% and 16.7% respectively.
Residential emissions accounted for 11.4% of the total in 2021.
The EPA report also said the provisional figures indicate that 23.5% of the Carbon Budget for the five-year period between 2021 and 2025 has already been used in one year.
In order to stay within budget, it said an 8.4% annual average emissions reduction from 2022 to 2025 will now be required.
EPA Senior Manager Stephen Treacy said that "the provisional greenhouse gas emission estimates for 2021 are a cause for concern in relation to achieving Ireland's binding Carbon Budget targets".
He said: "Staying within the current budget now requires deep emission cuts of over 5 Mt CO2 eq per annum over the succeeding four years."
The report also shows that Ireland will exceed its 2021 annual limit as part of the European Union's Effort Sharing Regulation, without the use of flexibilities.
Under the EU scheme, Ireland has been set a target of cutting emissions by 30% by 2030, compared to 2005 levels.
Meanwhile, work is under way on agreeing sectoral targets for reducing greenhouse gas emissions, which the Cabinet is expected to sign off next Wednesday, at its last meeting before the summer break.
Under the Government's Climate Action Plan, which was published last year, an overall national target was set to reduce Ireland's emissions by 51% by the year 2030 compared with 2018 and to reach net-zero emissions by 2050.
It includes a reduction of between 22% and 30% in the agriculture sector.
However, a report from the EPA last month concluded that even if the Climate Action Plan was fully implemented, emissions here would fall by only 28% by 2030.