Minister for the Environment Eamon Ryan has said legally binding targets for emissions cuts will be signed off on before the end of the month.
"It sets the sectoral targets including transport, energy, commercial buildings, public buildings and agriculture," Mr Ryan said.
"It's a real challenge because the scale of change is beyond compare."
Ireland is committed to halving greenhouse gas emissions by 2030 and net zero emissions by 2050.
The Government has agreed to a carbon budget in the lead up to 2030, but details have not been agreed for farming, which is the biggest source of greenhouse gas in Ireland.
"A lot of the discussions I'm having with the Department of Agriculture is how we can do this and also increase incomes to Irish farmers," Mr Ryan said.
Under the Government's Climate Action Plan, which was published last year, the agriculture sector was told it would be obliged to reduce its emissions by between 22% to 30%.
It is understood the Green Party is pushing for it to be set at 30%.
Mr Ryan said that some of the measures envisaged will involving reducing the number of cattle.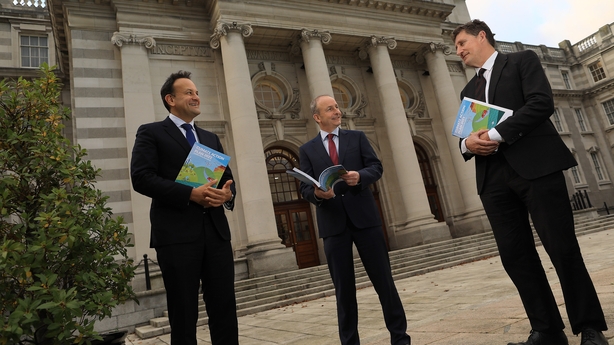 "Some of the measures would increase income to Irish farming but would also see a reduction in animal numbers," he said.
"You don't look at it just on the numbers, you also have to look at it on the income side.
"The vast majority of our produce is sold across the world. We get a premium because in people's minds they think of this as a beautiful green island.
"We have to do it not just for climate reasons but also to restore water quality and to restore biodiversity.
"We have every reason to make this change."
When asked if the Green Party would accept a limit of less than 30%, Mr Ryan said that "right from the start of the formation of this Government we said we could not compromise on the science of climate change".
He said the targets were set by scientists who have said "if we want to stop the world burning, if we want to stop what's happening this week becoming an everyday occurrence, then these are the changes you have to make".
"It's not coming from ourselves, it's coming from what the scientists say we have to do," Mr Ryan said.
"Fianna Fáil and Fine Gael understand that, they are committed to it.
"Agriculture can't opt out, every sector has to play its part.
"If agriculture doesn't do as much other sectors are going to have to do more and that's very challenging."
He said that there was a "huge amount to do" to cut emissions in the areas of transport and energy as well.
"No sector gets an out, every sector is going to have a challenge," Mr Ryan said.
He said this would only work if it ultimately "delivers a better result for the people in each sector".
For farmers, he said the Government was looking at ways of raising the incomes of those who cut their emissions.