Minister for Foreign Affairs Simon Coveney has said Government's top priority is to respond to the pressures that families are feeling as a result of inflation.
Figures released on Friday show that inflation in Ireland is estimated to have risen to 9.6% in June.
The CSO also revealed that energy prices in Ireland rose on an annual basis of 54% last month.
Speaking on RTÉ's This Week programme, Minister Coveney said while the Government had already responded "there is clearly a lot more to do". However, he warned against raising expectations too high.
"The Government isn't going to be able to reverse inflation with one Budget," he said.
"However, we can do a lot because we have a strong economy, we have a strong tax take this year.
"So it will be a combination of one-off payments because we can afford to do it, and also more permanent changes that we ensure we can afford next year and the year after."
He said Fine Gael agrees that money should be put into people's pockets this calendar year.
"One of the things that's unusual this year is that we have a very high tax take in certain sectors," Minister Coveney said.
"That will allow us to spend in a way that we normally would not at the back end of the year."
He also confirmed the Government is looking at a social welfare bonus that would be paid in this current year.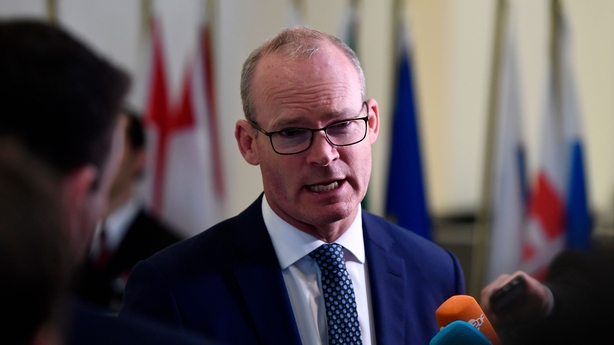 Minister Coveney said measures to help families with the cost of living will include childcare, taxation on petrol and diesel and potentially further energy credits. He also hinted strongly at tax cuts.
"Also by increasing people's take home pay, people on fixed incomes relying on the state, and that huge percentage of our population that are middle income earners," he said.
"These kinds of things are possible now because we have strong corporate tax takes this year."
The minister said the Government will have a much clearer picture of what it can afford to spend by tomorrow afternoon and that there will be a Cabinet meeting to discuss this.
He said he supported bringing Budget 2023 forward to September "if it is possible to do that".
"If we can bring it forward by a few weeks that would be welcome, but most importantly we have got to get this budget right," he told This Week.
Speaking on The Week in Politics, Sinn Féin TD for Cork South Central Donnchadh Ó Laoghaire said his party was of the view that there was a need for "immediate intervention".
"There's a need to extend back-to-education allowance in the here and now to middle income earners and increase it by 50% for those who are already receiving it," he said.
"There's a need to scale up what's being proposed in terms of housing and to ensure the public housing is being delivered rather than relying too much on the private market.
"In terms of the cost of living crisis, it's not just about fuel or food or the issues that have increased the last few years, it's about rent and the fact that people are struggling with rents that have been spiraling for years now with no action by Government to tackle that.
"It's about childcare and no action taken in relation to that despite the fact that's been escalating for a few years."
SF TD @Donnchadhol 'People need relief now.' Speaking today on #rtetwip on #earlybudget. #rtepolitics #backtoschool pic.twitter.com/vtWOTp3mp6

— The Week in Politics (@rtetwip) July 3, 2022
'Ireland needs a pay rise'
Speaking on the same programme, Labour leader Ivan Bacik also called for additional support for households with back-to-school costs, including free school books to all children at a cost of €40m.
"There are other more targeted measures too that we've called for that could be done now, the summer social welfare bonus that we've called for," she said.
"There seems to be some hint that that will come, but not soon enough.
"The Government are now it seems looking at bringing the Budget forward by about two weeks to the end of September, but that's too late for those households and families who are now facing into this really serious time of increased cost as we approach the end of August and back to school.
"So an immediate social welfare bonus, an immediate increase in the national minimum wage of €1 per hour and a bit of vision on school books and back to school costs.
"Ireland needs a pay rise, we need to see Government supporting people to have more money in their pockets to be able to meet this 8% inflation rate that is pinching so hard for so many people."
'Ireland needs a pay rise'. Labour leader @ivanabacik calls for additional support for households for #backtoschool costs and to combat the rise in the #costofliving. #rtepolitics #budget pic.twitter.com/vE4NNIiHlg

— The Week in Politics (@rtetwip) July 3, 2022
Independent TD Cathal Berry told the programme that power companies should absorb costs and not pass them on to the customer.
"Bord Gais and Electric Ireland are very profitable companies, they should be absorbing some of these losses themselves, not passing them on directly to the customer," he said.
Mr Berry said the Commission for Regulation of Utilities should be "robustly on the customer side and declining these increases".