Dublin Airport is expecting its busiest weekend since before the pandemic, with more than 200,000 people expected to depart from there between now and Monday.
Airport operator daa said more than 50,000 passengers a day are expecting to be leaving Dublin today, tomorrow, Sunday and Monday.
It said 51,000 people flew out of the airport yesterday and that operations "flowed well".
The airport was busy this morning with the first wave of departures, but the majority of passengers passed through security in under 30 minutes, according to daa spokesman Kevin Cullinane.
The advice from the daa remains that for those travelling on short haul flights to arrive two-and-a-half hours before departure.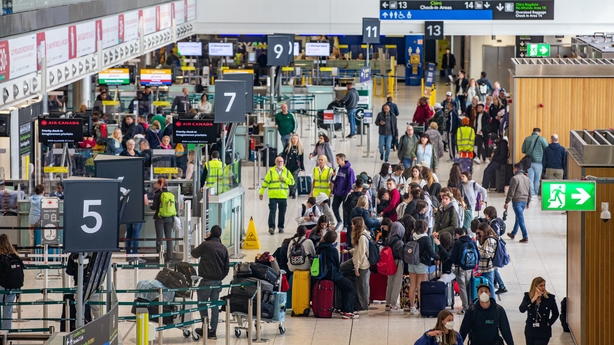 It said those travelling long haul should arrive three-and-a-half hours before departure and to add up to an hour to their arrival time if they are checking a bag.
Photos of bag drop and security queues in Dublin Airport around 8.30am. Top left T2 bag drop, top right T2 security. Bottom left T1 bag drop, bottom right T1 security. Recommended to arrive hour earlier if you're dropping a bag. Dublin Airport says security queues 'flowing well' pic.twitter.com/66HziovDLh

— Una Kelly (@UnaKelly3) June 24, 2022
Mixed experiences as holidaymakers make way through airport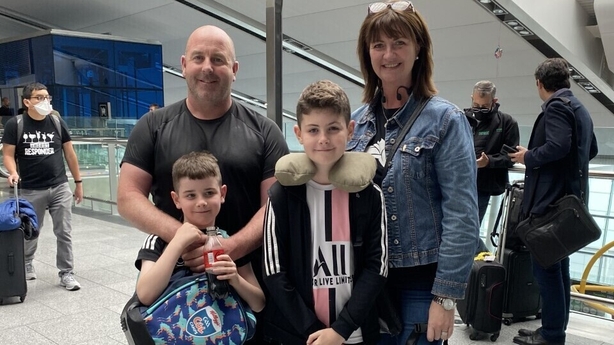 The Gillen family travelled from Donegal to fly to Lanzarote this afternoon. They had to check in at the Aer Lingus desk in Terminal Two, which took them two-and-a-half hours.
Claire Gillen said the queue was moving, but at a slow pace.
Just before joining the security line, Frank Gillen said: "they are doing well, it's good to get here, good to get away."
A group of four travelling to Bulgaria had a quicker experience.
Padraig Nash from Kildare said they had checked in online "so it only took 10 minutes to do bag drop".
He said they made it through security in 20 minutes, leaving them time for lunch before going to their gate.
Conor O'Brien is travelling to Las Vegas with his girlfriend Kate.
They spent an hour and 40 minutes queuing at check-in, but made it through security in 15 minutes.
However, Conor described pre-clearance as "bedlam".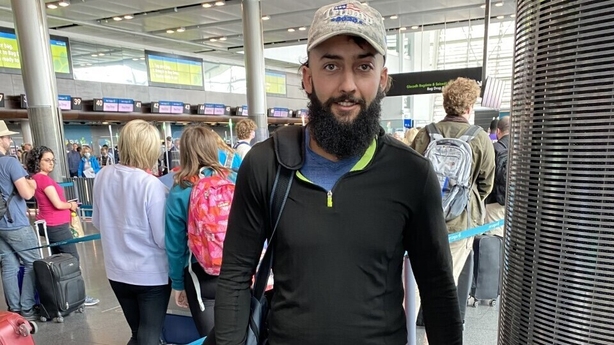 Sheila Tracey arrived in Dublin airport at 6am yesterday from Newark to attend a family wedding in Sligo tomorrow, but she said her bag never arrived.
After spending hours waiting at the airport yesterday trying to locate her luggage, she returned today but still no sign of it.
A visibly-upset Ms Tracey said: "they keep saying 'save your receipts, save your receipts', it's not the matter of the receipts."
"My personal belongings are missing and they really don't care."
She is now on the way to Sligo with no luggage.
Ryan does not want to see flights cancelled
Minister for Transport Eamon Ryan has said he does not want to see significant numbers of flights cancelled as a way to manage congestion at Dublin Airport.
Speaking on RTÉ's News at One, Mr Ryan said: "We don't want to take the route that other countries and other airports have taken, where they've cancelled significant numbers of flights to be able to manage this situation.
"We think that would be for the Irish traveling public a real inconvenience that we don't want to go to.
"So we are looking at further measures. I was talking to the airport again yesterday."
Mr Ryan said that the Government would explore other options, including calling in the Defence Forces to Dublin Airport, "if needs be".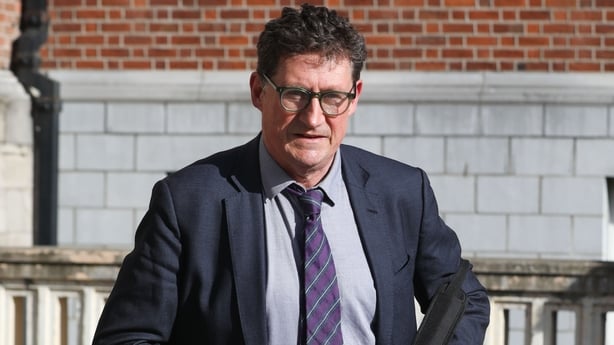 His comments come as Airlines for America - which represents Delta, United and Air Canada - said that only one in five flights of their schedule in May departed on time from Dublin Airport.
The group recently wrote to Minister Ryan and Minister for Tourism Catherine Martin seeking a meeting to address the issues.
Speaking on the same programme, group vice president Keith Glatz said staff shortages are causing significant delays for airlines and passengers and have missed connection flights.
"We'd like to work with jointly with daa, the Irish Government and stakeholders to take action now because issues are continuing to mount and we are at risk of having a long hot summer if this isn't resolved now".
He said the issue is not unique to Dublin, but is being seen at other airports in such as Schiphol in Amsterdam and Heathrow in London.
"It appears to us that because of Covid, staff was reduced and now need to be added back at airlines and airports. It's not as easy as hiring at the grocery or Starbucks, it requires background screening and potentially can take three or four months to get an employee prepared".
Despite the challenges, he said that there were a number of steps that the Government and daa could take today and that, for instance, the Government mutually recognise security staff from other EU member states.
Meanwhile, Olivier Jankovec, head of the Europe branch of the Airports Council International (ACI), acknowledged that there were issues from airports to airlines, ground handlers, police and border controls, but insisted: "The system still works."
"It's important for passengers that they communicate with the airlines in terms of when they should get to the airport, and prepare to come earlier than usual to make sure to have the time to go through, especially if they have to check luggage."
Strikes by low-cost pilots and cabin crew across Europe - including this weekend - are adding to the disruption.
Additional reporting: Dyane Connor and AFP