Thousands of people have taken part in protests across the country about the cost of living.
Trade unions, political parties and a number of other interest groups came together to organise the Cost of Living Coalition demonstrations in Dublin, Cork, Galway, Limerick and Sligo.
At the main event in the capital, protesters marched from Parnell Square to Kildare Street where a number of speakers addressed the crowd.
People from across the generations took part in the demonstrations and spoke of the pressures they face from rising prices.
Those on pensions said their income is no longer stretching far enough, while younger people spoke of their inability to afford rent or get a mortgage.
Others spoke of the day-to-day struggles that the increased costs of food and fuel are putting on their personal finances.
Helen Carroll, from Dublin, said that she is currently living in a cabin in the back of her partner's parents house because they cannot afford to pay rent and are saving to buy a house
"We don't go on holiday, we don't celebrate, we don't drink, we don't smoke, we don't go out to eat because everything is about getting this bloody house. We can't afford to do anything else. I don't have a life," she said.
While Mary Lesley from the Senior Citizens Parliament said pensioners are also feeling the impact of inflation.
"Older people because of medical difficulties need heat. There is no way that they can afford to pay the increase in the heat".
Bernie Logan, from Tallaght, said she was attending the protest because of the impact inflation is having on her children's lives and her own.
"My husband is 70 and he's still working. He can't stop at the moment because if he stops we know that that's going to be very difficult to live".
Conor Reddy, a PHD student working in Trinity College Dublin, said the basics are becoming a struggle.
"We're on very low wage and at same time we're trying to keep up with the cost of living. With paying rent and running cars and I guess just trying to have a dignified existence is becoming very, very difficult".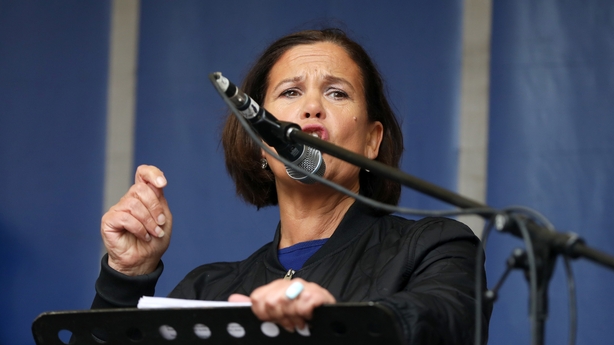 Sinn Féin Leader Mary Lou McDonald said that people can not wait until October for measures to help ease the impact of the cost of living and called for an emergency budget before the autumn.
"The Government are saying essentially hold on, wait until October. But families can't wait, people can't wait.
"So today is very much a call for action now, for a response now from Government.
"We're not asking them to chase inflation. We're asking them to recognise that people are struggling to put fuel in their car, to keep the lights on and to put food on the table, so there has to be a Government response to that."
People Before Profit TD Richard Boyd Barrett said that if the Government does not act now, there will be more protests.
"We want controls on rents and house prices to make them affordable.
"We want controls on energy and housing prices and food prices and we want incomes and wages to be raised to the level of the other cost of living and inflation increases that are crippling people," he said.