In response to photos and video posted on social media at the weekend, the Co-Founder of the Movement for Asylum Seekers in Ireland visited the Red Cow Moran Hotel in Dublin this morning to see the conditions for himself.
The photos, posted by the group Abolish Direct Provision, showed large numbers of people were sleeping on the floor of the hotel and dozens of makeshift beds in its conference rooms.
Lucky Khambule from the MASI described the situation as a violation of human rights to allow people to sleep in such conditions or to be housed in this way.
"Something I heard is that it is beyond management control because they are sent people and they do not have rooms to put those people in and instead of leaving people outside and then they open the hall just for the people to be able to be housed," he said.
Moadu Kingsley Onyema and Joel Ndende Mbembe are lucky to have shared rooms at the hotel, but others do not.
Mr Onyema from Nigeria, arrived in Ireland in March when there was one person per room.
From that point, there was an influx, and it became crowded, with queues for food for 30 minutes, toilet facilities under pressure and increased pressure on staff.
"It is not really the fault of the hotel management, they are trying their best, but we beg the Government to come and assist them.... they are trying to do their best to take care of the people living in the Red Cow, but they need the Government to assist them to do more," he said.
He witnessed women, children and men sleeping in the banquet hall.
"Women, children, men living in one hall, for me is not proper for humans," he said.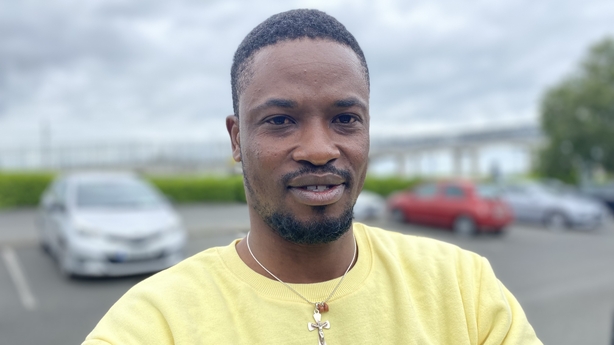 There are wider fears that a two-tier asylum system could be emerging between those fleeing Ukraine and asylum seekers from other countries.
"Standards have got to be maintained at the level that they were quite rightly set in response to Ukraine"
John Lannon, Chief Executive of Doras, a non-profit organisation which aims to promote the rights of all migrants in Ireland, believes a more "coherent approach" is required.
"We need to go back to basics here and look at the fact that we will always have people coming to Ireland from different war zones from different parts of the world who need protection here we've got to treat them all equally," he said.
"There's got to be equity in the manner in which people are treated, and the standards have got to be maintained at the level that they were quite rightly set in response to Ukraine."
Mr Khambule said asylum seekers must be seen to be treated equally.
"We need to avoid as much as possible the two-tier system that seems to be to be a modus operandi as far as the Government is concerned," he said.
"As far as human rights, we are all equal. In the eyes of the law and in the eyes of the Lord, we are all equal."
Mr Onyema said he's lucky that his application process is moving after losing sleep over it in recent weeks.
"I was going to the office every day; they would chase me out," he said.
"Then the next day I go, they would chase me out. Then I keep on going, keep on going every day. They start listening to me."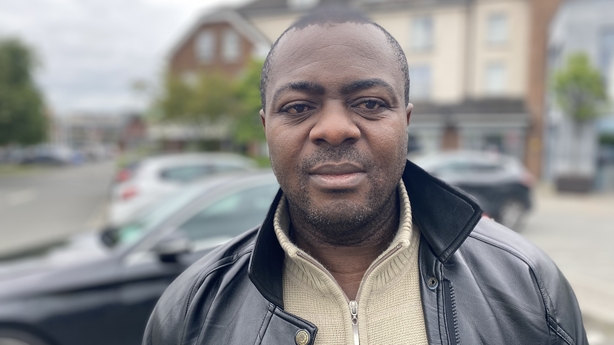 However, Mr Onyema is conscious that he is lucky to be able to take the Luas into the International Protection Office in Dublin city centre every day.
Others are not as fortunate.
"People that have kids and women and girls that can't do what I do because maybe I'm energetic," he said..
"So that is where I need to speak for everybody. The government should just make the system work for people perfectly so that they will go to their normal."
In recent months, the number of people claiming international protection has increased significantly with 4,896 applications made to the end of May 2022 according to the Department of Justice.
This it said represented a 700% increase on the same period in 2021 and a 164% increase on the same period in 2019 - the last year in which application numbers were not impacted by Covid-19.
Anecdotally, more people turned up at the IPO office in recent weeks rather than applying for asylum at the airport.
Many were questioned whether their point of entry was through the UK.
RTÉ News requested the figure for the number of people that applied at the airport versus those that applied directly at the IPO office.
In its response, the Department of Justice said if a person applied initially at a port of entry to the State, they still need to make a formal application at the Department's IPO office in Dublin.
IPO records show that of the 4,896 applications for international protection made to the end of May 2022, 1,623 applicants indicated that they had initially applied at Dublin Airport.
Mr Lannon of Doras said people were not getting the initial paperwork that they need in order to get the very basics like English classes, medical cards, PPS numbers.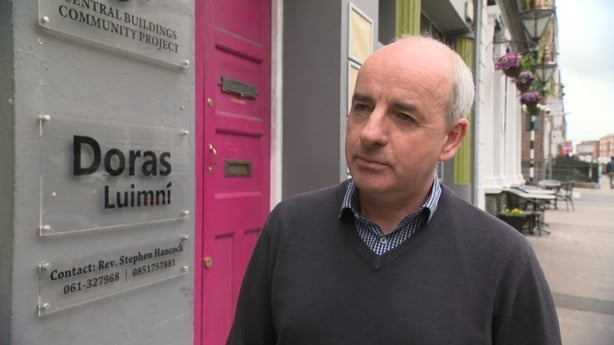 "We've seen people who were unable to get essential medication and that could be a matter of life and death because they don't have the paperwork, they need to be able to go into a pharmacist to get that," he said.
He also noted delays with the processing of applications – the length of time people have to wait for the interviews to determine if they get their refugee status or not.
"There are delays then with people who do eventually manage to get refugee status and in family reunification, we've seen people waiting for a year for more on that and becoming literally suicidal as a result of the the delays that that are there," he said.
Family reunification was also not working according to Mr Lannon, particularly the Afghan admission programme.
Added to that - it takes 32 weeks or more for someone with refugee status to get a travel document.
"Can you imagine the outcry there would be in this country if somebody had to wait 32 weeks to get a passport?," he said.
In separate correspondence to RTE's News at One radio programme, the Department said there were "no significant waiting times" for initial interviews at the International Protection Office.
The Department says the IPO "has identified the practical efficiencies that can be made to improve the process and has put in place measures to ensure that the call back appointments are cleared as quickly as possible for the benefit of applicants."
It added that it "continues to work to improve the international protection process and to reduce processing times", in line with the recommendations made by the Expert Advisory Group, led by Dr Catherine Day, and the commitments in the Government's White Paper.
That paper provided a path to end Direct Provision. Many of the recommendations in it were used as Ukrainian refugees arrived in Ireland.
The Department of Justice said the "substantially higher" number of applications currently being received will present a significant challenge in achieving this.
It added that it would, by October at the latest, commence a review of progress made in reducing and improving processing times.