Families of children with additional needs held protests in Dublin, Wexford and Cork today, organised by Families Unite for Services and Support (FUSS).
The group represents families with neurodivergent children, children with physical and intellectual disabilities and those who require mental health services.
Organiser Rachel Martin said that a reconfiguration in the progressive disability services team last year meant that some families who had services have since lost them, while other families say they have no services at all.
Ms Martin said there were problems with the assessment of needs process, where some people were waiting three or four years to get their child assessed.
She said that legally, this process is supposed to happen in six months.
Ms Martin called on the HSE to fully staff the 91 children's disabilities units around the country in order to address some of these issues.
The group also called for access to personalised budgets and an increase in the availability of respite care.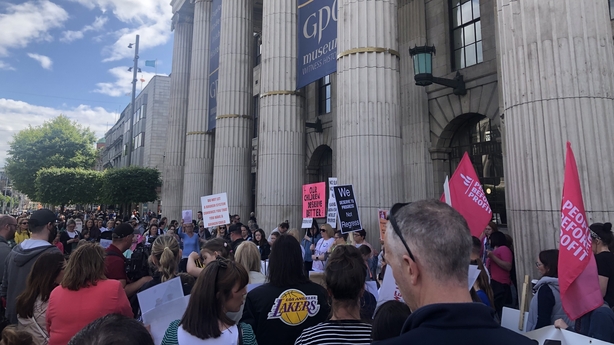 Orla Christian travelled to the protest from Cork with her nine-year-old son Michael Barry.
Michael was born with a rare genetic syndrome and has intellectual and physical disabilities. His mother said he has not received the services he needs in five years.
"He has had no physiotherapy, occupational therapy or speech and language therapy since he started school," she said.
"I can count on one hand how many sessions he's had. And he needs them now."
Two of Leslie Ann O'Brien's children have physical disabilities.
Her daughter had to travel abroad for surgery and her son spent seven years on a waiting lists before he was diagnosed with cerebral palsy.
"Children regress on waiting lists", she said, adding that the longer a child is on a waiting list, the more they regress and the problem gets worse.