Minister for Health Stephen Donnelly has admitted emergency department delays are "completely unacceptable", and said "we need to go hospital-by-hospital and emergency department by emergency department" to find out what is going wrong.
Speaking to reporters at St Finbarr's Health Campus in Cork city after reports of lengthy delays for admission to emergency departments, Minister Donnelly said "it's never acceptable anybody should be waiting those times."
Latest HSE figures given to Sinn Féin health spokesperson David Cullinane show that people over the age of 75 are waiting an average of 24 hours to be admitted to emergency departments once they arrive at a hospital.
Responding to calls from Mr Cullinane for the Government to "take a zero tolerance approach to long emergency department waits" as "these figures show that the problem has reached a new extreme", Minister Donnelly admitted the situation must be addressed.
"It's not remotely acceptable, it is never acceptable that anybody would be waiting those times," Mr Donnelly said.
"The targets are about six hours; the Mercy University Hospital and Cork University Hospital [the two main hospitals where Minister Donnelly was visiting today] are hitting that about half the time for half the patients.
"I met with the Mercy yesterday and said tell me what you need. I've had the same conversations in Limerick, in Sligo, in Galway.
"So what are we doing? I've met with the HSE, and said what I want is a plan going into the future, obviously looking at next winter but it has to work into the future.
"We need to go hospital-by-hospital, emergency department by emergency department, to identify what the gaps are because they're different, the problems in the Mercy are different to the problems in CUH, are different to Limerick," Mr Donnelly added.
"The Government is very clear, the Department of Health is clear and the HSE is clear, that what we've seen in terms of people waiting - particularly the type of cases you're talking about now - are completely, completely unacceptable.
"We have to act and do tangible real things to get people flowing through the hospital system," he said.
Asked if the Government and officials are using the impact of Covid-19 on the health service "as an excuse" for the situation, Minister Donnelly added: "Well I don't think anyone would call the biggest pandemic in 100 years an excuse in fairness.
"I think we have to take Covid very seriously, we have to accept it's the biggest disruption to healthcare in the history of the State."
'Too long for health workers to get pandemic bonus'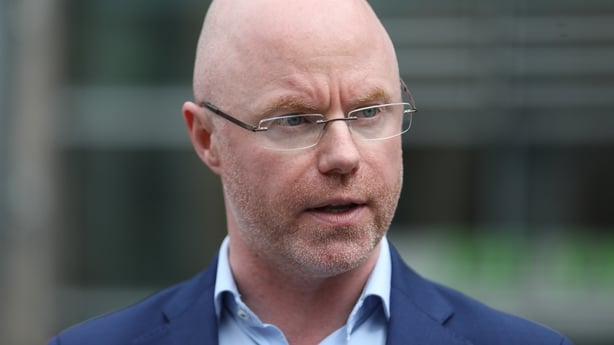 Minister Donnelly added that "it's taken too long" for all health service workers to be paid the Government's Covid-19 pandemic bonus after the Irish Nurses and Midwives Organisation criticised the ongoing payment delays.
He said while the one-off €1,000 tax-free bonus was agreed by cabinet in February, not everyone who is entitled to it has received the fund to date.
And, while saying the delay is partially due to "engagement" to make sure as many people as possible can receive the extra money, he added the payments have "taken too long" and that action is needed.
"Some of the pandemic recognition payment has been paid, in fact two of the people I met in the Mercy University Hospital yesterday had it land in their bank accounts the night before, which was very, very welcome," he said.
"But it's taken too long, Government signed off on this in February, our healthcare workers deserve this and I understand they are saying can we please get paid.
"There was a lot of engagement between the representative bodies of workers and the HSE in terms of different groups of people.
"My understanding is thousands have been paid and we just want to make sure all are paid as quickly as possible."
Minister Donnelly was speaking after the INMO said health service workers must be paid the Covid-19 pandemic bonus as soon as possible.
In a statement, the INMO's general secretary Phil Ni Sheaghdha said: "Despite Government announcements and statements directly to the media that the pandemic recognition payment for frontline workers would be paid immediately, those who work in healthcare settings are still waiting for the bonus to be paid.
"This payment has only been made to staff in two hospitals, with many hospitals stating that they are waiting on the HSE to give them the funds to allow them make the payment.
"The red tape around this payment must be removed and the promised payment made."