British Foreign Secretary Liz Truss has again said the UK is not planning to scrap the Northern Ireland Protocol, but that problems with it need to be fixed.
Speaking during a visit to a haulage business in Lisburn in Co Antrim, she said the preference remains "a negotiated solution".
The minister said she was in Northern Ireland to meet businesses to discuss her proposed solution of green and red channels at ports.
Goods coming from Great Britain that would remain in Northern Ireland would go through the green channel, while those crossing the border into the Republic would go through the red channel to be checked before entering the EU Single Market.
Asked about US Congressman Richard Neal's statement yesterday that the protocol dispute has been manufactured, she did not give a direct response.
Ms Truss instead said there had been "months of negotiations with the EU" and that the UK's preference remains a negotiated solution.
The minister also refused to specify whether she is meeting any business leaders in Northern Ireland who say the protocol is working for them.
"I think everybody in Northern Ireland recognises there are issues with the protocol that needs to be addressed," she said.
"We're not talking about scrapping the protocol, what we're talking about is fixing the issues so that we can protect north-south trade whilst at the same time making east-west trade easier.
"My preference as I've said is to get a negotiated solution with the EU, but we simply can't allow this situation to drift which has been causing problems in Northern Ireland. We did to get the Executive back up and running, we need a proper government in Northern Ireland."
Speaking during a visit to Lisburn in Co Antrim, British Foreign Secretary @trussliz again says UK is not planning to scrap the NI Protocol but seeking a negotiated agreement @rtenews @tconnellyRTE @John_Kilraine pic.twitter.com/gj2DhrPW1y

— Vincent Kearney (@vincekearney) May 25, 2022
Ms Truss was asked how she could say the protocol is causing economic problems when unemployment in Northern Ireland is currently at a record low and house prices are rising at their fastest rate for ten years.
"What we've been clear about is the protocol is causing political instability," she replied.
"So we haven't seen the Northern Ireland Executive in operation since February. What we need to do is we need to ensure that as well as protecting north-south trade we're protecting east-west trade and I've come today with practical solutions."
The minister added: "We have very specific solutions on a green lane which would provide commercial data to the EU to make sure the EU Single Market is protected whilst removing the customs bureaucracy, at the time acknowledging that goods going into the EU Single Market do need the full customs procedures."
We need your consent to load this rte-player contentWe use rte-player to manage extra content that can set cookies on your device and collect data about your activity. Please review their details and accept them to load the content.Manage Preferences
The value of the meeting between Northern Ireland's DUP and Congressman Neal and his delegation has been "diminished", according to the party's MLA for South Belfast.
Edwin Poots said this is because Mr Neal made so many statements about the Northern Ireland Protocol and that he is meeting key players in the Good Friday Agreement at the end of his trip.
Speaking on RTÉ's Morning Ireland, Mr Poots said: "He came to Ireland. He met Sinn Féin, has met all of the government ministers and, at the tail end of the trip, it comes to actually meet key players in the Good Friday Agreement.
"So if they're for real about the Northern Ireland Protocol, if they're for real about the Good Friday Agreement; the place that they should have come in the first place was Belfast."
The former DUP leader said the Good Friday Agreement is being demolished as a result of the protocol and that he did not expect that UK Prime Minister Boris Johnson would accept threats from US politicians "coming over here and issuing threats about what is very clearly a UK matter".
He added that his party will meet Congressman Neal tomorrow and that he will attend that meeting if he is available.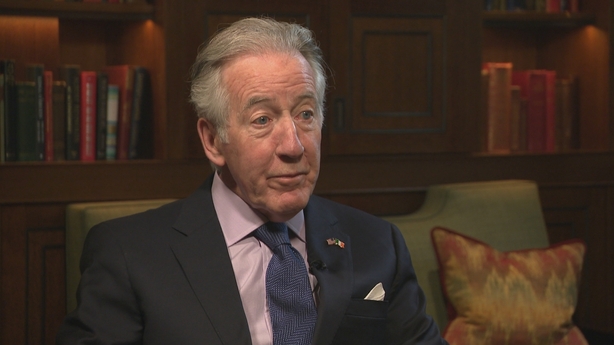 Mr Neal, who is chair of the House of Representatives Ways and Means Committee, yesterday told the Seanad that the "number one priority" for the United States on the island of Ireland is to ensure the hard-won peace in Northern Ireland is preserved and reinforced.
He added that Brexit poses "unprecedented challenges for the island of Ireland", and warned that "we're losing institutional memory in the UK".
"Any incautious move to undo the protocol, would put at risk this durable agreement that we helped to create," he said.
He later told RTÉ's Six One News that the United States did want to agree a trade deal with the UK, but not at a cost to the Good Friday Agreement.
"The Good Friday Agreement belongs to America too," he said.
"We were honest brokers along the way, accepting the notion that we could make space for the planter and the Gael to live together."
He said a trade agreement with the UK would be "out there for everybody" but only if the Good Friday Agreement was not "disturbed".
Additional reporting PA