A second day of strike action planned for tomorrow by the Medical Laboratory Scientists Association has been suspended.
This follows an invitation to exploratory talks at the Labour Court.
In a statement issued this afternoon, the Medical Laboratory Scientists Association (MLSA) said the Labour Court intervened inviting both parties to engage in talks which will commence tomorrow. Both the (MLSA) and HSE/Department of Health have accepted the invitation.
Health service estimates suggest that around 2,800 planned procedures have been cancelled today around the country, due to the strike by medical scientists.
In addition, around 14,000 outpatient appointments were expected to have been significantly affected.
Also many of the 14,000 in-patients would not have had routine blood tests performed, and tests to enable patients to be discharged from hospital would not have been available.
The MLSA said it has "issued notice to all of its 2,100 members to suspend further industrial action planned for tomorrow, and to resume work as normal tomorrow morning across all hospital laboratories".
In a statement, the HSE said "hospitals will endeavour to resume appointments and procedures as quickly as possible tomorrow.
"Inevitably, there will still be some cancellation of inpatient and day surgery and outpatient appointments across hospitals. Hospitals will contact patients directly to advise them on any updates or changes to arrangements for tomorrow.
"Routine GP testing and testing services for patients already in hospital will resume tomorrow," added the HSE.
Medical scientists have been on strike over long-standing pay and career development issues. Today's stoppage followed a one-day work stoppage last week.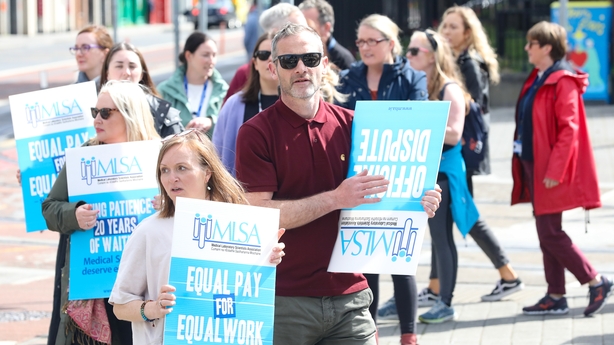 What services faced disruption?
The HSE said today's action would lead to the cancellation of many inpatient and day-case elective procedures, as well as hospital outpatient appointments across the country.
All routine GP testing services were suspended today and patients currently in hospital requiring tests were affected.
Delays in Emergency Departments were also expected. The HSE said dialysis and some cancer services would continue.
Affected patients were contacted directly and people were asked not to phone hospitals, but instead check the HSE website for updates.
Medical scientists carry out critical diagnostic testing of patient samples, with the majority of them working at laboratories in public hospitals.
The action today involved the withdrawal of routine laboratory services from 8am to 8pm.
The MLSA said the vast majority of its 2,100 members would be on picket lines at all public, voluntary and HSE hospitals.
For the first time in this dispute, pickets were also placed at the Irish Blood Transfusion Service.
The IBTS said non-urgent patient testing services would be suspended today.
The service said contingency plans were put in place for today that would see collection teams continue to run blood donation clinics as scheduled.
Testing and processing of all donor blood would continue as normal, and all blood and blood component orders from hospitals would be processed.
"These contingency measures are designed to maintain the sustainability of the blood supply during the dispute. Any donor with an appointment to give blood this week should continue to do so," the IBTS said in a statement.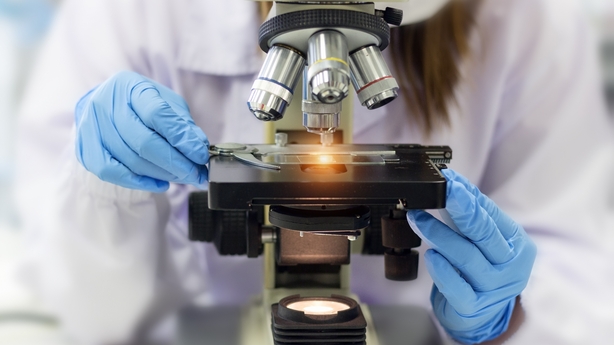 Medical scientists say they are paid less than colleagues who carry out the same work and, in some cases, less than staff in lower grades.
They also claim they have fewer career progression opportunities and that these issues are leading to a recruitment and retention crisis in their sector.
The Department of Health said it is disappointed that industrial action was initiated by the MLSA and remains open to engagement with the union.
The department also said that the strike action is a breach of the current public sector pay deal 'Building Momentum'.
"The current public service agreement, Building Momentum, includes the process of sectoral bargaining, to address outstanding claims such as this one," the department said in a statement.
"While the MLSA has agreed to engage at the Workplace Relations Commission, they have not agreed to lift their strike action, which is a breach of Building Momentum," the department added.
Timing of strike 'extremely difficult'
CEO of the Saolta healthcare group, which manages hospitals in the west and northwest, Tony Canavan said that over 400 elective procedures were cancelled there last week due to the strike, and he suspects this could be at least doubled.
Speaking on RTÉ's Morning Ireland, he said that this would impact GPs and hospitals in terms of delivery of care and the flow of patients being discharged, and could even be life threatening in some cases such as cancer patients.
Mr Canavan said that as many as 2,000 patients in his own group of hospitals would be impacted due to having no routine testing for in-patients.
He said that medics rely on that testing and there is a risk that a patient will deteriorate and they "won't be able to respond to that quickly enough".
He said that it had been agreed with the MLSA that general testing from emergency departments will be processed and results given, as well as tests in ICUs processed and results given back.
He said that those receiving chemotherapy would receive it today and tomorrow but cancer patients could be impacted by the cancellation of elective surgery in day oncology units.
The timing of the strike was extremely difficult, Mr Canavan added, particularly in the context that waiting lists have extended significantly due to Covid-19 and hospitals had just started to put a programme in place to address that this year.
"The strike last week was an interruption and we will make every effort to reschedule patients cancelled as quickly as possible but that will be difficult."
MLSA members are "integral to the delivery of care," he added.
He said that creative solutions needed to be found but that they are confined by the national pay agreement.
---
Additional reporting Paul Cunningham and Fergal Bowers