HSE Chief Executive Paul Reid has said that waiting times for hospital procedures are due to be reduced to a maximum of one year by the end of this year.
He also said the HSE target is that the maximum time an outpatient will have to wait to be assessed by a hospital consultant will be 18 months by the end of the year.
The HSE is before the Oireachtas Health Committee discussing its recently published €20.7bn HSE Service Plan for 2022.
Mr Reid said that an extra 33 critical care beds would be opened this year, bringing the ICU hospital capacity to 333 beds.
He told the committee that the final 308 acute beds from last year's service plan would open, plus a further 72 acute beds this year.
Fine Gael's Bernard Durkan asked Mr Reid how there could now be a five-year waiting list for children with special needs.
He said he could not understand how the list could have got so long.
Mr Durkan said it was not good enough that people were waiting five years, two years, or one year for treatment. He said it was long past a state of emergency.
Mr Reid said that in relation to waiting lists overall, they will not be dealt with in one year alone, due to legacy issues.
He said the lists were not acceptable and that one of the ways the HSE was dealing with it was through increased theatre use.
Sinn Féin health spokesperson David Cullinane asked Mr Reid when private practice would end in public hospitals.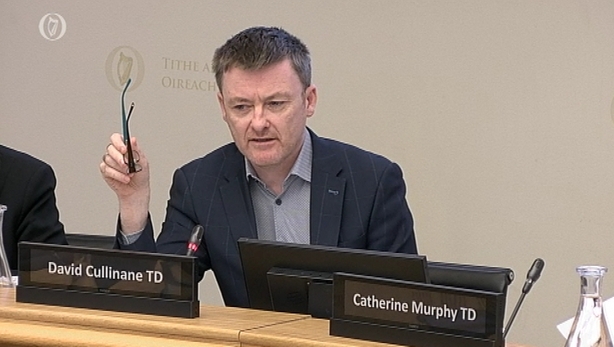 He said he was concerned that no new chairperson had been appointed to the talks between consultants and the HSE.
Mr Reid said it was an industrial relations matter and he could not give a timescale for the ending of private work in public hospitals.
On staff recruitment, Mr Reid said the HSE wanted to recruit an extra 10,000 staff this year, but a lot depended on the marketplace.
He said there would be an international recruitment programme for nurses.
Mr Reid said he believed the HSE would achieve the recruitment of 5,000 net extra staff, but it was not on track to recruit 10,000 and he would be talking to the Department of Health about this soon.
Concern over use of private companies
Social Democrats co-leader Róisín Shortall said that a lot of the discussion about the health reforms, Sláintecare, appears theoretical and that many elements are not being implemented.
Ms Shortall said that difficulties in the recruitment and retention of staff were part of the block in implementation.
She asked the HSE why it was so hard to recruit people in the first place and then hold on to them and whether there was a culture issue in the health service.
Ms Shortall expressed concern about an increasing trend in bringing in private sector organisations to assist or provide HSE services.
Mr Reid said sometimes private support is secured for a limited time, but he did not agree there was creeping privatisation.
Long-covid
The HSE has said that three centres to deal with long-Covid are up and running and more will be opened.
These have been focusing on the physical, neurological and psychological symptoms.
Dr Colm Henry, Chief Clinical Officer HSE, told the Committee that post-Covid syndrome relates to people with symptoms up to 12 weeks after infection.
Those with symptoms of a longer duration are categorised as long-Covid.
The HSE said that there is a significant epidemiological study underway on the clinical data and a survey to understand more about long-Covid and how prevalent it is.
Dr Henry said it is an evolving syndrome and some data suggests that as many as 20-30% of patients who were hospitalised may have had symptoms after 12 weeks.
He said that having long-Covid does not necessarily reflect how acutely ill the patient was with Covid in hospital.
Cervical screening tests
The HSE told the committee that it will be during the second quarter of this year that the Coombe Women and Infants University Hospital will resume cervical screening testing for the national screening programme.
Dr Henry said the aim is to have the Coombe doing all of the testing but he said that it will take some years for all screening to be done in Ireland and there will continue to be a reliance for some time on Quest Diagnostics in the US.
He said that Quest was providing an excellent service.
Termination of pregnancy
The HSE said that 11 of 19 maternity units in acute hospitals are now providing termination of pregnancy services, with Sligo the most recent addition.
HSE Chief Clinical Officer Dr Colm Henry told the committee that some other hospitals are awaiting the appointment of a consultant obstetrician post, given that a named consultant presence is needed for the service.
He added that in some hospitals, not all staff would be signed up to provide the service and some units may have insufficient staff.
Mr Henry said it may take a longer period of time before the service is available in Letterkenny, Portlaoise, Wexford and Kilkenny.