There was a 79% increase in the number of complaints to the Ombudsman for Children's Office (OCO) in 2021.
This reflected the disruption experienced by children during the pandemic, particularly in the area of education, according to the OCO.
The OCO said that 53% of overall complaints related to education, while bullying accounted for 10% of education-related complaints.
However, a dramatic increase was also recorded in the number of complaints the ombudsman received from 'unrelated' adults - from 3% of all complaints in 2020 to 45% last year.
The office said this was "as a result of contacts about mask wearing and other specific Covid-19 related issues from people who were not complaining on behalf of their own children, but rather all children in the country".
There were a number of campaigns on social media that urged people to contact the ombudsman to complain about issues such as the wearing of masks by children in schools and vaccination.
In the health category alone, complaints about vaccination accounted for 39% of all received.
The ombudsman's office has acknowledged that it received complaints emanating from such social media campaigns.
Ombudsman for Children Dr Niall Muldoon said the office considered all complaints it receives, regardless of their source.
It is likely that complaints of this kind led to this year's overall rise.
Out of 2,126 complaints made to the Ombudsman for Children last year, 908 directly related to Covid-19 issues.
These issues included restrictions in schools, uncertainty surrounding the Leaving Certificate, face masks and supports for children with disabilities.
Resilience Tested: The Ombudsman for Children's Office Annual Report 2021 also features the stories of some of the children the OCO worked on the behalf of last year.
Dr Muldoon said children were expected to make do with the stop-start nature of school, make friends behind masks, and accept cancelled plans and curtailed experiences.
He said that the impact of the last two years can clearly be seen in the issues raised and that he expects "a knock-on effect for years to come".
Dr Muldoon has said it is vital that there are learnings from the pandemic to bring about change for children.
"An investment in children's futures and commitment from Government is needed to ensure that we do not miss the opportunity to do things better," he said.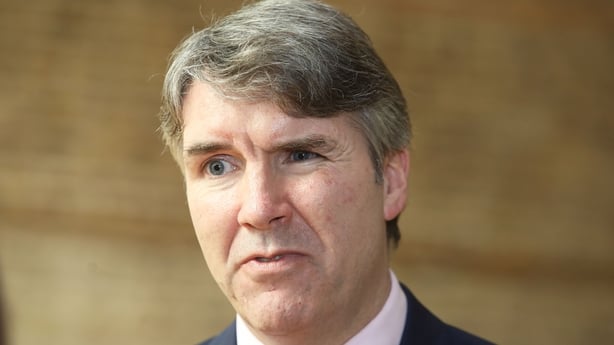 He told RTÉ's Today with Claire Byrne that Irish children have been damaged by the pandemic and pointed out that there has been a 30% increase in mental health referrals for children.
One in ten complaints were in relation to bullying and Dr Muldoon said schools are grappling with the issues they are encountering.
The current anti-bulling policy for schools was created in 2013 and things have changed enormously since then, he noted.
Dr Muldoon said the Department of Education is reviewing its anti-bullying policy and his office has asked it to gather information on bullying and how it is handled throughout the country.
"Once we have that data, we can start to help the teachers and the principals to really understand how to cope with it better," he said.
Dr Muldoon said his office was very frustrated by the lack of places available for children with special education needs.
"A lot of this is predictable. We know what spaces are needed for them. There should be some degree of forward planning that prevents this happening to become an issue."
He said he was concerned that the best interests of children are still not put at the centre of decisions, but instead many choices are made based on available budgets and resources.
Ireland needs to "step up" in this regard, he added.