President Michael D Higgins has called for greater engagement and awareness around issues such has climate change and global hunger.
He said the war in Ukraine had "understandably deflected our attention" from other pressing issues that "can't afford to be neglected".
The President was speaking during the first of a three-day State visit to Malta.
While he condemned "unequivocally" the invasion of Ukraine by Russia, he said that it is essential that focus on other important global issues such as climate change is not lost.
He said: "As our planet burns and so many countries - countries who have made the least contribution to climate change - are carrying now immediate and terrible consequences, we see images of people dragging their dead animals across the burnt sands of Africa, countries on the verge of famine.
"I condemn unequivocally the war that is being inflicted on the people of Ukraine, with loss of life, loss of homes and loss of communities, but it has had the effect of deflecting our attention.
"Because there is a limited amount of space for attention - from issues that can't afford to be neglected, be it in relation to climate change, be it in relation to global hunger, be it in relation to anticipating conflict and avoiding conflict."
Accompanied by his wife Sabina, President Higgins' visit to Malta is the first such State visit to the Mediterranean island by an Irish Head of State since 2006.
President and Sabina Higgins were officially welcomed to Malta at San Anton Palace, Attard, by the President of the Republic of Malta, @presidentmt George Vella and Mrs Miriam Vella. pic.twitter.com/lRQIcNhegr

— President of Ireland (@PresidentIRL) May 12, 2022
This morning, he met President of Malta George Vella.
President Higgins said it had been a productive meeting during which they discussed many issues including migration, the impact of Brexit, the war in Ukraine and the importance of positive neutrality.
The President has been joined on his visit by Minister for Rural and Community Development, Heather Humphreys.
This afternoon, President Higgins laid a wreath before the war Memorial in Floriana.
He also met Prime Minister Robert Abela, the leader of the opposition Bernard Grech and the Speaker of the House of Representatives Angelo Farrugia.
Tonight, President Higgins is attending a State dinner in Valetta.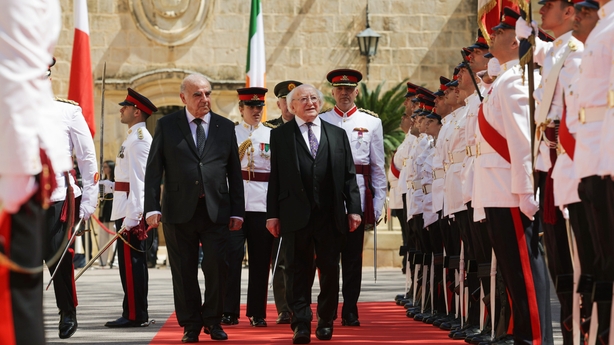 Malta, with a population of 450,000 people, joined the EU in 2004 during the Irish Presidency. A former British colony gained Independence in 1964.
The Mediterranean island is a popular holiday destination for Irish holiday-makers. The Malta Tourism Authority says over 53,000 Irish tourists visited Malta in 2019, before the pandemic hit.
The presidential visit had initially been planned for December 2021, but was postponed due to concerns surrounding the Omicron Covid-19 variant.