The Government is coming under pressure to provide sustainable medium and long-term accommodation for refugees arriving from Ukraine.
Already more than 23,000 people fleeing the war have reached Ireland, with thousands more expected in the coming weeks.
Many types of short-term solutions are being established to house the refugees across the country.
Sports clubs, community centres, former convents and monasteries, parochial halls, and other public buildings are being reconfigured to allow accommodation for people from Ukraine.
Scout halls have last joined in the effort, including the national scout centres in Larch Hill in Dublin, Killaloe in Co Clare and Lough Dan in Co Wicklow, which are all preparing to welcome people at any hour in the near future.
Larch Hill, in the Dublin Mountains, will take up to 80 Ukrainians, while a total of 162 can be accommodated when the other two centres are also included.
Chief scout Jill Pitcher Farrell said: "Everyone who joins Scouting Ireland joins the world scout movement. You make a promise and accept the scout law and part of that is service to the community. We are trying to help refugees in any way we can, to help in these emergency-type situations. We are trying to step up."
At Larch Hill, a hut has been turned into a free shop for families where they can get essential supplies such as nappies and wet wipes, toothpaste and other toiletries as well as clothes.
There are two accommodation centres that will be used.
The 56-bed Larch Hill House has 16 dormitory-style rooms kitted out with bunk beds that sleep up to four people.
There is a large dining area and a full kitchen facility while part of the communal living area has been turned into a play area for Ukrainian kids.
The 26-bed Centenary lodge has one 10-person room with the other rooms sleeping up to four people.
When the call comes a facilities management team will then arrive and run the site, providing security and catering.
Scouting volunteers will man the shop and assist the refugees in other ways such as providing advice on local amenities.
Hundreds of Ukranian people in Ireland are marking Palm Sunday at this mass in Dublin today. In his Easter address, Pope Francis said it was "Easter of war" and urged leaders to hear the people's plea for peace in Ukraine @rtenews pic.twitter.com/sWZy1Vzluc

— Laura Hogan (@LauraHoganTV) April 17, 2022
In Co Wexford, refugees have been coming through Rosslare Europort over the last number of weeks in their thousands.
Many are brought elsewhere in the country, but some are being accommodated locally while facilities in the area are also being used to house refugees coming through other entry points.
At St Mary's GAA Club in Rosslare, one group of refugees left on Friday while another has been arriving throughout Sunday, with up to 50 expected this time.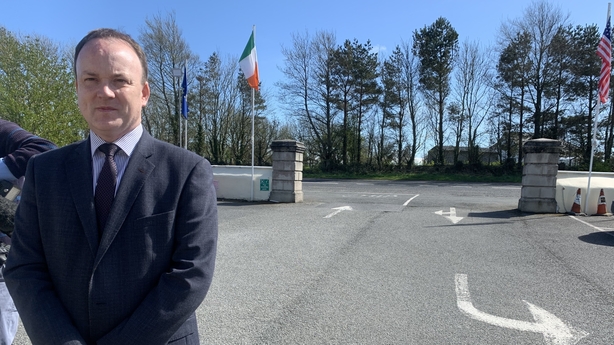 Helping the State agencies such as Wexford County Council and the accommodation services are voluntary groups, including the Rosslare Harbour Friends of Ukraine.
"There's no sign of this stopping any time soon," said Alan Murphy of the Friends of Ukraine committee, in relation to the war.
"Things are going to get worse, people are going to start coming into the country with less and less than they are now, so realistically we need finance from the Government. We need help."
His committee co-member, independent councillor Ger Carthy, said "central Government" need to step up and do more to provide long-term solutions.
Mr Carthy said finding accommodation is proving "very difficult at the moment".
"There needs to be a whole-of-Government approach to this. This is a temporary facility here and there will be many of them across the country, how we're going to deal with that problem is going to take massive work from central Government, supported by the communities and supported by the local authorities."
Almost 4,000 students enter education system
Meanwhile, Minister for Education Norma Foley has told RTÉ's This Week that it is very difficult to quantify how many students will come from Ukraine.
A survey taken last week had reported over 2,000 new pupils at primary level and 1,800 at post primary.
"It's very difficult to quantify at this point how many students will come but we do know that almost one third [of people arriving here from Ukraine] are children," the Fianna Fáil TD said.
Ms Foley said there had been "significant work" to support them with more than 260 schools successful in obtaining additional hours and posts.
"It's about supporting all of our students at a very difficult and traumatic time in the world," she added.
Reporting by Conor Kane and Kieran Dineen