"The defendants can be taken down."
These were the words of Judge Martyn Levett last Monday, as he imposed lengthy sentences on three senior members of what he called an international crime syndicate, the Kinahan Organised Crime Group and ordered them to be taken to jail.
It was the first time Daniel Canning from Walkinstown had been sent to prison. Until he pleaded guilty to guns, drugs and money laundering offences, he had no criminal convictions.
He claimed not to live an extravagant lifestyle. He worked as a cleaner and previously owned a house in Ireland, which was repossessed by the mortgage lender in 2018.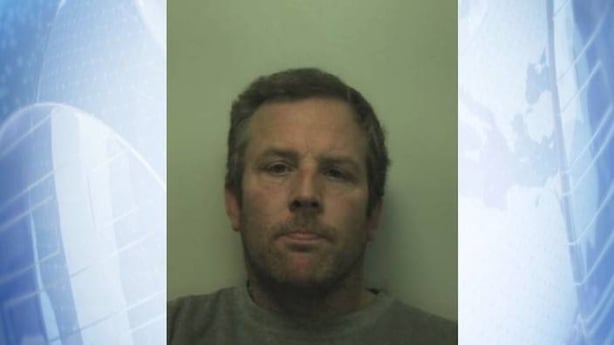 Life in prison in the UK has been difficult for the 42-year-old Dubliner. His family have not been able to visit him because of Covid-19. It was also his misfortune to be blamed for the gang's Smith and Wesson revolver and ammunition that was found hidden in a steel box, lined with lead, in the gang's warehouse.
It was also a first conviction for his brother-in-law, Gary Vickery, a line manager and supervisor in the UK branch of the Kinahan gang. The 39-year-old grew up in Dublin, left school at 14 and worked in the motor trade, before moving to the drugs trade, which enabled him to buy a house in Spain.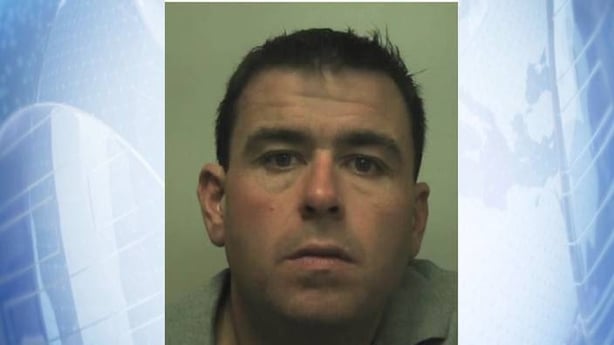 He was extradited from Lanzarote to the UK to be sentenced on the drugs and money laundering charges.
Vickery's wife has long-standing medical difficulties. She also has two children from a previous relationship. Her incarcerated husband is trying to make the best of his life in prison. Vickery is using his time productively and is "a super enhanced prisoner", who has been promoted to Head Orderly in the prison kitchens. His future, however, has been put on hold for some time.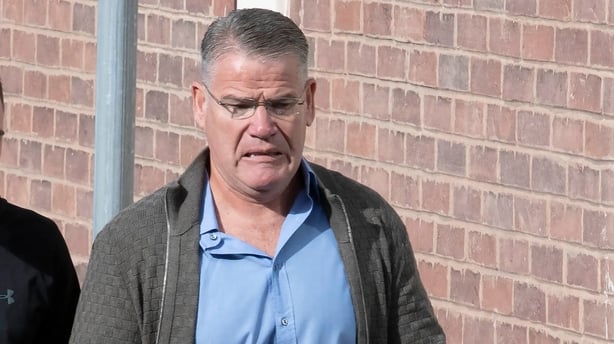 Unlike the other two gangsters however, Thomas Kavanagh has been steeped in organised crime for years. Originally from Drimnagh in Dublin, "Bomber" Kavanagh, as he is known, has previous convictions in Ireland for armed robbery, assault, fraud and gun crime.
He was 19 when he received his first criminal conviction and has been in prison several times, including serving a seven-year sentence for possession of a firearm.
Kavanagh also went by the name Paul Christopher Harvey and was an associate of the convicted drug dealer Christy Kinahan senior, who set up the criminal organisation. Christy is Daniel Kinahan's father. Daniel is also a friend of Kavanagh.
Kavanagh also threatened to kill a detective garda who was investigating drug dealing in the Crumlin/Drimnagh area. A murderous feud between two drugs gangs there, one linked to the Kinahan gang, erupted in the March 2000 after Gardai seized €1.5 million worth of cocaine and ecstasy. It cost the lives of 16 people.
Kavanagh subsequently moved to England to head up the Kinahan gang's operations in the UK. In Ireland, he had been under pressure not just from rival criminals, but also from the gardaí and the Criminal Assets Bureau, which sent him a tax bill on the proceeds of crime for over €125,000.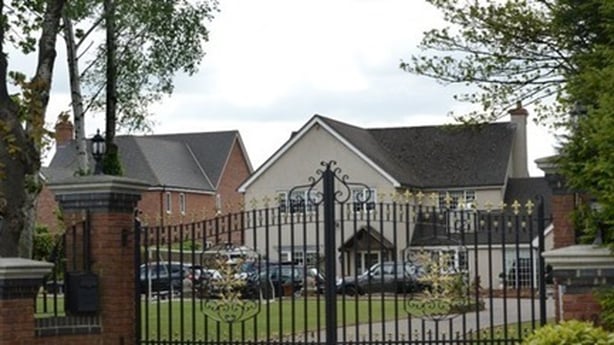 CAB also seized his house in Drimnagh, but by then, Kavanagh had moved on to a luxury mansion in the village of Tamworth, just outside Birmingham. He has lived in the UK for over 20 years.
The house was heavily fortified with bullet proof windows and reinforced doors and a wide selection of combat weapons, including swords, knives, coshes and stun guns. €50,000 cash in Sterling, Euro, Dollars and Emirati Dirhams in various denominations was found stashed all over the house, stuffed into drawers, bags, under cushions and down the back of the sofas.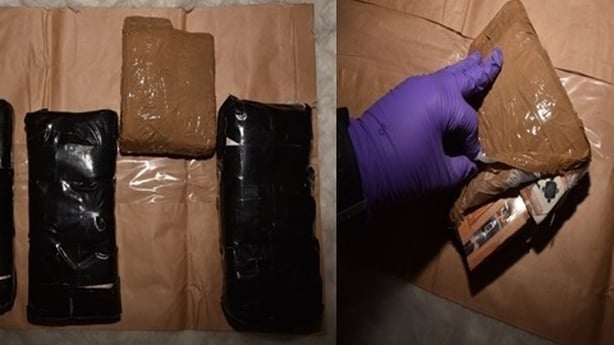 The grounds were covered by CCTV and a top of the range Audi A8 Spyder car was parked in the driveway.
Kavanagh kept a low profile in the UK for years, but following his identification as a Kinahan gang leader, he was convicted of defrauding Revenue and fined £83,000. He was also subsequently jailed for three years after police found a stun gun, which in UK law is a disguised firearm, in his Tamworth home. It was the beginning of the end of 'Bomber' Kavanagh's criminal career.
Kavanagh is a brother-in-law of Liam Byrne and his late brother David Byrne. The High Court in Dublin found Liam Byrne to be the head of the Dublin branch of the Kinahan Organised Crime Group, which it also found was controlled and managed by Daniel Kinahan.
Liam also found himself under intense pressure from the Gardaí and also moved to the West Midlands in the UK. The Criminal Assets Bureau has since confiscated his home in Dublin.
A feud escalation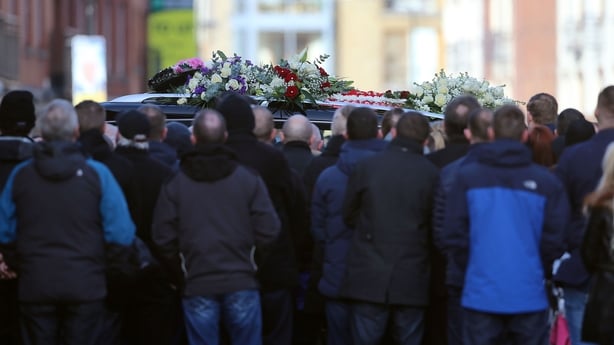 Daniel Kinahan lives in Dubai and is involved in boxing promotions, most notably with the world champion Tyson Fury. He has never challenged in court the findings the High Court made against him. The last time he was known to be in Ireland was to attend the funeral of David Byrne who was shot dead at the Regency Hotel in February 2016.
The murder escalated the ongoing Hutch Kinahan feud between two powerful organised crime groups, which has so far led to 18 people being shot dead.
On the day of David Byrne's funeral, which also served as a show of strength for the gang, Daniel Kinahan stood beside the now jailed Thomas Kavanagh and Freddie Thompson, who was subsequently convicted of one of the feud murders and is currently serving life in prison.
Declan Brady, the Kinahan gang's quartermaster in Ireland, was also with them that day. The Gardaí didn't know who he was at the time and he was only later identified through surveillance as a senior Kinahan gang member. He became known as "Mr Nobody".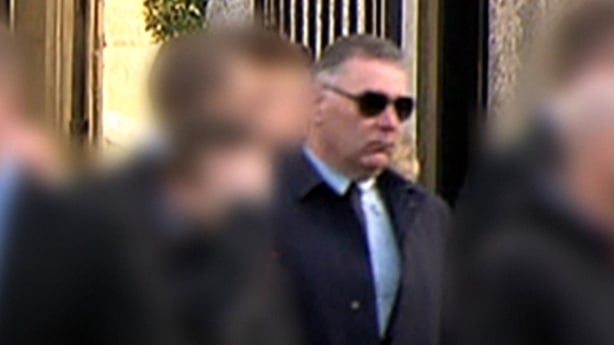 The focus on Brady led to the discovery in January 2017 of the Kinahan gang's armoury at the Greenogue industrial estate in Rathcoole, Co Dublin.
Gardaí seized 15 firearms, including handguns, submachine guns and 1,400 rounds of ammunition, as well as cocaine and cannabis, over €300,000 in cash and another €150,000 in bank accounts.
They also discovered false import and export documentation, which led back to the gang's UK drug trafficking operation headed up by Kavanagh.
The tentacles of the Kinahan Organised Crime Group stretch not just throughout Ireland, the UK and continental Europe, but also to South America, Australia and the UK. As second in command, Kavanagh travelled extensively. He went on celebratory trips to the United States. He took holidays in Mexico and Dubai, where his friend Daniel Kinahan now lives, taking the opportunity to visit Dubai Disneyland.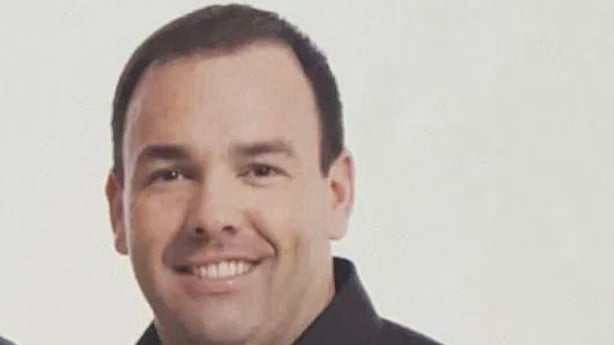 In the UK Kavanagh presented himself as a "prestige car dealer". Gardaí and the National Crime Agency say it was a front for the drug dealing operation and a facility for money laundering. The High Court here found that the Kinahan and Byrne Organised Crime Groups used the motor trade as a slush fund.
The gang bought cars from unknown sources with money from unknown sources and no purchase records. They used various people to "front the importation of cars" and, along with using the car business to launder the proceeds of crime, they also used the cars as currency to pay for flights and five-star hotels.
Officially, the cars were leased and although they were transported back and forth across the Irish Sea and driven around by known gangsters in Ireland and the UK, they could not be seized because the drivers did not own them.
The money earned from the criminal enterprise was buried in bank accounts and property in Ireland, the UK and Spain. Kavanagh was linked to a house in Cala D'Or in Majorca and Declan Brady's wife, Deirdre, transferred over €140,000 to him over four years by lodging €3000 every month to his Spanish bank account.
She was not the only partner who laundered the gang's money. Four other wives and girlfriends were also convicted of the crime in the Special Criminal Court.
Kavanagh ran a well organised, highly sophisticated and extremely lucrative drugs smuggling network, which supplied cocaine and cannabis to the UK and Irish markets. They set up false companies which were registered in Companies House but never traded.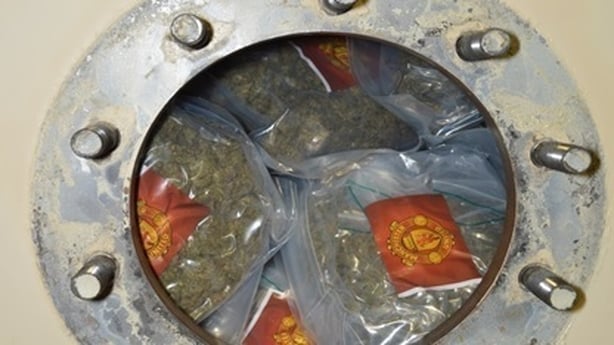 The gang rented offices and warehouses in Wolverhampton and Wednesbury in the names of the false companies and used legitimate logistics and haulage companies, unbeknownst to them, to transport their drugs and cash.
The drugs were concealed is specially modified heavy industrial machinery. Much of the work was done in the rented units. Sections of machines were removed and replaced with new parts, including nuts and bolts, which were then sprayed to match the original paintwork, right down to the exact colour code.
Steel strapping combination kits, cardboard boxes and polypyrene tape were used in the packaging. Canning bought much of it and usually paid in cash in Scottish and Northern Irish sterling notes. However, he also often settled balances with his credit card, which enabled the purchases to be traced.
Secret compartments were built in to the industrial machines. The gang used three tarmac removers to hide the drugs on the way into the UK and hide the cash as it was sent back out to the continent to pay for the shipments and the future purchases.
The cocaine was high quality, 75% pure, and the gang had barrels of boric acid to cut it down for street sale. This created greater bulk and higher profit.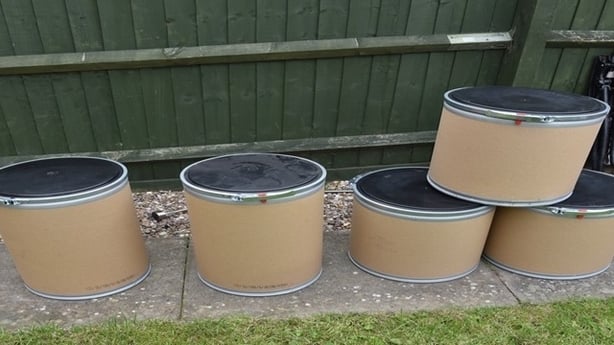 Each consignment had a tracker device attached, so the gang would know where it was at all times and where to find it if it was lost or stolen. The trackers were bought in Poland and supplied by a Polish man known as 'Z' who lived in Ireland. He also owned an industrial unit in Barcelona. His current whereabouts are unknown.
The gang also had a European manager who organised the shipments from there. Kavanagh was his contact. He is currently in custody in Germany.
The elaborate crime network and drugs routes can be mapped and identified through the movements of the trackers. One started in Poland before moving to Ireland and over the Birmingham the following day.
From Gary Vickery's home, it was taken to Birmingham Airport then to the Wolverhampton unit, where it was attached to a machine transported on a Hungarian registered lorry from Dover to Calais.
Over the next eight days, the machine was tracked through France to Belgium, on to Holland and on to Germany, before moving back through Belgium and parked up in Holland for two days.
It then moved back to Calais and went in to the UK through Dover. Other loads were tracked through continental Europe and on to Barcelona, others entered the UK through Felixstowe.
Phones and codes
Security and secrecy were paramount. The gang communicated by text and email using code words on encrypted phones, specifically Blackberry and Aquarius devices. Kavanagh had eight phones, Vickery had six and Canning had three. Kavanagh was at the top and referred to in conversations as "The Gaffer", "Plasma" or "New2". Vickery was called "Jelly" while Canning was "Smiley".
"Paper" was a reference to cash, "360" was £360,000, "sister" was the codeword for one of the machinery concealments.
The "Hot" was Spain, the "Flat" was the Netherlands, "Barca" was Barcelona, "Phones" was cocaine, and "Jackets" was the codeword used for packages of flowering head cannabis.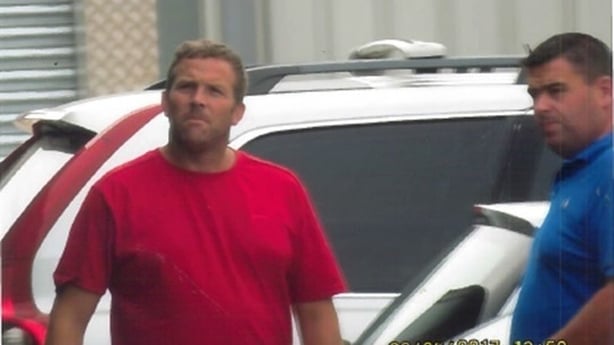 In early September 2017, Vickery (GV) and Kavanagh (TK) discussed in code a drugs collection that Canning was ordered to make in La Rambla, the main street in Barcelona, and a subsequent reward for Canning. The conversation was also forwarded to Canning in Spain.
---
(07/09/17) GV to TK: "Mate the lad that smiley is collecting those jackets off is it poss for him to meet him somewere cause were he dropped them is on the la rambla".
(07/09/17) TK to GV: "I gave smiley mail 2 lad for jackets down der ok."
(07/09/17) GV to TK: "Mate are we throwin smiley a drink for the 2 times he went hot to give out money and for goin today to sort things"
(07/09/17) TK to GV: "He will b rewarded mate'' but just leave for now ''not good time 2 b sort money."
(07/09/17) TK to GV: "Is it poss we hire a truck and pull it out ?"
(07/09/17) GV to TK: "I'll ask the question , I'd say best way do that would be to get the fella who smiley got truck of to rent threw his company of a place down in the hot cause I very much doubt they would give to smiley walkin in of the road would have be threw a company"
---
Later that month Kavanagh (TK) issued directions to Canning (DK) in Spain by text and email about a cash handover in an underground car park in Barcelona.
He was to make sure he minded the money, that there was no tracker device among the notes and that the necessary payments were made to others in Spain.
He even joked about not waking up his brother-in-law Vickery too early. Vickery later joked that he had not got to bed till 4am that morning.
---
Sent: 18 Sep, 2017 9.39pm
TK: Just get him 2 say he been told he not 2 move ontill all is in order''full stop'''all was suppose 2 b ready 3 week ago.
Sent: 19 Sep, 2017 1.57pm
TK: "Dat paper is not 2 b left alone full stop."
Sent: 19 Sep, 2017 6.15pm
TK: Ok a hotel nearest to we're he is 'park in der and lad will come strate for it..
27/09/2017
Email from '260717prsoo60' (Kavanagh) to 'empty' (Canning), timed at 05:50:22 (adjusted by +1hr to 06:50:22)
TK: "Ok mate good detour please make sure no trackers or anytin funny in wat u got of him ''should b 360...confirm wen u safe."
27/09/17 @ 08:49 - Email from TK to DC: "??"
27/09/17 @ 08:54 - Email from DC to TK: "Yea just had a quick flick. 20s in 2k and 50s in 5k. 360 k."
27/09/17 @ 08:56 - Email from TK to DC: "Ta ''put safe in sister and jelly b on in couple hours'''did not want to get him up dis morning from beauty sleep :)"
27/09/17 @ 09:23 - Email from GV to DC: "No was gaffer said he let me have beauty sleep cause I didn't get to bed till 4 ha"
---
The following day, Kavanagh, using the chain of command, issued more orders to Canning through Vickery to use the money to buy more drugs.
---
28/09/2017
Email from 'ottergin@encromail.ch' (Vickery) to 'empty', timed at 15:45:57 (adjusted by +1hr to 16:45:57) which contains a copy of message sent by 'Plasma' (Kavanagh) to 'My Info' at 16:27hrs:
TK: "OK need u go hot tomo give out paper to some one else and grab the jackets then"
Sent: September 28, 2017 4:27:58 PM GMT+01:00
TK: "Ok mate''is it poss for smiley go bac barca 2night or early in morning?giv 360 too a lad and den collect jackets of dis c**t''I no only back but me trying best'''??we den dend tuesday either wit new lad or smiley?"
---
In the twelve months from October 2016 to 2017, the gang brought in 23 multimillion Euro drug shipments, an average of two a month, a total street value of €36m. Gang meetings were held in luxury hotels, such as the Hyatt in Birmingham.
The gang celebrated the success of the first shipments by heading to New York in November 2016. Vickery sent a picture to his wife of 12 men with drinks on the tables and their arms around each other in a bar.
He was smiling along with Kavanagh and Declan Brady, who travelled from his home in County Kildare.
"Haha, this is worth the money," Vickery told her.
"Hey, I've one and ¼ vodkas, gonna finish them soon and jump in taxi havin a good needed chat wit gaffer, love you."
The photo and texts were later found by the National Crime Agency on Vickery's phone.
The demise of UK operations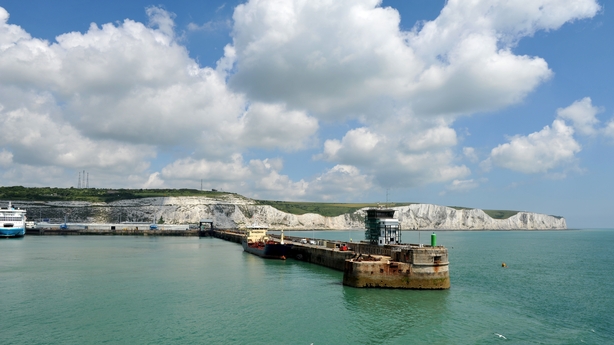 The gang was also heavily armed and involved in gun running.
It made and modified special steel containers, such as a lead-lined transformer to conceal and transport its firearms. The lead prevented the guns and ammunition from being discovered on X-ray at International borders.
The modifications to the firearms transport containers were also carried out at a rented warehouse in the West Midlands.
The seizure, which was to lead to the demise of the Kinahan gang's UK operations, took place on 2 October, 2017 at the Eastern Docks in the port of Dover.
A Polish driver working for a transport company was stopped. He told customs officers that he had loaded up his consignment of two large tarmac remover machines in Germany. The manifest, however, said the shipment had originated in Romania.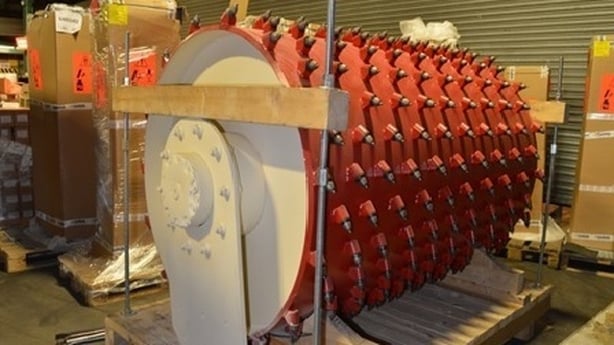 The customs officers dismantled the machines, removed the nuts and discovered the drugs concealed in the hidden compartments. They found 200 packages of cannabis in the first machine and 200 more in the second, along with 15 kilo blocks of cocaine. The drugs were valued at over €2.6m. The GP tracker was also discovered.
The gang's rented units and the gang members' homes were searched and over €1/4m in cash was found, along with encrypted phones, a cash counting machine, a handgun and ammunition in a black holdall, an industrial transformer with traces of cocaine, 25 barrels of boric acid and a box of tracking devices identical to the one seized at Dover.
Jail terms 'under licence'
A father of six, Kavanagh blew a kiss to his family from the dock last Monday, before he was led away to the cells to begin a 21-year jail sentence. Vickery got 19.5 years, Canning got 20.
The judge said they could serve the jail terms "under licence", which means they can be released on probation after they have served half their sentences. It still means that Kavanagh will not be free until he is at least 65.
The National Crime Agency insists the jailing of the three men does not mean the end of their inquiries into the Kinahan Organised Crime Groups UK operation.
It says it is pursuing a proceeds of crime investigation and has obtained freezing orders for watches, bikes, jewellery and Kavanagh's luxury home.
Vickery's house in Spain is also the subject of a restraining order. The judge ordered the three men to disclose any and all assets, financial or otherwise they have anywhere in the world before next year.
It was the murder of David Byrne, Kavanagh's brother-in-law, that fuelled a murderous thirst for revenge within the Kinahan Organised Crime Group.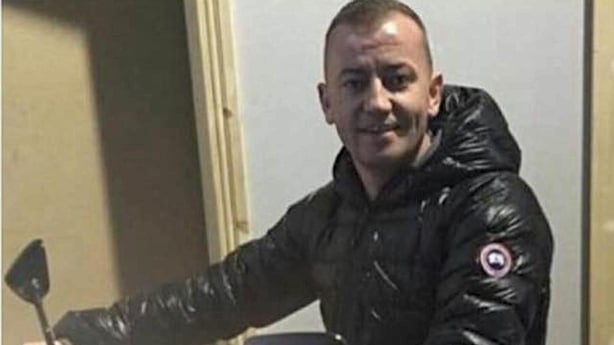 However, it drew upon the gang, not just the resources of the Irish State, but also those of law enforcement from the UK, Holland, Belgium, Spain and Australia.
The success of the garda investigation into the international drug trafficking gang is partly due to the fact that they have succeeded in persuading law enforcement agencies in other countries that the garda targets should also be their targets.
It has resulted in Kinahan gangsters being extradited to Ireland and being convicted and jailed in the UK and Spain.
Daniel Kinahan is currently living in Dubai. It remains part of the overall garda strategy in tackling international organised crime to continue to engage and encourage the authorities there to take an interest in him.