Around 700 Ukrainian students have been formally registered in Irish schools.
Minister for Education Norma Foley said it was very difficult to give a definitive number at this stage.
Schools are registering students as they arrive, she said, but that it may take "a number of days for that registration to take place".
She said there were "in and around" 700 pupils registered, but this number is likely to be a lot higher, adding that more data will be available in the next week or so.
Ukrainian teachers who come to Ireland may also be able to teach in Irish schools.
The Department of Education is working with the Teaching Council to allow the registration of Ukrainian teachers to be expedited as quickly as possible, Ms Foley said.
She was speaking during a visit to Trinity Comprehensive secondary school in Dublin's Ballymun, where a small number of Ukrainian students have started school.
She spoke with a number of the students and praised how articulate they are in telling their stories of how they came to be here.
Minister Foley also commended the "wonderful welcome" the students have received and paid tribute to the school community around the country who she said have shown innovation and flexibility in accommodating the Ukrainian students.
Around 32 minors referred to Tusla since invasion
The Chief Executive of Tusla has said that around 32 unaccompanied minors have been referred to the agency since the Russian invasion of Ukraine.
Bernard Gloster said that as recently as yesterday, a 12-year-old child entered Tusla's care.
He explained that not all of the unaccompanied minors have entered care but that just 14 Ukrainian children are in care with ages ranging, predominantly, from young to late teens.
Of these Ukrainian minors: one is in residential care while nine have been placed with special foster families.
Four are in supported lodgings - generally these minors would tend to be 17-year-olds who are heading towards the age of majority and have a different level of need.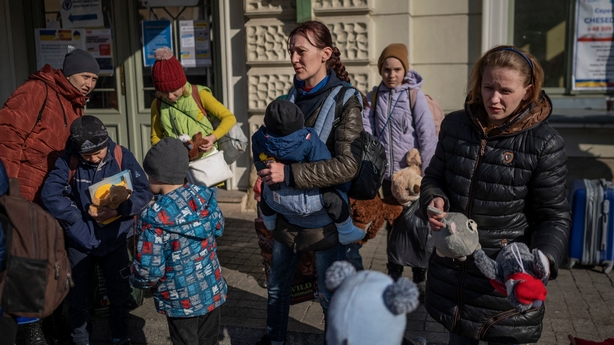 Mr Gloster said that Tusla established a presence at Dublin airport on 16 March, to offer assistance to those Ukrainian refugees in need.
Families offering shelter are assessed in the same way foster parents are assessed, he said and a number of those families are coming forward for approval in order to meet additional need.
Any family offering to take in Ukrainian families will have to be garda vetted if that group includes children or a vulnerable adult.
Mr Gloster said extra consideration must also be given to children who are travelling with adults who are not their parents and that there are processes for looking for any sign of distress.
Around 85% of people arriving from Ukraine are coming via the Dublin airport system, he added.
Meanwhile, the Minister for Children has told the Dáil that a Tusla child protection team is on site 18 hours a day in Dublin airport, but not in Rosslare which is also a port of entry.
Roderic O'Gorman said the Ukrainian authorities have written to Ireland to make sure that adoption laws are not taken advantage of during war-time, and that the Government is to reassure them that this is the case.