Ireland's largest outdoor lantern installation is on display at a former army barracks in Longford town.
Eighty people from across the local community worked on the project during the pandemic under the guidance of artist Tom Meskell.
"I've been wanting to do this for a long time. I've had an image of a herd of horses in my head and then when we were talking about the history of the horse in relation to Longford and I found out there used to be a calvary barracks here, it all just clicked," he said.
Mr Meskell worked with students from Moyne, Ballymahon, Longford. He also involved Killoe Men's Shed, St Christopher's Special school and Longford Women's Link.
"We got together 12 men and we put together those lanterns. I can't believe what has come from what we did. It's unreal how it turned out," said Seán Murray, who is part of the Killoe Men's Shed.
The group created an illuminated herd of life-size horses and 80 leaf lanterns.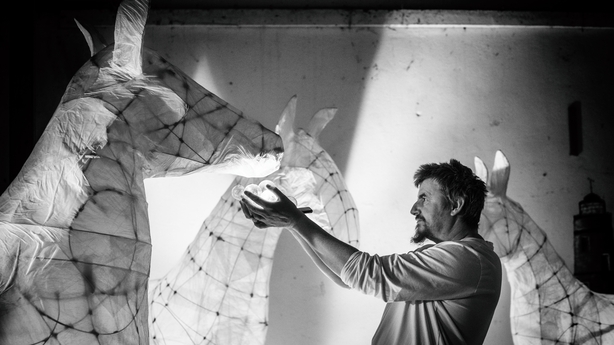 "We put a lot of personal things into the lanterns. Flowers, leaves, messages. It was so meaningful. It was all done at a time when we needed a bit of fun," said Loretto McGarry from Longford Women's Link.
Connolly Barracks was one of four military bases to close in 2009. The pre-treaty cavalry barracks was later purchased by Longford County Council, but remains empty today.
"It's about reimagining new spaces. It's a fantastic site to create a large visual art project," Project Manager Shane Crossan said.
"It's all about using the space in the town and the local people reclaiming it," he added.
The project was organised by Longford County Council and was funded by the Arts Council under the Faoin Spéir programme.
Creative Ireland Co-ordinator Mary Carleton Reynolds said; "This is really magnificent and the horses with the barracks in the background, it's something really spectacular."