The family of a man who died from Covid-19 two years ago has thanked all of those who contributed to a fundraising drive for them.
The Plangca children - Mikee, Michael, John and Checkie - were left orphaned when their father Miquel passed away in 2020.
The Filipino community in Co Kildare set up a fundraising drive to help the four local children with donations soon flooding in from all corners of the country.
In total, the amount raised was €285,000.
"A lot has changed since we last spoke," eldest child, 23-year-old Mikee, said.
With the money, the children have just moved into their new house near Naas.
Mikee said the family are now ready to start a new chapter of their lives, all while still grieving their father.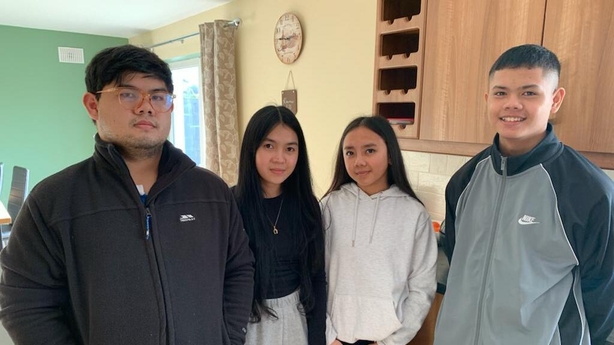 Speaking from her sitting room, Mikee said she is thankful for all those who donated and never believed the money raised would reach that amount.
"To all the Irish from around the counties, thank you for your generosity and kindness. It helped us a lot to start a new beginning," she said.
It is a welcome change from their old, cramped home they were living in with their Aunt Fely.
"It's for us to have our privacy. Our plan before with my late father was to apply for a council house ... I suppose now he's so happy we have our own house, even though he's not here."
Aunt Fely drops in regularly, and she too is eager to pass on her thanks to all those who donated.
"I miss him. Sometimes when we talk about him, I'm still emotional," she said.
She added the new house will give the children a good head start in life and has a simple message for everyone who contributed.
"Just thank you so much for all your support," she said.
When RTÉ News first interviewed the Plangca family back in 2020, they spoke of their father's journey from the Philippines to Ireland.
He arrived here over 20 years ago for work. He found some soon after, as a factory worker, and remained in that job ever since.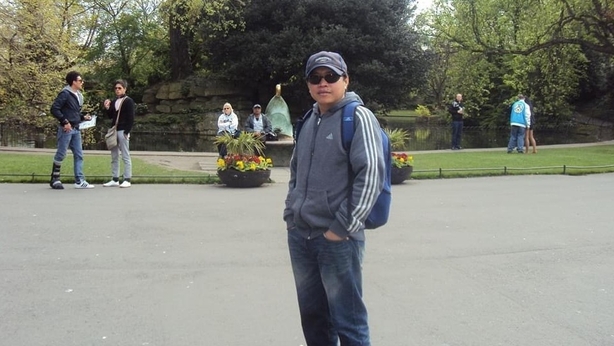 He sent money back to the Philippines every week, but seven years ago, his wife Gilcerica died of cancer.
Four of his children then relocated to Ireland to live with him.
The family recalled how their father's condition deteriorated quickly after contracting Covid-19. It had started with a cough and fever, and then difficulty breathing.
He was brought to hospital and into the Intensive Care Unit, where he would spend 41 days until he passed away on 13 May 2020.
A nurse told the family he had put up a tremendous fight.
Without their parents, Mikee had to put her college plans on hold in order to look after her brother Michael who has extra needs.
But now she has begun an online Irish Sign Language Course and hopes to one day become a tutor.
After a tough two years, the Plangcas are ready for brighter days.