Delaying having another baby, limiting central heating use and wearing extra layers to keep warm at home is how some parents are managing the rising cost of living.
Parents at Gorey Youth Needs Parent and Toddler Group raised concern over the impact of rising fuel prices, increasing food prices and other costs on their families.
Speaking to RTÉ's Morning Ireland, one woman said rising costs have meant she has decided to delay having a second child.
"Myself and my partner both work full-time," said Anna Keogh, a youth worker and a member of Gorey Youth Needs Parent and Toddler Group.
"We won't be able to think about having another baby. It would be completely out of our reach to have another baby.
"I think it is pretty sad to think that it comes down to money when we think about family planning."
She said the decision not to have another child was down to the cost of living.
"Between childcare, between clothes, nappies, formula and everything that comes with it we wouldn't be able to have two on both our full-time wages," she said.
Anna recently switched her job to Wexford from Dublin - where she commuted to every day - and saved hundreds of euro each month largely because of escalating diesel costs.
"The cost of childcare is a massive thing for people now. I was commuting from Wexford to Dublin. Between childcare and the price of diesel it wasn't worth it for me to be going to work," she said.
"The job move from Dublin to Wexford resulted in a saving of €400 on diesel per month. It also led to a need for less childcare hours resulting in a saving of €40 per week."
Anna and her partner are also saving for a home. "It is very far away. In terms of having a deposit for a mortgage, it'll take us a year or two to save that," she said.
Weekly shop
Other parents at the group said the rising cost of fuel is affecting their weekly shopping.
Ann Canty, who has four children, said rising fuel costs limit the number of hours her family can heat their home.
"When it comes to bills, our electricity bill skyrocketed and almost doubled in price," said Ms Canty, who runs the Gorey Youth Needs Parent and Toddler Group.
She heats her home with a solid fuel burner that mostly burns wood.
"That genuinely has made a massive difference. We use very little coal because coal is expensive as well and we try to eek it out," she said.
"We don't really have the heating on 24-7, we can't. We wouldn't be able to afford it anyway.
"We just make sure that if you're cold we have a little heater that goes on for a little while just to heat the room up.
"If you are cold throw on a jumper. We have done that plenty of times," she said.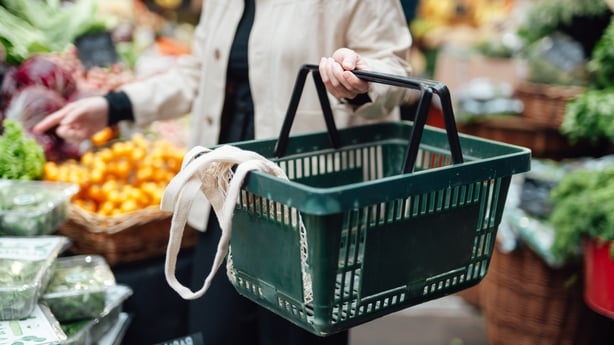 Mother-of-two Hazel Delahunt said the cost of living has "rocketed". Her family enterprise is farming and she is on a career break from An Garda Síochána.
"The cost of living for the farm has just rocketed - fertiliser, meal, grain, everything across the board is gone up," she said.
She said rising costs means "everything has to be cut back".
"It has to be budgeted. We have to tighten the belt. What money we might have for holidays and stuff we won't have this year - it's gone.
"The price of shopping has gone through the roof. What normally would have cost me about €180. It is now maybe €220. Every supermarket across the board has gone up.
"All luxuries are gone at this stage. It is essentials. It is what the kids need. It's nappies. Everything is gone up. We have to budget back to exactly tight what we need
"We are doing our best trying to keep things afloat. We are doing out best trying to keep food on the table for the kids," she said.
She acknowledged the Government has moved to make a once-off electricity payment, but said it is "not even a drop in the ocean".
"The USC charge has to go. I think they have to give benefits to, especially, parents now at this stage because we are struggling trying to keep childcare, trying to keep work, trying to keep food on the table.
"They have to give some kind of benefits for people travelling to work. I think the cost of petrol and diesel has just gone through the roof."
We need your consent to load this rte-player contentWe use rte-player to manage extra content that can set cookies on your device and collect data about your activity. Please review their details and accept them to load the content.Manage Preferences