Adi Roche, the head of Chernobyl Children International, has said the prospect of conflict in Ukraine could put the delivery of life-saving heart surgery for children in the region at risk.
"I'm not about the politics here. There are innocent children's lives at stake and it's a shame when politics once again negatively impacts on the care of ordinary people… It's the people that end up paying the price," she told RTÉ's Liveline today.
Just last month, the Irish-based charity flew a team of top surgeons to Eastern Ukraine to carry out life-saving operations on babies and young children with congenital heart defects. Many of the cases are due to the ongoing effects of radiation after the Chernobyl nuclear disaster in 1986.
A team of medics, led by paediatric cardiac surgeon Dr Bill Novick, have been working on young patients in Lviv, Ukraine- following a two-year delay due to the Covid-19 pandemic.
Now, she says she has had to ask the Irish Ambassador in Ukraine, Therese Healy, for back-up in case the surgical team require help to continue their work if the conflict escalates. The surgeons were paid for with money fundraised over Christmas in Ireland.
"These guys are out there doing amazing surgeries," Ms Roche said.
"These children cannot live with this condition, but they will die with this condition without intervention."
The charity had already had its travel plans delayed and had to deal with the financial effect of the pandemic, with revenue reported in December to have taken a hit of up to 70%.
"We were stopped by Covid for two years and we were determined we weren't going to let sort-of man-made problems interfere with the rights of children… to life," she told Joe Duffy.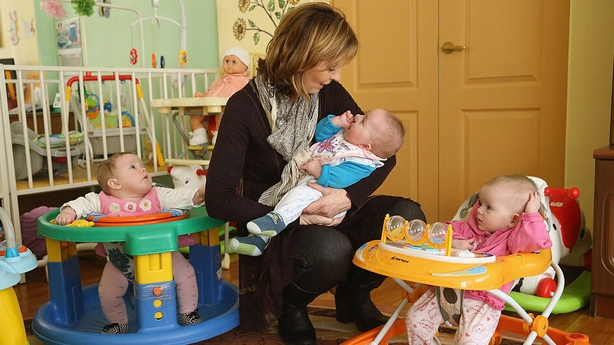 Adi Roche said a risk-based decision was made to bring forward the cardiac mission last month.
She said she was due to travel on this mission, but in the end her own presence there as a non-medically trained person was no longer deemed essential.
She said Ireland should use its seat on the UN Security Council to work for dialogue and diplomacy over the escalating tensions.
"We have to avoid war at all costs" she said
"It is unconscionable to even consider a conflict and I think Ireland has a crucial role to play, actually, as a neutral, non-aligned country."
She said she had a first-time experience of the upheaval caused by the previous conflict in Eastern Ukraine, after visiting the area following the 2014 conflict where she witnesses a substantial rise in the number of refugees and those requiring medical assistance as the health service there struggled to cope.
She added: "Like radiation, which knows no boundaries, war is the same and this conflict will not stick within a confined area and given the weaponry, the weapons of mass destruction that are out there, God help the world, not just Ukraine."