What does it take for a report that is gathering dust to be published, when it explains the cost of living for thousands of disabled people in society?
Six leading disability and mental health umbrella organisations have called for research which provides this information to be published.
Commissioned by the Department of Social Protection in 2018, the Indecon report, which examined the cost of having a disability in this country, was announced as part of Budget 2019.
Surveys with disabled people determined the extra day-to-day costs and a report was submitted to the Government early this year.
Disability representative organisations are calling for the Indecon report to be published.
They have been told that it will be presented to the Cabinet by the Minister for Social Protection Heather Humphreys "in due course".
Calls for its publication have also come from the Oireachtas Committee on Disability Matters.
While it is difficult to find an average cost of disability, it is recognised that disabled people incur extra living costs.
Additional heating, aids and equipment, drugs and other medical costs, care costs and transport costs mean that their outgoings are high.
From January, the maximum weekly rate of Disability Allowance, which is currently €203, will increase by €5, with proportional increases for qualified adults and people on reduced rates of payment.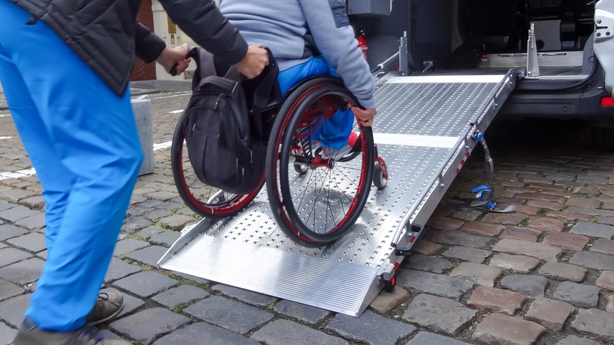 Any increase is welcome. However, disabled people and their carers have pointed out that the Pandemic Unemployment Payment exceeded the disability allowance last year.
What kind of message was that to send to disabled people? Also, what message did it give wider society about disabled people?
In some respects, Ireland has moved forward in its approach to disabled people, but it is still undergoing a process of change.
A human rights concern
The UN Convention on the Rights of Persons with Disabilities was ratified in 2018 - promoting and protecting all human rights and freedoms by disabled people – however, Ireland has not become a shining example of equality.
It is worth looking at a country like Finland, which recognised disability as a human rights concern for decades.
A significant part of the Finnish support to disability inclusion is fully designed and implemented by disabled people.
Organisations like the Independent Living Movement in Ireland views the Finnish model as one which Ireland should try to emulate, where disabled people get opportunities to make decisions about their lives and choose activities they want to do.
They have control of their lives.
Covid-19, according to many disabled people, gave the public an insight into their lives, because they no longer had the freedom to do what they wanted.
As one person pointed out - suddenly everyone was, like him, disabled.
It resulted in social events and gatherings like theatre, music, concerts, and exhibitions to move online. These events were rare prior to Covid-19 and yet, they became a lifeline for so many.
Technology has been hugely beneficial for disabled people, be it for meetings, accessing lectures or working from home.
A proactive approach for hiring disabled people
While there is a drive by workplaces to be more diverse in recruitment, again, the progress is slow.
However, there is evidence of more companies hiring disabled people, where they may not have considered it in the past.
The Taoiseach has expressed his desire for this to "quickly" become the norm.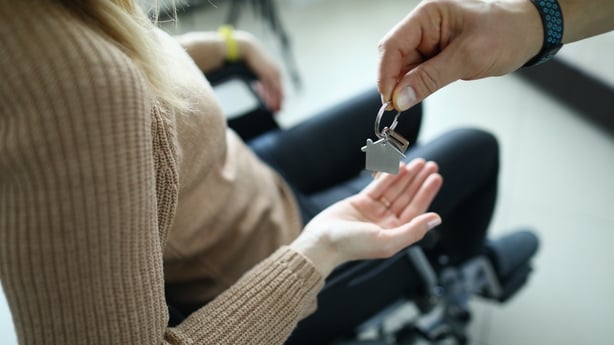 In recent weeks, Michael Martin expressed the need for agencies and Government Departments to take a more pro-active approach in employing more disabled people.
There is, however, another story.
Families who are living with people who have disabilities, whose adult sons or daughters are not able to work and who require full-time care.
There are not enough carers available.
The struggle to recruit staff can even mean competing with supermarkets, because of difficulties in the labour market.
Therefore, it is often left to parents in their 80s, and some in their 90s, to care for their adult sons or daughters, who could be in their 50s, 60s, or 70s.
In the last year, an adult child was dropped at a community setting by an elderly parent and not collected. That parent was simply unable to cope.
In 2021, the Domiciliary Care Allowance - the monthly payment for a child with a severe disability - was estimated at €197m.
The actual cost of domiciliary care is included in the Indecon report, which the Minister for Social Protection Heather Humphreys said would be used to inform the direction of future policy around funding disabilities.
To mark International Day for People with Disabilities - the Disability Federation of Ireland, Inclusion Ireland, Independent Living Movement Ireland, Mental Health Reform, the National Disability Services Association and the National Federation of Voluntary Service Providers have said the publication of this report to know the true cost of living with a disability in Ireland is warranted.