A leading member of the National Public Health Emergency Team has said he is "hopeful" that schools will reopen after Christmas.
It comes after the Department of Health today confirmed 4,163 new cases of Covid-19.
Dr Cillian De Gascun, Director of UCD's National Virus Reference Laboratory, was asked on RTÉ's Drivetime if he expected schools to reopen if there was the same level of infections in January.
He replied: "I'd certainly be hopeful. If we're in a similar situation, coming out of the Christmas period, and we don't have Omicron circulating widely through the community, I would certainly be hopeful.
"Schools have always been a priority for us because, you know, children have suffered really badly through the course of this pandemic."
Dr De Gascun, who is also a member of NPHET, also warned that if the Omicron variant has a "genuine transmissibility advantage over Delta" this would be a cause for "significant concern".
He said: "Then we have to have significant concern because we saw how quickly Alpha emerged around the turn of the year last year and equally (how) Delta emerged over the summer.
"The problem is more transmissibility does lead to more cases and more people in hospital.
"So the key thing is for people to get vaccinated, follow the public health interventions and protect each other as much as themselves."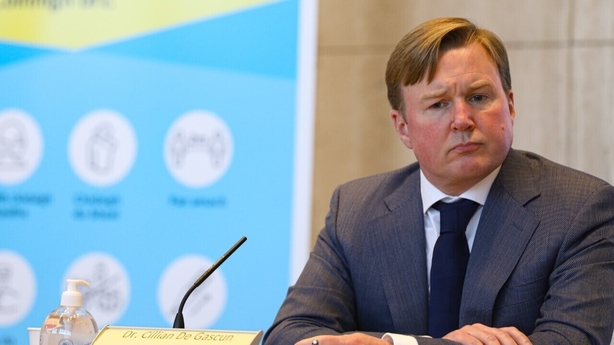 There are 545 people in hospital who have tested positive for the virus, down 33 since yesterday. Of these 117 are in ICU, unchanged overnight.
In Northern Ireland, 2,272 new infections have been reported today, along with two Covid-related deaths.
Dr Tony Holohan, Chief Medical Officer, said: "The additional efforts to adhere to the public health measures we have all been taking over the last few weeks are having a positive impact.
"We are beginning to see stabilisation in a range of key indicators of incidence of Covid-19.
"While this progress is very welcome, the level of disease in the community is still a concern. Stabilisation is happening at too high a level.
"The current high incidence is driven by the Delta variant, which, coupled with the presence of the Omicron variant, means that the trajectory of the disease remains uncertain."
---
---
Dr Holohan continued: "In the last seven days, 478 people with Covid-19 were admitted to hospital with 46 people admitted to ICU.
"We know that public health measures we are all familiar with work to limit transmission of Covid-19 in the community.
"Choosing to follow the public health advice is difficult, particularly at this time of year, however, is it the key to changing the trajectory of the disease.
"Please continue to wash your hands regularly, keep your distance, choose outdoors instead of indoors for meeting up and open windows indoors, use good respiratory hygiene, reduce your social contacts and wear your mask if is recommended for you."
The Chief Medical Officer added: "In the over 75 age group, where people have been taking up the offer of a third dose of a Covid-19 vaccine in high numbers, we are seeing significant reductions in the incidence of disease.
"This is another positive development and further evidence that getting a third dose of Covid-19 vaccine helps to protect from the most severe effects of Covid-19."
Earlier the Chief Executive of the HSE warned that the hospital system is still under significant pressure from Covid-19, saying: "We're still far from out of the woods."
Paul Reid said that although hospitalisation and ICU figures have stabilised, over the past week in particular, they stabilised at an extremely high level, which still causes a "huge risk".
Speaking at the weekly HSE briefing, Mr Reid said that Ireland, as of today, is in the top five of EU countries for the roll-out of booster vaccines per head of population.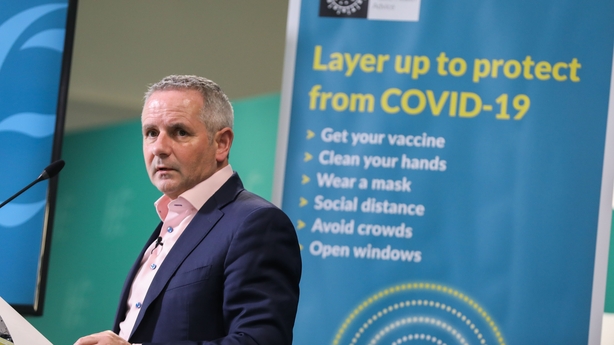 "Last week alone, we completed over 214,000 vaccines in total across the programmes and, as of yesterday evening, there are now 880,000 boosters and third doses administered over the past few weeks," he said.
"We're also seeing continued presentation of people for their first and second doses. Last week alone, we completed just about 10,000 dose ones and over 10,000 dose twos in the population."
He described this as "a really important part of the protection".
His warnings come as NPHET meets today to review the latest trends on Covid-19, before advising the Government on any new measures that should be taken.
Speaking about the recently discovered Omicron variant, the HSE chief said it "probably comes as no surprise to anybody" that it was detected in Ireland.
Mr Reid said that the HSE is waiting to hear more complete information on this variant's transmissibility, as well as its impact and seriousness in terms of hospitalisations and how it responds to vaccines.
On the topic of vaccinations, Mr Reid said that those who have not been vaccinated are having a "really high, disproportionate" impact on the health system.
"The vast majority of people with Covid in our hospitals are adults, primarily over the age of 18, and if you just stand back and assess, just about 6.5% of the adult population aren't now fully vaccinated.
"So 93.5% of the adult population are fully vaccinated, so those who are unvaccinated are highly disproportionately represented in our hospitals," he added.