Primary school principals have said they expect a strong level of compliance with new mask-wearing measures among children from third class upwards.
In Cork, one principal has told RTÉ News that, while he will be encouraging his pupils to wear masks, he will not be excluding those who don't wear face coverings from school.
Like most primary schools, there was a level of understandable chaos in the corridors of Gaelscoil Uí Riordáin in Ballincollig today.
The school was founded with just 17 pupils by Gabriel Ó Cathasaigh in 1983. Today, it is one of the biggest gaelscoileanna in the country, with 760 boys and girls on its rollbook.
That chaos that is synonymous with school environments was a little muted today, though - primary school pupils in third class and beyond were wearing masks as a new measure to curb the spread of Covid-19.
Gabriel Ó Cathasaigh is still at Gaelscoil Uí Riordáin as principal. Today he was overseeing the implementation of the new Covid guidelines.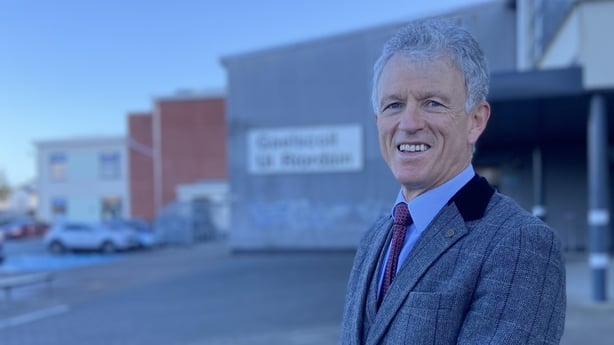 The level of compliance at Gaelscoil Uí Riordáin was huge, but Mr Ó Cathasaigh is cautious and calls for teachers and school principals to be given the space to exercise discretion.
"We had noticed over the past couple of weeks that more and more children were wearing masks," Mr Ó Cathasaigh said.
---
Read more:
'Large volume' of queries around mask wearing - CPSMA
Latest coronavirus stories
---
"Today, a big, big percentage of the children - nearly all the children - were wearing masks this morning."
He called for understanding for those who couldn't wear masks.
"There will be a small cohort of children who will find it difficult to wear their masks," he said.
"I suppose we have to be understanding and we must realise that some children have health difficulties and other problems in wearing their masks.
"We have to have a conversation with them. I would like to listen to the children and to their parents and give them the space to adjust to this new regime. Hopefully, everybody will be comfortable in the end."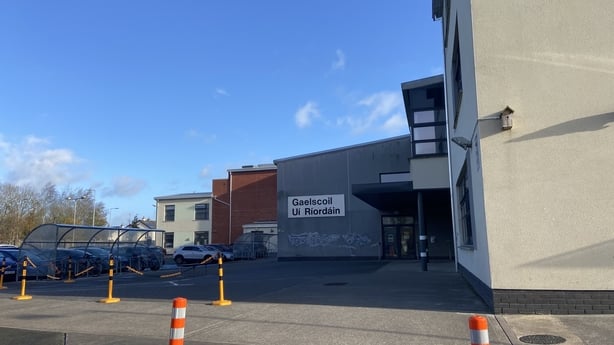 Mr Ó Cathasaigh said he was surprised to hear that children who refuse to wear a mask and could not produce a medical certificate would be excluded from school.
"I find that extraordinarily difficult, to be honest," he said.
"It doesn't sit well with me that I would refuse access to school to any child because, really, we are encouraging children to come to school; we are encouraging them to socialise, to enjoy coming to school and not to be putting obstacles in their way.
"So, that is a conversation we will have. But, for the time being, I won't be outside the door saying 'you can't come in' - I won't be doing that."
He said he would be encouraging parents that mask wearing is worth doing and that it is a good way of reducing the spread of Covid.
'We will have to be flexible'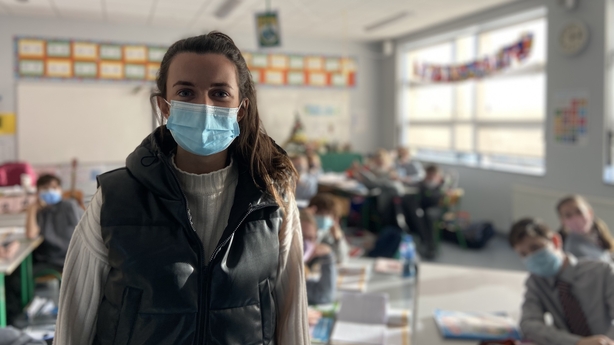 Máiread Ní Chéilleachair teaches fifth class at Gaelscoil Uí Rioirdáin and all 30 of her pupils were wearing masks in her class today.
"I don't think it's going to put much of an onus or pressure on teachers in particular," Ms Ní Chéilleachair said.
"We all understand that mask-wearing reduces the risk but, personally, I wouldn't like to tell any child that they can't enter my classroom without a mask on them. We will have to be flexible and cognisant of everyone."
Mary Kelly is a parent. Her son, Jack, is aged 11 and is in fifth class at Gaelscoil Uí Riordáin. She says Jack began wearing a mask to school prior to the introduction of the regulations.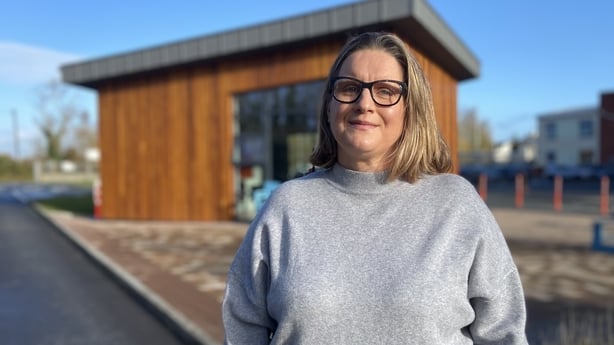 "I think, in general, they are probably good for the safety of our children," Ms Kelly said.
"I understand it won't suit all of the children, but I do think if the majority of the children wear them, it does make the school a safer place.
"As long as they are comfortable and happy doing so, I think it's a good thing."
Among the school pupils themselves, though, mask-wearing received a mixed response.
"I know that it helps, so we are happy to do it," was the conclusion of Feargal Óg Ó Draighneáin, who is 12 years old and in sixth class at Gaelscoil Uí Riordáin.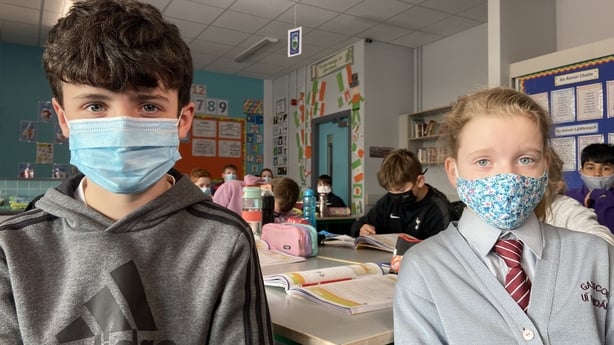 But Feargal Óg's sister, Roisín, did not agree.
"I don't like them," she said.
"I wore them yesterday and the day before. They do keep your face warm, but they're really uncomfortable as well."
The guidelines have been introduced on a temporary basis and will be reviewed in February.