Over 5,700 people who were homeless, at risk of homelessness, or suffering ill health and social exclusion because of addiction were helped last year by Novas, which has services in Limerick, Clare, Tipperary, Kerry and Dublin.
However, the Covid-19 pandemic had a significant impact on its services, and saw more people and families seeking its help and support.
In its annual report for 2020, published today, Novas said it saw an increase in food poverty for many vulnerable families because stable supports like school breakfast clubs were closed, and bi-monthly social welfare payments led to an increase in risky drug use and overdoses.
This year marks the organisation's 21st year of operation. For the past 12 months, it helped 445 families and 1,136 children who were seeking housing and other supports.
It is the second year in a row Novas has helped over 1,000 children.
As many people temporarily lost employment, and as schools and childcare services remained closed, Novas responded to increased demand for one-off interventions in the community, such as food packs, play and activity packs, delivery of cooked meals and phone support.
Una Burns, Director of Policy with Novas, said food poverty was a significant issue for many, as breakfast and afterschool clubs were closed for children, and street outreach and day services were closed for many adults.
Social isolation was felt more keenly than ever among some of their clients due to closures brought on by Covid-19.
Addiction, overdose and risky drug use was also aggravated by the pandemic.
Bi-weekly social welfare payments had the unintended consequence of increased drug use among some people in temporary accommodation, which meant staff were dealing with more overdose cases.
"Social welfare and disability payments were paid every two weeks instead of weekly, so people had this extra cash every second week which led to more disposable income and increased drug use," Ms Burns said.
"It also added to the food poverty for some families who struggled to budget, and really had profound consequences for the marginal groups we deal with."
Among the statistics, there were also stories of hope and recovery.
Trish Leahy, 35, was 17 years in active addiction, meaning heroin was part of her everyday life for that time.
She engaged for 12 of those years with Novas.
She said she felt hopeless, living on the streets, in tents, in hostels, fighting each day to feed her drug habit. Eventually, both her children – a son and a daughter – were taken from her.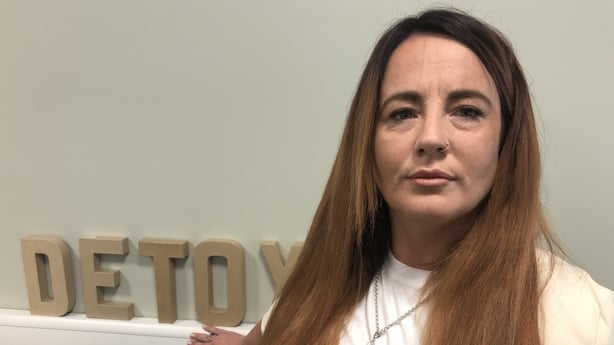 Novas persisted with supporting Ms Leahy through the years and she eventually moved from Limerick to Waterford to make a clean break.
She has now been in recovery since May 2019 and today she is living in her own apartment. She is in full time education studying social care, and her daughter is back living with her. She hopes her young son can return also.
Ms Leahy is also a sponsor now, helping others with a step programme to assist with their addiction issues.
She said moving from where she had lived all her life with addiction was crucial.
"The difference this time around was I got the support I needed to move out of where I am from," she said.
"For me, it was really hard to get well, in the place where I got sick."
Julie McKenna, Manager of Novas Midwest Health and Recovery services, was Ms Leahy's support worker.
Nobody chooses drug addiction as a way of life, she said.
"It happens frequently as a result of childhood trauma, as a way of escaping their own reality, resulting in a sense of hopelessness.
"But the continuity of care which we provide in Novas and sticking with the client no matter the setbacks, welcoming them back to the service and supporting them in their struggle, is at the centre of what we try to do."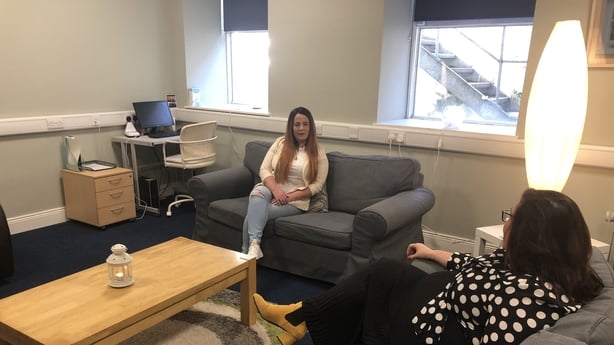 Novas Chairman Greg Maxwell said 2020 saw the "perfect storm" with the risks posed by Covid-19 combined with a deteriorating housing crisis and the part removal of restrictions to stop evictions.
"The universal risks of the virus are especially acute for those with compromised health conditions," he said.
"Add to this the poor health status of most people who are homeless and their vulnerability.
"So into a second year, our focus remained to keep the pandemic out of our services."
Mr Maxwell said Covid-19 also interrupted and reduced their house building and acquisition programme.
The national picture was even worse.
"The depth of the crisis is reflected by the simple fact that a family on the average income can't plan to buy a house for many years.
"Coupled with the collapse of local authority house building, many thousands of families in need, must wait for years to have any chance of buying or renting a decent house, and for single people who are homeless... they remain at the end of the queue, an ever lengthening queue."
He acknowledged the Government's recent Housing for All strategy and how it recognised that social housing plays a key role in housing provision.
"It is crucial that over the next ten years the housing crisis is solved," he added.