The inquest into the deaths of 48 people in the Stardust nightclub on 14 February 1981 may not get fully under way until next March.
At the sixth pre-inquest hearing into the fire in the early hours of St Valentine's Day in Artane in north Dublin, Dublin City Council Coroner Dr Myra Cullinane said that the dedicated hearing room at the RDS will not be available for the inquest beyond the middle of February.
Work is now under way to find an alternative location.
She asked the lawyers representing different parties to allow the profiles, or so called 'Pen Portraits', of the deceased to be read in February 2022, while the inquest still has access to the space in the RDS, but Dr Cullinane said this would depend on the rest of the inquest proceeding thereafter.
"What I do not want is that we would have embarked on hearing a very delicate part of proceedings, and that there would be a lengthy hiatus before we moved on to the rest of the evidence to be heard," she said.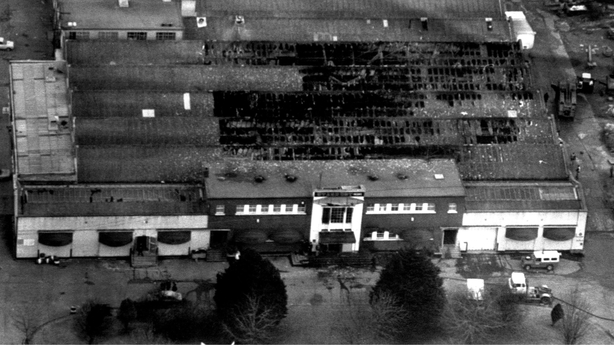 Dr Cullinane also said that just two days ago, she had received a significant list of extra documents that are to be disclosed by gardaí to the tribunal, which she was not aware the force possessed.
She said the task of analysing these documents would be significant and that she hoped it would not delay proceedings, but that an initial assessment showed there was a lot of duplication between the new files and ones that had previously been disclosed.
Counsel for An Garda Síochána explained to the inquest that these files had been uncovered after lawyers instructed gardaí to carry out an additional search of any "discreet sections and offices" of the force for additional material related to Stardust.
This was done "out of an abundance of caution" and that the newly uncovered documents can be provided to the inquest within the next two weeks.
Sean Guerin from Phoenix Law, who represents the majority of the families of those who died in the fire, said that they are "days away" from coming to an agreement with the Legal Aid board on the issue of legal funding, which had led to delays in the inquest getting under way.
Mr Guerin said the issue had been very protracted, but that the firm was now in a position to agree a scheme of fees, which he said would result in savings of between 37% and 52%.
The Dublin City Coroner told the inquest that she would be circulating some new depositions that have been made following a public appeal for information about the blaze.
Dr Cullinane also said she intends to impanel a jury as part of the process.
A number of other technical issues were dealt with during the hearings, including the presentation of uncontroversial facts and submissions by fire safety experts.
The next pre-inquest hearing was set for 4 November.