The Government is listening to the message from students and young people who protested for climate action around the country today, according to the Minister for the Environment, Eamon Ryan.
The demonstrators - part of a worldwide series of protests - were highlighting what they described as empty promises on the issue.
They took to the streets in Dublin, Belfast, Cork, Galway and elsewhere to chants such as "Hey Hey! Ho Ho! Climate change has got to go" as they insisted that the need for action has intensified.
The Taoiseach, speaking ahead of a speech to the UN in New York, said he will be saying that the time for words is over and action is needed on climate change.
He said every country has to come to the table on the issue. Micheál Martin also said he supports the young people and activism is "important when it comes to climate change".
In Dublin, the protest leaders said decision-makers need to step up while there still is a chance to limit global warming.
"We are in a window of time in which this is possible, in which we can achieve equality, limit warming, and build a society that no longer facilitates the climate crisis. We are here because we can achieve that, we must achieve it, and we will achieve it," they declared.
They cited three key demands: a fossil free future, a liveable city and a just society.
Minister Eamon Ryan, who met the protesters outside the National Museum of Ireland in Dublin city centre, said the Government is listening to the message from young people.
He said he believes the students are seeking even faster action that will be contained in the forthcoming Climate Action Plan for halving greenhouse gas emissions by 2030.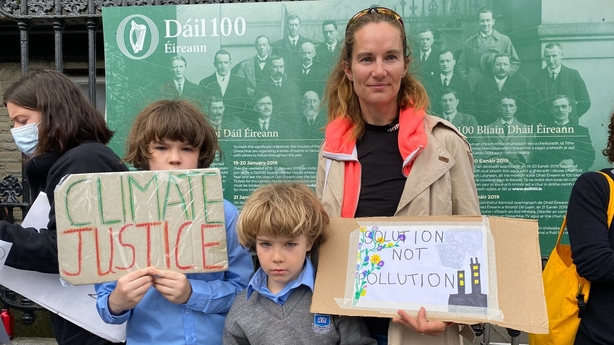 However, Mr Ryan said that people often underestimate what can be achieved in a decade and "we might be able surprise ourselves" by being able to make more significant cuts.
The global movement seeking to save the planet, which began two years ago, was inspired by Swedish activist Greta Thunberg.
The central demand is to limit the warming of Earth to a maximum of 1.5C as laid out in the 2015 Paris climate accord.
Across Ireland, some students are skipping school to strike for climate action, with protests scheduled for Dublin, Cork and Galway city centres.
For many, it is their first time participating in school strikes for climate since the pandemic began, when restrictions halted the momentum of the movement.
Saoirse Exton, 16, from Limerick says Covid-19 had a big impact on the school strike movement. She has led a school strike for climate every Friday since 2018.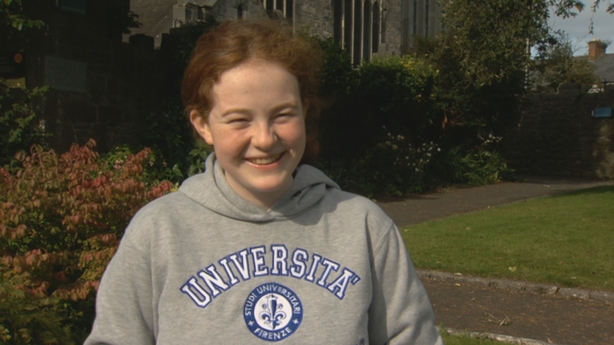 "For me, Covid was really difficult, because I had to stop the weekly strikes. There was just not enough connection between people. People just weren't really coming, unfortunately."
The Fridays For Future movement began after then 15-year-old Greta Thunberg first skipped school and instead sat outside the Swedish parliament to demand climate action.
The movement reached a peak in September 2019, when 7 million people worldwide joined in, including 30,000 young people in Ireland – making it one of the largest global protests in history.
We need your consent to load this rte-player contentWe use rte-player to manage extra content that can set cookies on your device and collect data about your activity. Please review their details and accept them to load the content.Manage Preferences
Saoirse said she is attending the protest in Dublin to have her voice heard, saying the Government is not doing enough to combat climate change.
"I think it's honourable that they are actually thinking about it, but I do think they need to take more action," she said.
Some of the sights, sounds and signs from the #GlobalClimateStrike in Dublin. pic.twitter.com/lGG47x9N1W

— RTÉ News (@rtenews) September 24, 2021
While the pandemic stopped young people coming together to strike, climate activists still got their message out online, and in tandem with a global call to strike, Fridays For Future is encouraging those who cannot gather today to join in the protest digitally.
Heather Doyle, 14, from Tipperary said she will be taking part online, leaving school to join virtual discussions and post her messages of protest.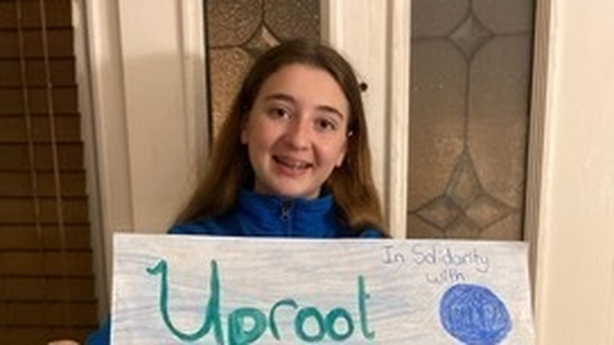 She said the pandemic has stopped the movement reaching the large audience they did in 2019.
"It's getting the attention of people, and the people we want to get the attention of are fossil fuel companies, and decision makers," she said.
"Most likely, they are much older than us and don't use social media as much as us, so they don't see our strikes. So it has had a negative impact on that side of things."
One of the organisers of the Fridays For Future protests in Dublin is 18-year-old Beth Doherty, who said they have no choice but to have school climate strikes.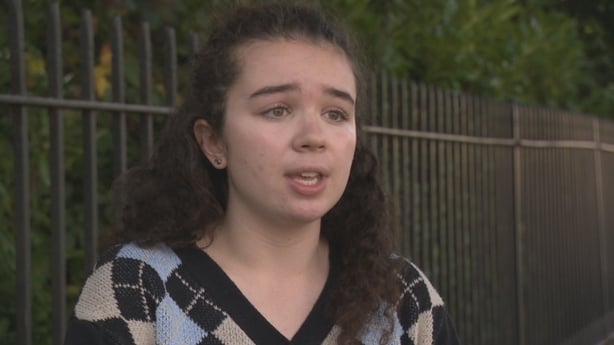 "After Covid, I do think we will see a shift in energy. We will see people want to come back on the streets to bring this issue to the forefront," she said.
"In terms of where it's going, I think it's not going anywhere anytime soon.
"As much as we would love to stop these protests and stop the strikes, we have to keep going until the action is delivered."
Seventeen-year-old Salim Kajani from Dublin said that he is going to keep fighting for as long as it takes.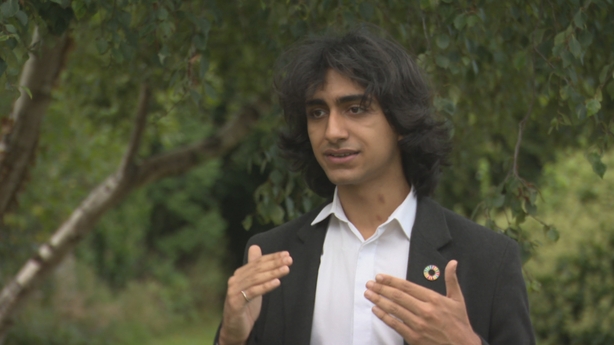 "I'm only 17 now. I started when I was 15. I am going to keep going until there is proper action."
---
Read more: Young people urged to join global climate strike
---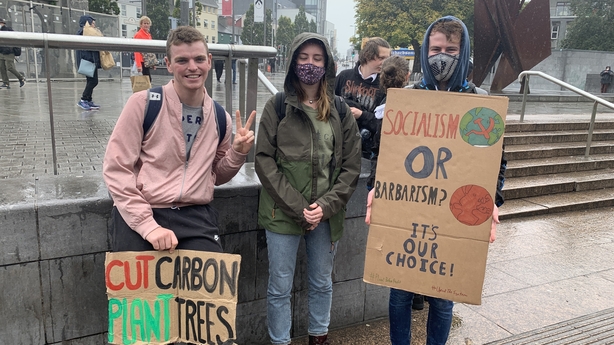 Around 100 second and third-level students gathered in Eyre Square in Galway this afternoon, for the Fridays for Future protest.
One of the organisers, Catherine McDonagh, said those attending the demonstration wanted to see faster action from the Government in relation to environmental safeguards.
She said the next generation of voters were watching the activities of the coalition and needed to see definite steps being taken to address the climate crisis.
Around 250 students took part in a climate protest on Merrion Street in Dublin city centre.
They say the IPCC reports show clearly we are in the final decades to stop climate change which is not a problem for the future, but a problem for now.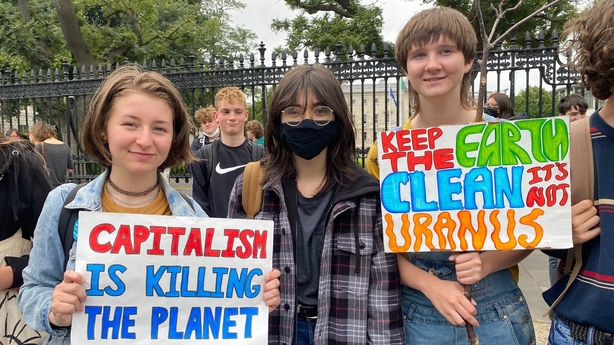 In Cork, around 200 people took part in a demonstration on the Grand Parade and Patrick Street.
Participants were asked to wear masks and to follow social distancing guidelines.
Second-year law student Alicia O'Sullivan is Environmental Officer with UCC's Students' Union.
She said she was demonstrating because more action was needed to halt climate change, domestically and internationally.
Alicia said she believes Ireland is "getting there" in relation to climate change, with the introduction here of a Climate Bill "a definite stepping stone".
"We definitely need to do more," she said.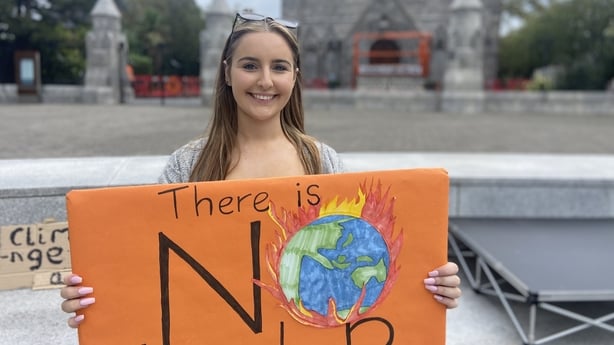 She said, for instance, that farmers needed Government support to help them adopt more environmentally-friendly practices.
"We have a huge dependence on agriculture in this country," Alicia told RTÉ News. "Something we need to do is to support farmers to make that transition - not shame them and tell them they are doing the wrong thing (but) support them to do the better thing, which is to bring everyone together and create climate action."
UCC's Students' Union President Asha Woodhouse graduated with a degree in environmental science and is doing her masters in environmental and and natural resources law.
"This is very close to home for me," she told RTÉ News.
"The threat is quite severe. It's something I struggled with myself as a student, seeing this in reality. In science, it is quite stark. The worst part is that we have known for such a long time and when you look internationally you can see it is impacting people in so many different timescales."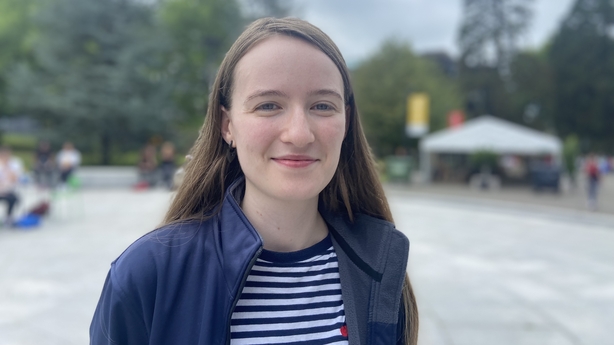 One of the organisers of today's demonstration in Cork was 16-year-old climate activist Amy O'Brien. She is a member of Fridays for Future Cork. She believes it is succeeding in bringing about change.
"I think we have seen with the youth climate movement that it is really pressurising politicians," Amy said. "We have a climate bill now and obviously it isn't enough, but it has been brought into the central sphere - these demonstrations have been instrumental in that."
'Climate now, homework later'
In Germany, more than 400 "climate strikes" are taking place with Greta Thunberg speaking outside the Reichstag parliament building in Berlin.
Thousands gathered on the lawn there from late morning bearing signs reading "Climate now, homework later", "It's our future" and simply "Vote".
"Climate is an important issue and if this continues things are going to get worse and worse," 14-year-old pupil Louise Herr told AFP.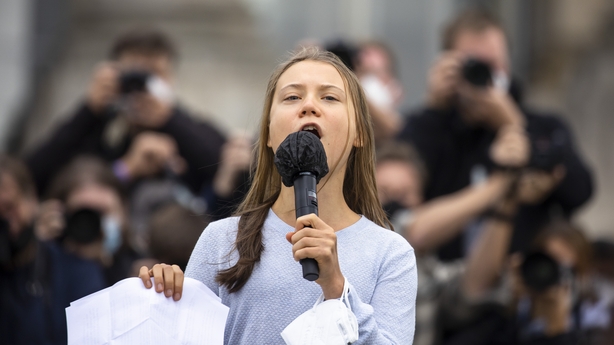 Ms Thunberg told cheering Fridays for Future youth supporters that they needed to hold Germany's political leaders to account past election day.
"It is clearer than ever that no political party is doing close to enough... not even their proposed commitments are close to being in line with what would be needed to fulfil the Paris Agreement" on curbing climate change, she said.
"Yes, we must vote, you must vote, but remember that voting only will not be enough. We must keep going into the streets."
Organisers said the rallies had drawn 620,000 people to more than 470 cities in towns across Germany.
Meanwhile in the UK, dozens of climate protesters blocked access to the port of Dover, the busiest ferry hub in Europe, demanding the government step up action insulating homes.

The civil disobedience demonstration is the latest by Insulate Britain, whose activists have repeatedly blocked traffic on London's busy M25 orbital motorway.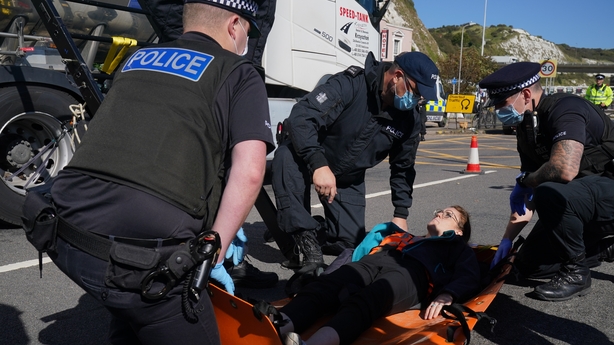 Around 40 people blocked the approaches to the eastern and western docks at Dover, in southeast England.

The port handles around 17% of Britain's goods trade.