Lone parents and their children account for 53% of all homeless families and are much more likely to experience poor housing than other household types, according to a report published by the Irish Human Rights and Equality Commission and the Economic and Social Research Institute (ESRI).
The report also highlights the disadvantages experienced by young people, migrants, people with disabilities, Travellers and others in the Irish housing system.
'Monitoring Adequate Housing' looks at six dimensions of housing adequacy - accessibility, affordability, security of tenure, cultural adequacy, quality, and location.
It finds that less than 25% of lone parents reported home ownership, compared with 70% of the total population.
Lone parents had higher rates of affordability issues (19%) when compared to the general population (5%) and were particularly vulnerable to housing quality problems such as damp and lack of central heating (32% compared to 22%).
It says ethnic minority groups had a significantly higher risk of over-crowding.
Over 35% of Asian/Asian Irish, 39% of the Traveller community and over 40% of black/black Irish live in over-crowded accommodation, compared to 6% of the total population.
The impact on migrants is also significant, according to the report.
48% live in the private rental sector compared to 9% of people born in Ireland.
Migrants, specifically those from Eastern Europe (28%) and non-EU countries (27%), are more likely to live in over-crowded conditions.
29% of people who are living with a disability, experience housing quality issues, compared to those without a disability (21%).
People with a disability are also more likely to report an inability to keep their home warm and arrears on rent or mortgage payments.
The report notes that the continuing problem of homelessness highlights "a very disadvantaged section of the community" for whom the most basic measure of adequate housing as envisaged under international human rights agreements is not being met.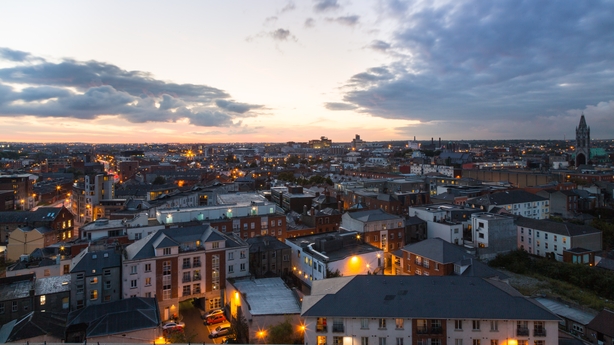 Other challenges that emerged from the study are the rising levels of homelessness in recent months with the lifting of pandemic protections.
Homeless figures also exclude those in "hidden homeless" living situations - those staying with friends or family, "sofa surfing", or those who are not interacting with homeless services.
Despite the introduction of Rent Pressure Zones in late 2016, rents have increased by almost 40% in Dublin and 20% elsewhere.
Rental costs have risen at a faster rate than mean earnings in Dublin and elsewhere.
In 2020, mean monthly rent in Ireland was estimated to be 31% of mean monthly earnings.
The policy shift to housing those with housing needs, including at risk groups, in private rental accommodation supported by Housing Assistance Payment, raises issues around the security and quality of such housing.
Ethnic minorities such as the Traveller community, and the black ethnic group face higher discrimination in their search for accommodation, and are at much higher risk of overcrowding and homelessness.
However, on most indicators of housing adequacy there is no measure of ethnicity, or refugees and asylum seeker status.
The co-founder and spokesperson for the lone parents group Spark has called for a minimum essential standard of living to be linked to social welfare payment rates and also for a maintenance enforcement agency, so people could get the maintenance the court ordered.
Speaking on RTÉ's Drivetime, Louise Bayliss said it's been known for a long time the difficulties lone parents face and "what's shocking to me is that it's surprising to others".
She said "this report backs up what we're already living".
She said there are four pillars to ensure lone parents have equality in society, which includes affordable quality childcare, family friendly well paid work, a robust maintenance system and good quality affordable housing.
She said "we're deteriorating, the housing crisis is getting worse, the National Childcare scheme seriously disadvantage lone parents of school age children, where they lost some of the more targeted schemes to help them work".
Ms Bayliss said it's a common occurrence for a lone parent, who's financially dependent on their ex-partner to pay the mortgage, that this mortgage payment is treated as maintenance by the Department of Social Protection.
She said the mortgage payment is assessed "as if she's getting cash in hand" and it means a drop in her social welfare income.
The Chief Commissioner of the Irish Human Rights and Equality Commission has said lone parents have been affected to "a shocking degree" by the housing crisis.
Sinéad Gibney said there is a real problem with how the system deals with people on housing lists and there are a myriad of negative incentives that trap women in the system.
Speaking on RTÉ's Morning Ireland she said houses are more than just bricks and mortar and housing units.
Speaking about her own experiences as a lone parent, Sinéad Gibney said she did not face anywhere near the barriers that most lone parents but that her daughter was nine years old before they moved into their own permanent home.
"It does build into you a sense that the system and society does not see you as a family in the same way that it does, what we would call traditional families, and I think we are so far beyond that now as a society. One in five people live in one parent families in this country, family diversity is just more and more complex."
Ms Gibney said it is up to society to think about housing in a rights based way and to examine the dimensions of what a right to adequate housing should include.
She reiterated a call for the government to include the right to housing in the constitution.
Lead author of the report Helen Russell of the ESRI said the research highlights key challenges to achieving adequate housing including the lack of housing supply and affordability issues.
"Security is increasingly important given the growing reliance on the rental sector, but we currently lack appropriate measures of security at the individual level," she said.
The UN Special Rapporteur on the right to adequate housing said he was "quite shocked" to see that single or lone parent households "appear to be disadvantaged on nearly all housing rights dimensions" in the report.
Balakrishnan Rajagopal, who read the report in advance of today's launch, said it raised a fundamental question over the treatment of single parents and their children by society.
He said: "We speak here not about few individuals. One out of five persons in Ireland lives in a single parent household. And as 86% of lone parents in Ireland are women. We all have therefore to ask ourselves - how are we ensuring that everyone has equal access to safe and adequate home?"
Mr Rajagopal has called for immediate action to end gender discrimination and the discrimination of children who "just happen to grow up with their mother or father".
The CEO of parenting organisation One Family has said the report confirms that lone parents and their children are at the bottom of the pile for any kind of quality housing in Ireland.
Karen Kiernan said the findings reflect what the organisation is hearing across its services, which is that housing is the number one issue for parents, whether they are separating, or on their own trying to keep their house or trying to leave an abusive relationship.
Ms Kiernan said this is due to policy and structural issues, but the situation can be changed.
---
'You're trying to prove yourself - that stigma is there'
Ellen Scanlon has been on the housing list for nine years.
Around four years ago, she decided to apply for the HAP scheme.
She got an apartment and after two years the landlord decided he had to sell the property, so she began the process of looking for another apartment.
Ellen compares apartment viewing to a job interview at which she could be up against 50 or 100 other people.
She avoided bringing her son because she felt she would be pre-judged as a lone parent and always had a good blouse and a hairbrush in the car in preparation.
"You're on HAP and a single parent and you just really do feel kind of prejudged going in. You're trying to prove yourself, and that stigma is there.
"You could say, yeah, some of it is in your head but where does it come from? It comes because there is still that stigma outside there in society," she says.
Eventually, Ellen got an apartment relatively close to her previous rental which enabled her son to stay in the same school.
She was relieved, but then life became even more stressful.
Having been through the HAP process once (or 'happed'), she initially presumed all her details would transfer to the new apartment.
This was not the case. She had to go through the process again.
"You have to get approved by Threshold and I did that. I'd all my documentation in and told HAP I found a new apartment; I gave them plenty of time."
She was in the apartment for six months, and the rent wasn't paid. It emerged that her HAP was still being paid to the previous landlord who contacted her to let her know.
She called and emailed the HAP office she had been dealing with but to no avail.
In the end she contacted her local authority TDs to try to contact HAP on her behalf.
"I was living with my child here for six months and I was absolutely terrified. I was so insecure because the rent was not being paid and I have no means to cover the rent," she says.
"That period of my life was unbelievably stressful because you're talking about being homeless and not being homeless. You think you've found an apartment and then, there's all this hold up. It's just a really, really difficult system to navigate."
Ellen says her situation is not unique and views herself as fortunate that she can top up her HAP to pay the rent.
"You're talking about parents with three or four kids and they're looking for maybe a three-bedroom apartment and they just can't top up that rent. It's really easy to see in the current climate how parents would end up homeless and just not in a position to get into a home or a housing market."
Ellen is a high support guidance officer with Ballymun job centre. While she was searching for a new home, she completed a Masters in human rights and social policy and yet, she feels she is not in a position to progress her career.
"One of the two big factors they say to exiting poverty, is education and employment. Yet there are plenty of lone parents who have high levels of education and they're in good jobs and positions, but they're not getting any closer to that housing market."
If Ellen gets a promotion and an increase in her salary, she will lose her place on the housing list and the subsidies she currently receives. Yet, without them, she cannot afford rent as a lone parent.
"In order for, say, a lone parent to be able to pay full rent themselves in this country - that's averaging on maybe €1,600 a month for a two-bedroom apartment - you'd want to be making serious money. On top of that are bills, and then having some sort of a quality of life yourself and for your child."
Ellen believes this is not the way women and children should have to live in 2021 and believes lone parents continue to be stigmatised.
"You think we've come so far from all that Magdalene laundry stuff and, unmarried mothers, and things like that, but then you look at lone parent situations in Ireland today, the reality is, this society just doesn't look after its women and children. They're still scraping to get by."
---