Despite some heavy falls of rain throughout August, overall the amounts that fell were below the long-term average for the month, according to Met Éireann.
In its monthly climate statement, the forecaster said there was more than average amounts of rain in the northwest and less than average in the south and east of the country.
The number of rain days ranged from 11 days at Oak Park, Co Carlow to 23 days at Sherkin Island, Co Cork.
The number of wet days ranged from 8 days at Roche's Point, Co Cork to 17 days at Markree, Co Sligo.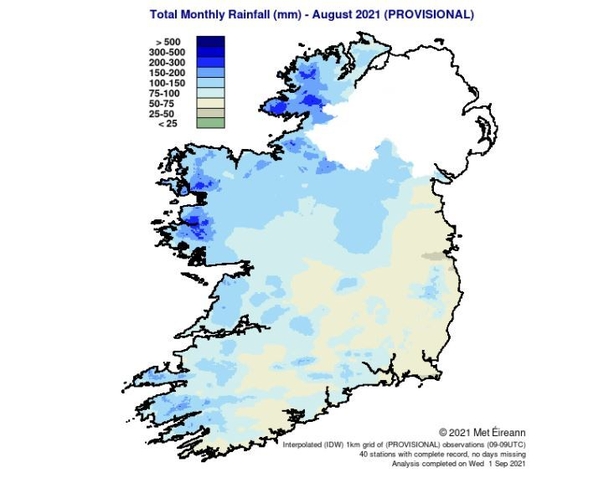 Percentage of monthly rainfall values ranged from 54% (monthly rainfall total of 47.9 mm) at Sherkin Island, Co Cork to 173% (the month's highest monthly rainfall total of 176.1 mm) at Markree, Co Sligo.
According to the report, temperatures for August were above average in most places and the northwest of the country was the warmest.
The highest temperature was reported in Athenry, Co Galway on 26 August at 26.3C.
Sunshine averages were highest in the west and south and lowest in the east.
The climate statement for August 2021 is just in, here's the headlines:

?? Above average in the NW, drier in the South & East
??? Above average for most, warmest in NW
?? Highest in W & S, lowest in east

More details ?? https://t.co/xoZAQYfwus pic.twitter.com/eb0jQMLlC1

— Met Éireann (@MetEireann) September 2, 2021
The highest number of daily sunshine hours recorded this month was 13.4 hours at Belmullet, Co Mayo on 24 August while the number of dull days ranged from 2 days at Cork Airport to 8 days at Gurteen, Co Tipperary.
It was a mild month in terms of wind with no strong gales or storms reported.
Overall Met Éireann said it was a mild and changeable month with a dry finish.