The Taoiseach has said the Government is looking at how the country transitions from an emergency situation to a more normal environment but he said a lot remains to be decided.
Micheál Martin would not confirm a report in the Irish Independent today that the National Public Health Emergency Team, along with two other emergency committees, will be wound down from October.
"The CMO is a chief medical officer within the Department of Health and leads the public health campaign and that will continue, but precise formats and so on in terms of the taskforce, in terms of the senior officials group, all that will be looked at in terms of how do we transition now from what has been an emergency situation for a long period into creating a more, if you like, normal environment across Government in dealing with the next phase - but all of that still remains to be decided.
"I am not confirming anything because we have meetings on Monday and Tuesday - there's a parallel approach here - but we are moving into a new phase, I said this earlier in the month we are entering into a new era in terms of the managing of Covid-19.
"There have been many twists and turns to it - and there could be yet. We are concerned about the impact of Delta on the level of disease," he said.
Asked about the seven remaining states on the Mandatory hotel quarantine list, Mr Martin said he would be taking public health advise about this.
"This is an evolving situation, we have high levels of vaccination, we will get to peak of vaccination we think somewhat early September, the public health is very clear they want two weeks after that in terms of making sure we bed down those protections," he said.
Earlier today, the Chair of the Vaccination Taskforce said it is likely that 90% of over 18s will be fully vaccinated by mid September.
Asked about the possibility of Electric Picnic going ahead, the Taoiseach said: "Electric Picnic didn't get planning permission, that was the key issue there.
"Designating any event a pilot can't overcome immediately the planning issues, so there will be consultation with the promoters during the weekend and Monday to see what the options are."
On Thursday, the Minister for Culture and Arts Catherine Martin said she was examining the possibility of designating the festival as a pilot event.
Health officials urges people to avail of walk-in vaccination centres
Public health officials have urged people to avail of Covid-19 walk-in vaccination centres, which are operating around the country this weekend.
The service has been extended to include anyone aged over 12, with the clinics offering first doses of the Pfizer and Moderna mRNA vaccines, as well as second jabs.
The HSE said this weekend is an opportunity for parents to bring their children to vaccination centres, with schools returning after the summer break.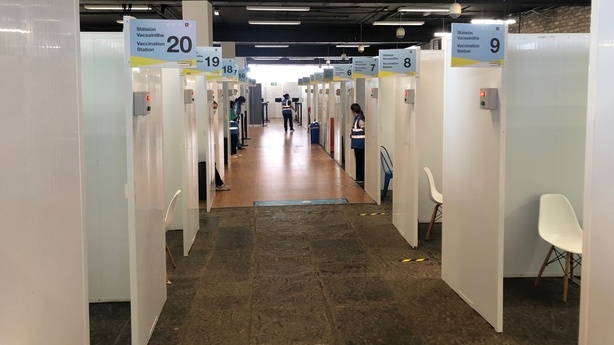 Fairyhouse Racecourse in Co Meath is among the participating centres offering walk-in vaccinations today.
While the numbers attending the clinic today have been on the lower side, the majority that have turned out have been in the younger age groups.
Nessa Lynch, the Centre Coordinator at Fairyhouse Racecourse, said this weekend is aimed at giving people who have not yet been vaccinated the opportunity to come and avail of a vaccine, either dose 1 or dose 2.
She said the HSE is "focusing on a walk-in model this weekend to encourage anyone outstanding or remaining to get vaccinated".
"We are also appealing to the 12 to 15 cohort, accompanied by their parent or legal guardian, to come ahead of the return to school," she said.
"Our walk-ins this morning have been mostly 12 to 15s, so it's great to see them coming in," added Ms Lynch.
---
At a glance: This weekend's walk-in vaccination clinics
---
She said many of the young people who have turned out wanted to get vaccinated because they are returning to school.
"Speaking with some of the young people, that seems to be the common thread that young people are anxious that they are vaccinated in order to keep themselves safe upon their return to school."
Anyone attending the centres for their second dose must bring proof of their first dose, such as their vaccination record card, and ensure the required time has passed since their first dose.
At least 21 days must have passed for anyone who has been administered a first Pfizer dose, while for anyone due to receive a Moderna dose, at least 28 days must have been passed.
For children aged between 12 and 15, the HSE has reminded parents or legal guardians that they must also attend the centres to give consent for their child to receive the vaccine.
A form of identification which shows a date of birth should also be provided for children, including a passport, birth cert or school ID but if a child does not have any identification, their parent or guardian can confirm their identity.
Additional reporting: Fergal O'Brien