A new report from the Environmental Protection Agency, Met Éireann and the Marine Institute has said global climate change is having a clear effect on our environment here, including on our land, waters and atmosphere.
The message from the report, The Status of Ireland's Climate 2020, could not be more plain, saying the evidence is clear in that global climate change means Ireland is warmer and wetter.
The report found that the annual average surface air temperature in Ireland has increased by 0.9C over the last 120 years, with a rise in temperature being observed in all seasons.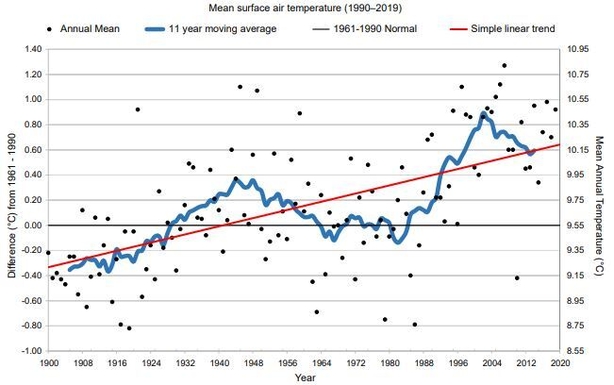 Fifteen of the top 20 warmest years on record have occurred since 1990.
It said greenhouse gases continued to increase since 2012 with long-term implications for our climate, and it reports a 50% increase in concentration of carbon dioxide when compared to pre-industrial levels.
Annual rainfall was 6% higher in the period 1989 to 2018 compared to the 30-year period leading up to 1990.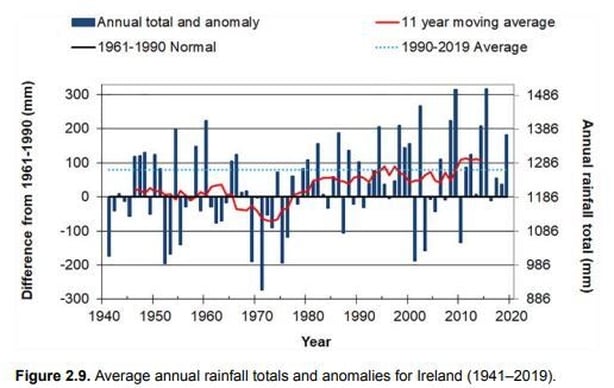 The report, which documents the current state of Ireland's climate, also said that the decade spanning 2006-2015 was the wettest on record.
It said the sea levels around Ireland have risen by 2-3mm per year since the early 1990s and that there has been an increase in river flows across most of Ireland since the early 70s.
We need your consent to load this rte-player contentWe use rte-player to manage extra content that can set cookies on your device and collect data about your activity. Please review their details and accept them to load the content.Manage Preferences
However, there is also evidence in recent years of an increase in potential drought conditions - especially in the east.
It found too that there has been an increase in the area covered by both artificial surfaces and forest since 1990 with a decrease in wetlands.
The total volume of trees has increased by +38% in the ten years up to 2017.
One of the co-authors of the report said: "We're seeing more frequent events like heat waves and wet spells are lasting longer."
Speaking on RTÉ's Morning Ireland, Dr Ned Dwyer said that temperatures across the country have increased by around a degree over the last 100 years, which is in line with global trends, while rainfall amounts have increased by around 6%.
We need your consent to load this rte-player contentWe use rte-player to manage extra content that can set cookies on your device and collect data about your activity. Please review their details and accept them to load the content.Manage Preferences
Dr Dwyer said that work done at Maynooth University found that rainfall in the period 2006 to 2015 was the wettest period since at least 1700, when they went back through all the records available.
Dr Dwyer said it will take a collective effort to make the kind of changes that are needed but he is hopeful that this will be possible.
In addition, he said, each local authority has had to come up with its own adaptation plan.
"The issue isn't just that if we turn the tap off on carbon emissions in the morning it's all happy days. We have to actually adapt to the changes that are kind of built into the system.
"So in Ireland all local authorities and sectors are preparing those plans so it's looking at things like how do we ensure that our towns and cities do not get flooded, how do we ensure that our road and rail infrastructure is going to stay good and not either get melted because of heat waves or get flooded due to excess rainfall," said Dr Dwyer.
Dr Dwyer said the main drivers of climate change - carbon dioxide, methane and nitrous oxide - are increasing and have been over the last number of decades now.
These emissions are mostly as a result of increasing energy and transport needs, he said, while there also emissions related to agriculture, especially around methane.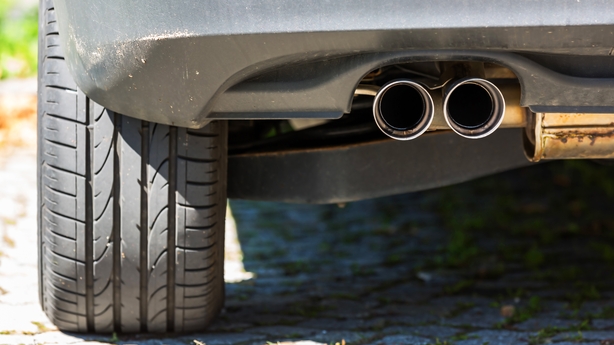 Dr Dwyer said the situation on the ocean is similar, with the ocean getting warmer and measurements at Malin Head showing a half a degree increase in recent years.
He said that Ireland is seeing, and will continue to see, rising levels of coastal erosion and coastal flooding.
"Although a few millimetres per year doesn't sound a lot, when you put that on top of a high tide and a storm surge, then you can get pretty significant coastal flooding during those types of events," said Dr Dwyer.
Laura Burke, EPA Director General, said the climate observations in the report provide the basis for our understanding of the realities of climate change in Ireland.
Eoin Moran from Met Éireann said people in Ireland and around the world are now seeing the impacts of climate change through more and more extreme weather events and that observations of the climate are crucial to help inform society's response to the climate emergency.
Climate Scientist with Met Éireann John Hanley said human activities are responsible for an increase in greenhouse gas emissions and it is human actions that will change the trajectory of climate change.
Speaking on RTÉ's Today with Philip Boucher Hayes, he said that an observing station at Mace Head measures levels of CO2, methane and nitrous oxide and has recorded massive increase of these gases since pre industrial time.
CO2 levels are up about 50%, methane has more than doubled and nitric oxide has also increased significantly by about 20%.
'Ireland moving into a new era,' says Minister
The Minister of State Ossian Smyth has said that Ireland "is moving into a new era" where economic spending will be framed by a new carbon budget and that the Government will offer supports to help people to change their behaviour to meet climate targets.
Speaking on the same programme, Mr Smyth said that the carbon budget should be agreed in September, after which the Government will decide in "how to compensate people or give enough money, tax breaks and loans to allow them to make the actions they need to do in order to meet the climate targets".
He said that the Government plans to re-invest an estimated €9bn in carbon taxes to retrofit houses and reduce energy bills; on social protection to compensate those on low incomes who will be poorer as a result of carbon tax and to compensate farmers for missing income.
Carbon dioxide in atmosphere sinking into ocean, says expert
The Head of Oceanographic & Climate Services at the Marine Institute, Glenn Nolan said many of the greenhouse gases that are put into the atmosphere through human activity end up in the ocean.
Also speaking on RTÉ's Today with Philip Boucher Hayes, he said their research shows that carbon dioxide in the atmosphere has been sinking into the ocean, with many implications for shell forming organisms such as coral.
He also said an increase of half a degree in ocean warming between 2009 and 2018 has implications for fish resources along with other activities.
"It is quite a significant increase over a decade."
He said the ocean and atmosphere are tightly coupled and you can't look at one in isolation and that a rise in surface air temperature can have a profound influence.
Referring to marine heatwaves, he said this occurs when there is five days in a row where the seasonal threshold is exceeded.
He said these heatwaves are "very damaging for any species living in the ocean", particularly those which don't have a high tolerance to adapt.
He said research projects are underway to assess the impact on aqua culture and fisheries.
He also stated that they have observed that the size of waves has increased with some reaching 25 metres high over several winters.
He explained that this is because of the overlying atmosphere, with "storms becoming more intense and depressions becoming deeper".
Describing how the monitor changes in the Gulf Stream, he said it is a large system and spans the entire Atlantic and the only way you get a handle on whether it is changing is through international collaboration.