A special Battle of the Somme commemoration ceremony went ahead today at the National War Memorial Gardens in Dublin despite ongoing restrictions.
Michelle O'Neill became the first Sinn Féin Deputy First Minister to attend the event and she laid a wreath alongside Stormont's First Minister Paul Givan.
A small Republican protest was held nearby and the group tried to disrupt the ceremony by shouting.
The Somme commemoration ceremony - that first began in 1996 - usually attracts around 1,000 people with many travelling from Northern Ireland.
Numbers were restricted this year but representatives of many British Legion branches and military musicians from Northern Ireland were in attendance.
Memorial books containing the names of 49,400 Irish men and women who died in World War I, were presented at the ceremony, which was also attended by the ambassadors of the United Kingdom, Canada, France, Germany, New Zealand and Australia.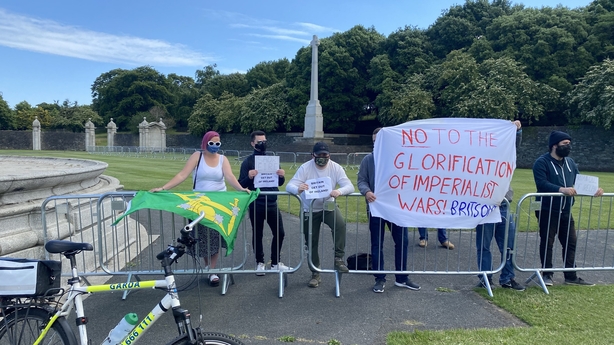 Brian Crawford of the British Legion, Republic of Ireland - hosts of the event - said the gardens are a national memorial for Irish people North and South.
He said they were also in remembrance of the estimated 10,000 Irish people who died in World War II.
Michelle O'Neill said the ceremony is an example of history sharing and as Deputy First Minister, she wanted to demonstrate her commitment to equality, parity of esteem and respect for all traditions.
First Minister Paul Givan said the 16th Irish and 36th Ulster division had fought together against tyranny and that we had to remember sacrifices made that allow us to enjoy freedom today.
"So many brave young people, soldiers, airmen, doctors, nurses and clergy were lost over the course of the five months of the Battle of the Somme, causing devastation to families and communities back home.
"Today we recognise their unity of purpose and spirit of sacrifice and renew our pledge never to forget."
First and Deputy First Ministers lay wreaths at the Somme Commemoration at Islandbridge @rtenews pic.twitter.com/wxRuhSMznh

— Paul Deighan (@PaulDeighano) July 10, 2021
Mr Givan said he will be unable to attend the National Commemoration Day ceremony in Dublin tomorrow which honours all Irish people who died in wars.
However, the DUP Mayor of Derry, Graham Warke, is due to attend.
Major General Sean Clancy, Deputy Chief of Staff of the Defence Forces also attended the Somme commemoration today.
The annual event is held on the anniversary of commencement of the Battle of The Somme. The battle was one of the largest and bloodiest battles of the First World War.
Ms O'Neill laid a wreath commemorating the 105-year anniversary alongside Mr Givan.
"The Battle of the Somme was a hugely significant event in our shared history and it is right that we commemorate it in a respectful and inclusive way," she said
"Thousands of people from across this island died at the Somme and it had a profound impact on their families and society over generations."