The fishing industry has called on the Minister for the Marine to ask the EU for extra quota for Irish fishermen because of the problems they are experiencing post Brexit.
They were speaking as Charlie McConalogue began a tour of ports around the country to meet with fishing communities at Howth in north county Dublin.
John Lynch, CEO Irish South and East Fish Producers Association said under the Brexit agreement Irish fishers lost 15% of its quota to the UK and that's meant the loss of €43 million worth of fish from Irish waters.
He said the fact that Irish fishers had lost €43 million out of total loss of €180 million across the EU meant there has been an "unfair burden" on the Irish fishing fleet and he believes the loss should have been shared more equally with other EU member states.
"We want to look for a better share of the quota species in the waters around Ireland. We've an unfair share in a lot of species where we have very low levels. We need to have this addressed in a proper review and Common Fisheries Policy, in particular after the Brexit agreement where Ireland lost another 15% of its quota share."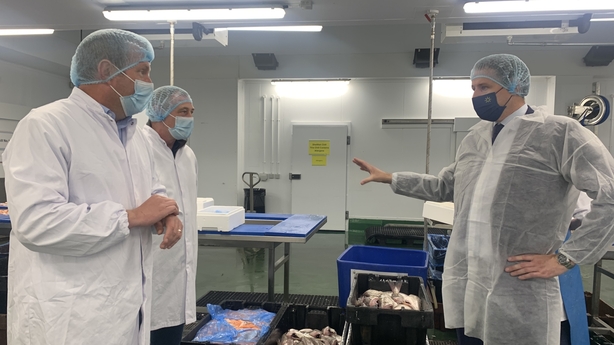 Minister McConalgue said the agreement has had significant impact on the fishery sector adding that he is working hard with the industry to find solutions to the problem but he admitted it is a "very significant challenge".
He said the government is investing in the sector and that he is fighting "tooth and nail" at European level to address the issues of quotas as part of the review of the Common Fisheries Policy which is due to be completed by 2022.
In the shorter term the government will consider supports for the industry after a task force that has been looking at the issue delivers its final report.
"Obviously, the priority in advance of Brexit was to try and mitigate the potential impact on the sector. The UK, we're looking for full access to the waters, 100% of the fish to be returned to them as part of that negotiation.
"Ultimately 25% of the fish that the EU fleet and Irish fleet catch in British waters is to be reallocated which would by 2026 but in the way that that's happening it means that there's a disproportionate impact of Irish quotas compared to other member states.
"And that's something that I've been very clear on at European level needs to be addressed as part of the Common Fisheries Policy that undoubtedly is a very significant challenge, but it's one that's really important the sector and is one that I will fight at every opportunity to try and do the very best they can", the minister said.
We need your consent to load this rte-player contentWe use rte-player to manage extra content that can set cookies on your device and collect data about your activity. Please review their details and accept them to load the content.Manage Preferences