One in three motorcycle crashes takes place in the summer months, and this summer gardaí are inviting up to 100 bikers to take part in a pilot project to improve motorcycle safety.
BikeSafe started in the UK in 2002 and the scheme being rolled out in Dublin this summer is similar to one that has been in operation in Northern Ireland for around eight years.
Gardaí also ran a version of the programme from 2006 to 2016.
Speaking at a launch event for the programme in Dublin Castle this morning, Garda Commissioner Drew Harris said the project was being relaunched now because motorcyclists had been identified as being particularly vulnerable.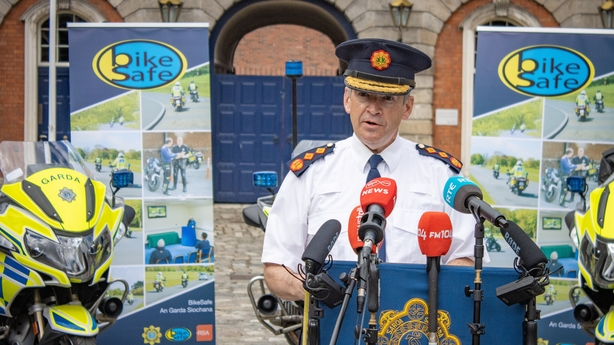 "The pandemic has very regrettably shown an increase in the numbers killed and seriously injured and we want to be proactive in acting to prevent that," Commissioner Harris said.
The new pilot, which was designed in collaboration with the PSNI, begins tomorrow and runs through to September.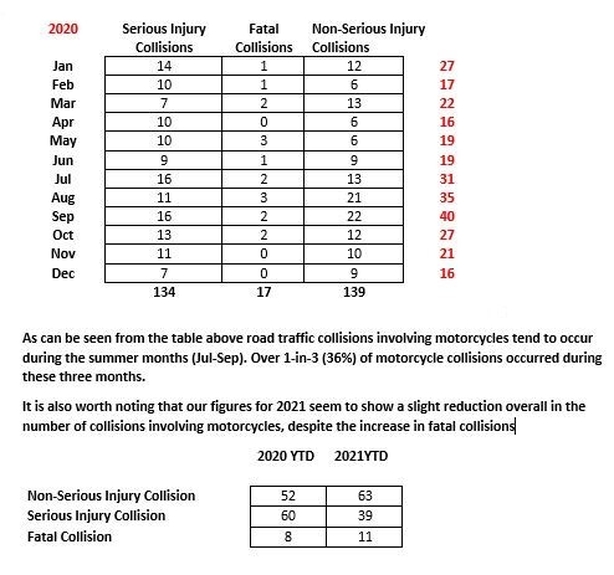 It will operate in the Dublin Metropolitan Region, and participants will attend a workshop followed by an assessed ride out with an advanced Garda Motorcyclist.
The workshops will look at hazard awareness and how to make motorcycling safer, and the participants will be offered detailed feedback after the ride out on their strengths and areas for improvement.
Last year, 36% of motorcycle crashes occurred in July, August and September.
So far this year, there have already been 11 fatal motorbike crashes, with seven of those having occurred in April.
Statistics show there is a larger proportional involvement of motorcycles in fatal (one in seven) or serious injury (one in eight) road crashes compared to non-serious injury crashes (one in twenty-five).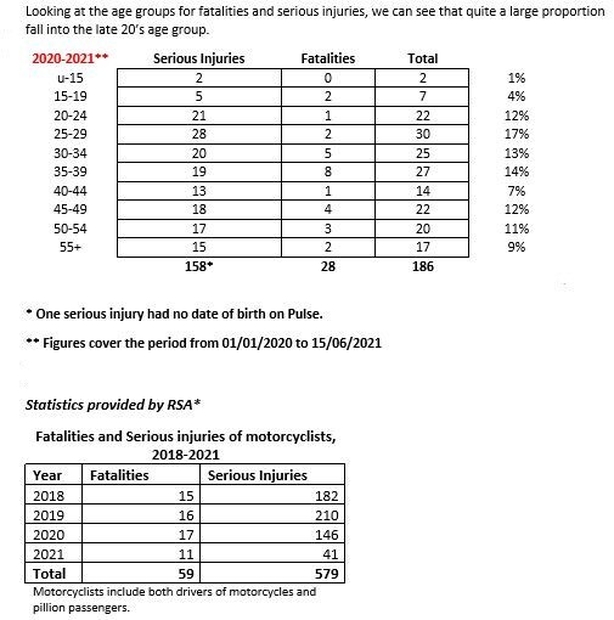 Since January of last year, 159 motorcyclists were seriously injured in a crash, amounting to an average of two per week.
Speaking at today's event Kevin Synnott, a Consultant Orthopaedic and Spine Surgeon, who is also a motorbike enthusiast, said that in his day-to-day work those statistics translated into "real people".
"The day before yesterday we had a patient in the spinal injuries unit [who crashed] off a bike, he was paralysed, it was a catastrophic life changing injury," Mr Synnott said.
"In the field of trauma there is no question that prevention is better than cure," Mr Synnott said.
Garda Adrian Corcoran, with the Dublin Metropolitan Roads Policing Unit, is among those who will be providing the training.
"A lot of bikers in Ireland, they don't ride all year round, they may ride for the summer months and then they put their bike away for the winter, so every spring they come back to the bike and they may be a bit rusty so this would be a good way for them to come in... they'll pick up some tips and it will make them a safer rider," he said.
The pilot scheme will be reviewed when it concludes in the autumn, and An Garda Síochána intend to roll it out on a nationwide basis from spring 2022.