The US Special Presidential Envoy for Climate has said every country needs to do more to cut greenhouse gas emissions.
Speaking to the opening of the Dublin Climate Dialogues, Mr Kerry said the Paris commitments made by governments will not limit global heating to 1.5C but will set it on a course for a global temperature increase of around 3.7C.
Former US Secretary of State Mr Kerry said everyone needs to "strive even harder urgently" and must do that by setting more ambitious goals.
Mr Kerry, who addressed the conference by pre-recorded video message, said what happens in this decade will be decisive in the efforts to limit climate change.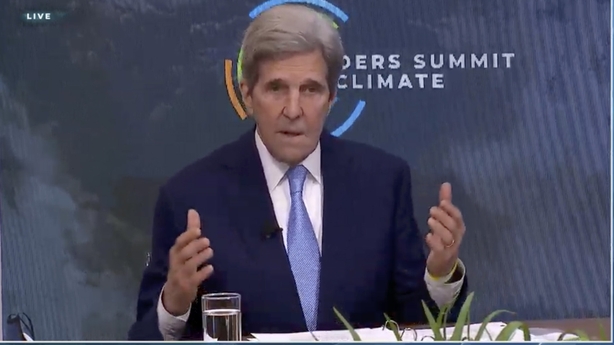 He said more needs to be done than just government commitments and governments do not have sufficient funds to do what is necessary.
He said trillions of dollars of private capital will have to be mobilised and between one and two trillion dollars of investment will be needed every year.
Mr Kerry ended on an optimistic note by saying that humanity has shown it can find technical fixes to address to urgent problems.
He said the climate crisis presents one of the greatest opportunities for international cooperation.
Also speaking at the two-day conference organised as part of the lead up to the United Nations Climate Change Conference of the Parties (COP26), Minister for Finance Paschal Donohoe said there will be winners and losers from climate action by governments but he believes there is capacity in Ireland and in Europe to deal with the inequities created by climate.
Mr Donohoe said the reaction to the Covid-19 pandemic has shown what can be achieved through collective action and reinforced his belief in the need for multi-lateralism when dealing with big issues.
He said as President of the Euro-group of Finance Ministers, he is looking forward to working with the US Treasury as it co-chairs a vital finance committee at COP26.