Social media companies have pushed back against calls from politicians for users to prove their identity before setting up an account.
Facebook, Twitter, and TikTok have been giving their views on the proposed Online Safety and Media Regulation Bill at the Oireachtas Media Committee.
Fianna Fáíl Senator Malcolm Byrne asked the companies if they believed an ID requirement could clamp down on "anonymous bots".
Ronan Costello of Twitter said that pseudonymity is often conflated with abuse, adding that it is not a prerequisite to people being abusive online. He said that a "violation is a violation, no matter the accounts' identity".
Mr Costello said Twitter's focus was on how an abusive account was behaving, not on the identity that the account may have.
He told the committee that if an account was flagged abusive, Twitter could investigate to see if it was linked to other accounts.
Theo Bertram of TikTok said that it was more important to have accountability when it came to breaching rules. However, he said that this does not mean that accounts cannot be anonymous.
Dualta Ó Broin, Facebook's Head of Public Policy, said that there was a balance to be struck when it came to anonymity.
He said Facebook has a "real name policy", where a user can report another account, if they believe it belongs to somebody who is not who they purport to be. Mr Ó Broin said that Facebook will then verify the identity of that individual.
Sinn Féin's Johnny Mythen said that there is not a single public representative with a friend or colleague that has not been harassed online or has not been contacted by a concerned parent.
He asked the companies about the length of time that it takes for them to remove harmful content.
Mr Ó Broin said that the goal was to remove harmful content as quickly as possible but that there is not a strict turnaround time on that. He said that thanks to artificial intelligence (AI), some content is removed before it is reported.
Mr Costello said that the perception that content was only removed after being reported was not true. He said that AI has also helped Twitter to remove harmful content.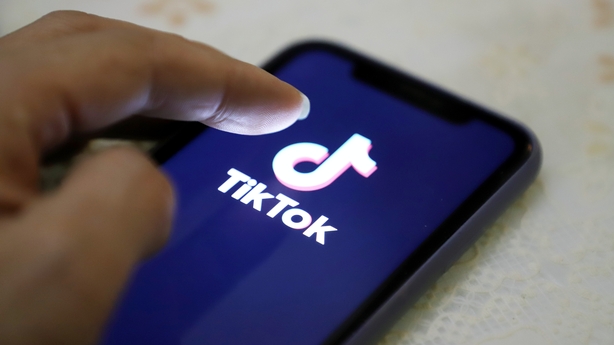 Mr Bertram, TikToks's Director of Government Relations, said that 89 million pieces of content was removed from the platform in the past six months, making up 1% of all content uploaded.
Labour Senator Annie Hoey asked TikTok how its algorithm worked, telling the committee that as an LGBTI+ person, she often followed LGBTI+ accounts but was presented with transphobic videos.
Mr Bertram said that homophobic comments or content is not allowed on the platform.
Twitter said that abuse that journalists and politicians receive on the platform is a challenge both in Ireland and around the world.
Mr Costello said that Twitter was trying to remove of the burden of journalists and politicians having to report such content, through the use of AI.
Imelda Munster of Sinn Féin pointed out that Facebook does not have a turnaround time for the removal of harmful content and does not keep a record of individual complaints made in Ireland.
She said that numerous groups representing children and young people have criticised the delay in removing harmful content.
Ms Munster asked if Facebook was planning to launch an encrypted messaging service. She expressed concern that this could hamper the social media network's ability to detect child abuse, something raised by the ISPCC.
Mr Ó Broin said that it was an intention of Facebook to provide the end-to-end encryption service. He said that the company has engaged with many organisations, to hear their concerns.
Earlier, Facebook called for legislation that will pave the way for a new media regulator and online safety commissioner in Ireland to be delayed.
The social media giant, while supportive of the Online Safety and Media Regulation Bill, is concerned that it could overlap with EU legislation known as the Digital Services Act.
Twitter has also called for elements of the Irish legislation to be delayed and has raised concern that some of the sanctions contained within it could set an "unhelpful international precedent".
Major changes are on the way when it comes to the regulation of online and traditional media companies in Ireland.
The Online Safety and Media Regulation Bill will pave the way for a new Media Commission and Online Safety Commissioner to be established.
The bill is being scrutinised by the Oireachtas committee.
In documents submitted to the committee, seen by RTÉ News, both Facebook and Twitter believe that the bill could overlap with elements of EU legislation.
Facebook has called for the Irish bill to be paused entirely, until the EU's Digital Services Act is adopted, to ensure what it describes as consistency between both regimes.
In a written submission, the social media company said: "Now that the full details of the scope and nature of the European Union's Digital Services Act (DSA) are emerging, it is clear that there will be significant overlap and in places there is likely to be conflict".
Government is hopeful that the Online Safety and Media Regulation Bill will make its way through the Oireachtas this year.
Workers should get copy of NDA, Tánaiste says
At a separate committee meeting, Tánaiste Leo Varadkar said he would like to see the non-disclosure agreements that Facebook workers sign.
The workers should be given a copy of the agreement, he said.
"If it's not illegal I think it probably should be" not to give a copy of the NDA to the worker who signed it, Mr Varadkar added.
It is "very odd and suspicioius", he said, adding that he does not understand the reasons for such a practice.
Forthcoming employment law could be ammended to address this issue, Mr Varadkar said.
The ~Joint Committee on Enterprise, Trade and Employment heard that non-disclosure agreements are used to prevent workers from making complaints about working conditions.
This is not an appropriate use of NDAs, the Tánaiste said. Sinn Féin's Louise O'Reilly said NDAs have "a chilling effect" and are used as "a tool against workers".
"They are used to keep the workers afraid to come together and challenge the employer", she said.
Mr Varadkar told Labour Senator Marie Sherlock that he will consult the HSA on the possibility of updating Health and Safety legislation with content moderators in mind.