Pharmacists have expressed frustration that they are not yet part of the Covid-19 vaccination programme, despite being included in the Government's initial plan published late last year.
Over 1,850 pharmacies across the country are "ready and waiting" to vaccinate people, according to the Irish Pharmacy Union, but are "in the dark" as to when they will be involved.
The union today called on the Minister for Health and the Health Service Executive to "urgently clarify" when pharmacists can begin administering the jabs to members of the public.
County Waterford-based pharmacist Niall Mulligan, of the Mulligan's Pharmacy group, said they have consultation rooms ready, have been vaccinating people against the flu for the last decade, and are already using procedures allowing them to monitor patients for 15 minutes following the injection.
"We're just waiting for what we have to do," he told RTÉ News.
"We are inundated by our patients, colleagues, everyone in the community, who just want to know when we're going to start vaccinating.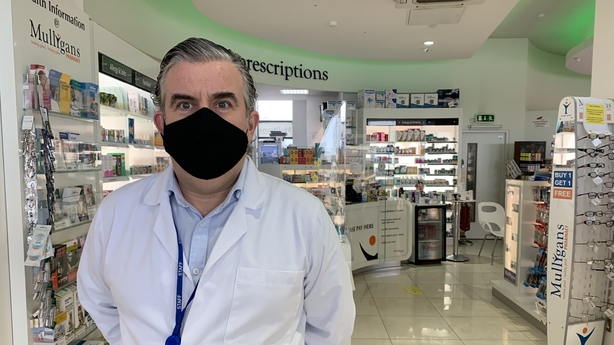 "We have 1,800 local community pharmacies in small towns, big towns, regions, everywhere, and they are there to support the people who are in that area who can't or may not want to go into bigger areas or bigger vaccination centres. They're available for everyone to go to."
Even a vaccination rate of one patient per hour, across those community pharmacies, would mean up to 400,000 vaccines being administered in a month, Mr Mulligan said.
"If you double that, you double that. So, within a community pharmacy, without breaking sweat, you're talking about half a million to a million people. That's it, simple as."

Asked if they had received any guidance from the Government about when they would be allowed to start vaccinating, he said: "No. And that's the unfortunate part and that's the frustrating part for us, as a body and as a profession, but also for our patients and customers who keep coming in to ask, when are you doing it? We're open longer, more hours, Saturdays, Sundays, late night here until 7, others till 9, so that facility is there. It needs to be used."
IPU secretary general, Darragh O'Loughlin, said "pharmacists are increasingly frustrated at the complete lack of clarity on when they can begin vaccinating their patients and the broader public".
He said there is also frustration among patients.
"Pharmacists are trained, experienced and ready to start vaccinating in every town, village and community around the country. They, and the people in their communities, urgently need clarity on when they can start vaccinating."
There also needs to be more "movement" in some parts of the country on vaccinating pharmacy staff themselves, Mr O'Loughlin said.